Breakfast With: Karen Katz of Neiman Marcus
The legendary retail company's president and CEO looks to a bright future online.
It's got to be a little intimidating, occupying the office that once belonged to Stanley Marcus. But Karen Katz seems prepared to handle it. She has been working in the shadow of the legendary Dallas businessman for almost 27 years, ever since she joined Neiman Marcus.
"I was the NorthPark store manager for years when I was younger, and customers would come up to me and say 'Mr. Stanley would never have done it this way,' " she says when we're well into our meal at Dream Café in Uptown Dallas. "But Stanley Marcus was a visionary, and he knew that if the company, if the brand, didn't evolve and continue to be relevant to the customer, then the brand would die."
The restaurant is surprisingly noisy, given that it isn't crowded at 8:30 a.m. on a Monday. Most of the ambient sounds are coming from the kitchen, though the Top 40 hits playing directly overhead aren't helping the matter. I probably should have requested we be seated elsewhere.
Katz seems unbothered by the noise when she joins me at a table just inside the restaurant entrance. As we consider the plentiful menu items, she remarks only that she'll need to choose her breakfast carefully, since she knows I will dutifully report what she eats in my article.
"I guess I must be hungry because it all sounds good," she says.
She decides on Grady's Omelette—which includes smoked salmon, cream cheese, spinach, and tomatoes—and a cup of green tea. I opt for the more indulgent whole-wheat buttermilk pancakes with a sliced banana on top. Katz is obviously jealous of my plate when our orders arrive.
"Oh my god, that looks so good," she says. "Enjoy every minute of that." (Her typical morning includes a meal of microwave egg whites, so even her omelet must qualify as a special treat.)
When Katz took the reins of the Neiman Marcus Group (having previously served as CEO of Neiman Marcus stores) in fall 2010, the company had endured two years of a tanking economy, during which the luxury market especially suffered. Her aim has been to guide its retail shops—which include the Bergdorf Goodman and Last Call brands, and a strong online sales presence—to adjust to what she calls the "new normal."
"We really needed to think about how the customer was changing and how we need to change," she says. "Before the recession, she shopped with abandonment. She didn't look at prices. She bought multiples of everything she liked. I think she's more deliberate now when she buys. It doesn't mean she won't buy the most expensive thing we have, but she definitely wants to make sure there's good value for it."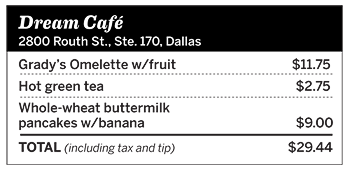 Value shoppers? At Neiman Marcus?
"It seems kind of crazy. You think of value in terms of Wal-Mart, but [a Neiman's customer] wants to know if she's buying a Chanel bag that
she's willing to pay $3,000 or $4,000 for that she's actually going to be able to use it for a few years," Katz says.
To deal with this new reality, Neiman's has adjusted its service model. It was big news last year when its stores began taking payments via MasterCard and Visa—previously, in keeping with its elite image, only American Express and Neiman Marcus credit cards were accepted. Likewise, the company wants to be more "inclusive," offering greater service to all customers, rather than just those purchasing its most expensive merchandise.
But make no mistake: It's still the affluent shopper that Neiman's targets. The company just wants to meet these customers wherever and however it can, like online, which accounts for about $750 million in annual sales revenue and is expected to grow even more as a percentage of overall business. Which raises the question of whether investing in more storefronts or online is the smarter path.
"That's the hardest part of my job. If you've got five things to bet on, and you can't bet on all of them because you don't have the money and the resources to do that, which ones are you going to bet on?" she says. "We'll never not have brick-and-mortar stores because it's all part of the experience, and we do a lot of business in them. But we won't need quite as many stores over time."
We both push away half-finished plates. The food was tasty, but the portions were huge. As we walk out, I ask Katz for her sense of whether the luxury market has recovered, whether 2012 will be a stronger year for Neiman Marcus than the previous few have been. She's clearly uncomfortable making predictions. In answering, she sticks to what she knows, her background as a store manager and a merchandise manager constantly responding to customers' desires.
"We don't have crystal balls," she says. "If we take care of our customers, hopefully they'll keep coming back."