The last decade has brought profound changes in the North Texas commercial real estate scene, with firms merging, launching, growing, and falling apart. This year should bring continuing shifts, as the competition heats up for both talent and market share.
Two firms that ruled Dallas real estate 10 years ago—The Staubach Co. and Trammell Crow's brokerage group—no longer exist, having been merged into Jones Lang LaSalle and CB Richard Ellis, respectively. CBRE (with TCC) has maintained about the same number of local brokers since 2001, but Jones Lang LaSalle (with Staubach) has diversified and added more than 40 professionals.
According to D CEO research, JLL now leads Dallas-Fort Worth with 155 local brokers; CBRE is close behind with 148. No. 3 Transwestern has more than doubled in size since 2001, from 47 to 105 local brokers, due in part to a 2005 merger with NAI Stoneleigh Huff Brous McDowell.
Firms to watch this year include Colliers International, which recently named a new managing director, David Pinsel, and made several key hires, including agency leasing specialist David Quisenberry; and Cresa Dallas, which has also lured a number of top brokers to its ranks, including office tenant rep Lance McIlhenny.
Cushman & Wakefield lost several heavy hitters in 2011—and also parted ways with former managing director Liz Trocchio. (As of press time, the firm had not yet named a replacement.) Grubb & Ellis has seen some departures, too, as it continues to search for an infusion of capital or a new owner.
Competing against the two giants—JLL and CBRE—isn't easy, but several North Texas operators are gaining momentum. Here, we profile three of them: Cassidy Turley, Stream Realty Partners, and CASE Commercial Real Estate Partners. 
Cassidy Turley
In the 1990s, Johnny Johnson, Chris Taylor, and Bret Bunnett built a strong office leasing group for LaSalle Partners in Dallas. But after the company went public in 1997 and merged with Jones Lang Wooten in 1999, things changed. And in March of 2000, the trio, along with JLL property management exec John Patterson, launched their own firm, Capstar Commercial Real Estate Services.
"In the latter years that we were at LaSalle, the firm was acquiring companies, merging with companies, and going public, and there was a great deal of energy being expended to accomplish those things," Bunnett says. "We wanted to take that energy and redirect it to serving clients."
For Johnson, it was a chance to get back to the core of why they got into the real estate business in the first place. "We grew up being specialists, in a culture where you stayed focused and grew in a specific discipline," he says. "[LaSalle] changed a lot after we went public. For some of us, particularly Chris and me, we were getting farther away from the transaction side and client focus to more people- and management-focused. We wanted to get back into the real estate game."
Another factor that came into play was staving off competitors that regularly tried to break the team apart. "We had such great chemistry as a group," Bunnett says. "I felt that if we wanted to keep the band together, we had to do it with an exciting new venture."
Out of respect to the success they had at LaSalle, the foursome didn't try to compel JLL clients or employees to join them. Turns out, they didn't need to. Young talents Trey Smith and Jay Bailey jumped ship, and many key accounts made the switch, too.
"Humbly, we had clients in the market who called and said, 'We heard you started your own company; we want to be one of your first customers,' " Taylor says. "Our clients have helped us build our company—period."
In the ensuing decade, the Capstar partners were consistently approached by national firms that wanted to merge the successful Dallas group into their organizations. But there was no motivation to do so, Bunnett says. "We were enjoying what we were doing, we were having success, and we saw a bright future ahead."
Then in April of 2010, execs from Cassidy Turley called. Bunnett and company agreed to a meeting, mostly to be polite and to meet others in the industry. But to the partners' surprise, they liked what they heard.
Cassidy Turley was formed in the fall of 2008 through the merger of four Midwest and East Coast firms. It has quickly grown to 3,500 employees in 60 offices. The private concern is owned by firm partners; its largest shareholder, CEO Mark Burkhart, has just a 4.5 percent stake.
The Capstar execs liked the ownership structure, and felt Cassidy Turley offered what LaSalle had provided in the early days—a chance to help develop an international company with solid leadership and systems, but one that embraced the notion that real estate is a local business.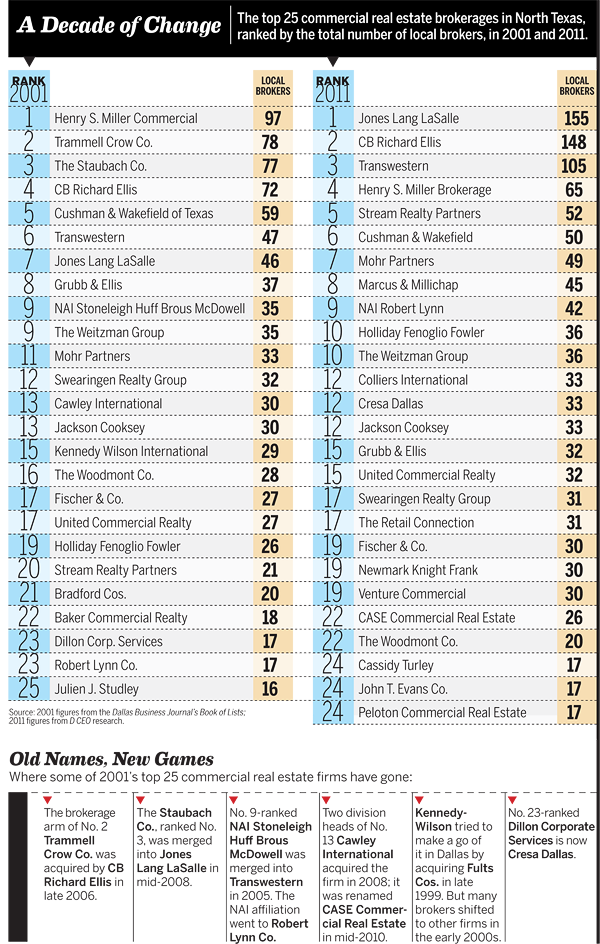 Bunnett says Cassidy Turley was determined—it was going to be in Texas, and in a big way. "We finally realized that we'd rather be on the inside looking out, than on the outside, wondering what we missed," he says.
Capstar was merged into Cassidy Turley in January of 2011. As part of the deal, the Dallas group was given the responsibility of expanding into new service lines (beyond its core of office leasing and management) and growing the firm's presence throughout Texas. Already there have been some major wins. Last fall, a four-person group led by heavy hitters Greg Biggs and Randy Cooper joined from Cushman & Wakefield to develop the Texas tenant rep team; and Blake Anderson joined from Grubb & Ellis to launch the firm's industrial group.
During 2011, the firm's first 12 months as Cassidy Turley, it added a whopping 7 million square feet to its leasing portfolio—including 430,000 square feet from Equity Office Properties (part of a 3 million-square-foot national package), and the 1.2 million-square-foot Fountain Place, a downtown icon sold by Crescent last year to JPMorgan. Cassidy Turley Texas now oversees 22.8 million square feet in Dallas and Houston, including about 1 million square feet of industrial space.
To celebrate its one-year anniversary, the group moved into snazzy new Preston Center digs in January. The 15,700-square-foot office is much larger than the 10,000 square feet it previously occupied at 3500 Maple Avenue.
"We've got a nice new office with plenty of room for growth," Johnson says. "There's a lot of enthusiasm within the organization—and a lot of intrigue in the market."

Stream Realty Partners
For seven years, Lee Belland and Mike McVean brokered lease deals for Trammell Crow Co., sitting at adjacent desks in the firm's signature newsroom-style office on the 37th floor of what's now Chase Tower. The duo liked the Crow model so much, they used it when they launched Stream Realty Partners in August of 1996.
"Both of us are children of entrepreneurs, so we both thought we'd have our own firms one day," Belland says. "We'd have conversations and it got to a point at Crow where Mike wrapped up a bunch of business, and it was time for him to go. I still had a lot of stuff I was working on, but I left anyway. He helped push me out the door."
The initial plan was to make real estate investments on their own behalf. The partners made their first acquisition in December of 1996, paying $920,000 for a 26,500-square-foot office/warehouse bulding at 1451 Empire Central. Shortly thereafter, they moved into the building.
It was a far cry from life in a shiny downtown highrise. "We closed on the building on Dec. 26, the day after Christmas," McVean says. "We spent New Year's Eve tiling the bathroom floor and clearing out the old tenant's crud. When you own your own business, you do everything."
Another acquisition followed six months later. That led to the hiring of a few leasing and management professionals—and sparked an evolution of the firm's business plan, which is based around a services core. Stream also develops and continues to opportunistically invest in real estate, often in partnership with entities that become customers.
From the beginning, Belland and McVean honed in on talent—whether or not they had a position to fill. "Some of our total rock stars today came to Stream when we had nothing for them to do," McVean says. "We'd meet them and say, 'This person is just incredible; they must come join us.' … It's the total opposite of the approach most other firms take. Even when we were broke, we still did it.
"We've learned that there are three things that drive the success of Stream," he says. "In the order of least to most important, they're buying buildings, winning business—leasing, management, tenant representation, and investment sales—and, No. 1, people. Find the people, bring the people, develop the people, and provide an atmosphere that, in their minds, makes Stream irreplaceable."
The firm's expansion has been driven by its professionals, McVean says.
"Once Lee and I got the Dallas office up and running—we felt we did pretty good; matter of fact, we felt like we kicked everybody's butts for a few years there—we decided to go into different cities and product types," he says.
Get our weekly recap
Brings new meaning to the phrase Sunday Funday. No spam, ever.