As usual, the Starbucks at Highland Park Village is slammed during its weekday morning rush.
It's 9:15 a.m. on a Tuesday, and the line from the cashier stretches to the door—past the door, actually. A scrum surrounds the pick-up station, customers jockeying for position as they await their lattes, mochas, and espressos.
I'm wondering where I and Lynn McBee, fundraising powerhouse and volunteer extraordinaire, will be able to sit. When she arrives, she looks dressed for a charity event, which indeed is where she's going later. The Junior League—for whom she has served as president, ball chair, and sustaining chair—will be celebrating its 90th anniversary with a luncheon.
I greet her, and we take our place in the queue. She apologizes for being a bit tardy. She's just come from a board meeting of the Dallas County Community College District Foundation, and she immediately starts to tell me about how those public educational institutions benefit the city. She interrupts herself several times in the space of a few minutes to say, "Hi, how are you?" to people she knows.
I order an iced coffee and a slice of banana bread. McBee asks only for a bottle of water. She says she already had a bowl of cereal when she awoke at 7 a.m., and that she doesn't need anything more. It's the first time anyone has ever shown up for Breakfast With D CEO having already eaten, but she keeps the conversation lively enough that it hardly matters. (Though she never even opens the water bottle during our "meal.")
I pick up my iced coffee and we begin our hunt for a table. A trip to the back of the shop proves fruitless, and we almost resign ourselves to sharing a table with strangers when she spots an opening at a two-top on the sidewalk out front. The air is humid but pleasant enough, and we settle down to chat at last. However, when you're with someone as well-connected as Lynn McBee, you've got to expect interruptions.
"Hey, how are you?" she says to a woman walking by.
"Love this muggy weather," the woman says.
"Isn't it super for our hair?" McBee jokes. "Our hair just gets bigger."
So many philanthropic organizations have asked her to serve on their boards because of her fundraising prowess. Her secret of success? In a word: relationships.
"It's just that personal ask. I'm very old-school when it comes to fundraising," she says. "I know the world has gone to emailing and texting. That's not the appropriate way to make any kind of meaningful ask for something, and it's also not the way I like to maintain my relationships. I'd rather visit with the person, sit down, and tell them what the project is about and see if it lines up with what they're doing."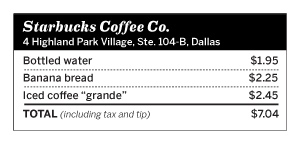 McBee grew up in a small town in South Texas, and it was her family who taught her the importance of volunteering. Working with the local hospital and driving for Meals on Wheels were part of her upbringing. It was volunteering for Meals on Wheels after moving to Dallas in 1994 that started her on the "slippery slope" that led to the countless boards, committees, and fundraising efforts that she participates in today.
She says she spends as much time each week on her philanthropic efforts as she does her paid work as a technical marketing consultant for a biotechnology firm.
"That's why I get only three or four hours of sleep," she says. "I've never needed a whole lot of sleep."
To say she's a night owl would be an understatement. It's not unusual for McBee to spend time on her charitable endeavors until midnight, then settle down for her "work work" and stay up until 4 a.m. She jokes that she knows it's time for bed when she sees the morning newspaper delivered.
Among her biggest commitments at the moment are working with the Trinity Trust on the three-day opening celebration for the Margaret Hunt Hill Bridge (set for March 2-4) and helping, as board chairman, to plan the sixth Dallas International Film Festival (April 12-22).
McBee says she's excited about the prospect of tens of thousands of people partying on the bridge—and even more so about how she expects bridge-designer Santiago Calatrava's work to transform the city.
"It will have an effect that's a lot deeper than it just being an iconic structure, which it is," she says. "When people think of Dallas, they'll think of the Calatrava bridge and that lovely arch. Dallas is a real bold city, and I think that represents the future, and that structure represents what I think Dallas is about.
"You're also talking to the eternal optimist. I am like, 'We can get it done, we can do it.' If someone is telling me no, I always think they just need more information."
Get the D CEO Newsletter
Stay up to speed on DFW's fast-moving business community with weekly news reports, interviews, and insights.