As the current restaurant landscape continues to chant a "less-is-more" mantra, there's something decidedly decadent about dining at the Capital Grille for lunch. Hipster chic has no place here. No, at the Grille's latest outpost in Plano, the trappings are rich and retro: sumptuous leather banquettes, mahogany paneling, alabaster lamps, and art deco chandeliers. Oh, and don't forget the requisite fox hunt paintings and stuffed game heads. Toss in some cigar-puffing, highball-swilling corporate fat cats plotting high-dollar takeovers and you have a scene straight out of Tom Wolfe's Bonfire of the Vanities served a ruthless bloody rare.
Of course, the corporate  suits at nearby Legacy aren't that diabolical—less espionage and more spreadsheets. But you still get the picture. The Capital Grille is East-Coast-boys-club cool. Its old-school charm makes you feel like a pinstriped power player, regardless of the size of your office.
Likewise, the food is textbook steakhouse fare: beef and seafood with a few surprises thrown in. Keep it simple with the steak and you'll leave satiated and happy. A 14-ounce, bone-in, dry-aged sirloin  was full of bold, beefy flavor, exhibiting a nice charred crust and a perfect medium rare interior. You can order it herb crusted but I preferred just simple salt and pepper. There's no sense in overseasoning a lovely cut of beef.
The sliced filet mignon, however, needed all the help it could get. The beef was dense, flat, and flavorless. The accompanying balsamic glaze was too sweet, and the cipollini onions were overwhelming. Nothing on this plate worked.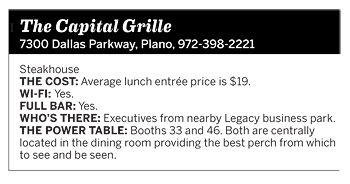 Thankfully, that was the lone misstep throughout my visits. The Capital Grille offers a novel lunch option: soup or salad, a sandwich, and side for $18. The best of the bunch were delicious and cute-as-a-button mini tenderloin and Boursin cheese sliders with a side of truffled fries. If you're not in the mood for beef, the Capital Grille offers numerous alternatives. A soup du jour of porcini bisque had a nice earthy tone and was topped with fragrant basil oil. Salad highlights included the classic iceberg wedge salad with blue cheese and applewood smoked bacon, and seared salmon served with avocado, mango, and tomato.
Seafood is a surprising strong point at this very traditional steakhouse, from the swordfish with lemon shallot relish to a novel play on the ubiquitous burger: Capital Grille's lobster crab burger. Here the kitchen molds generous chunks of both shellfish into a plump, sinfully rich patty served on a thick, eggy bun. The homemade tartar sauce is nice and tangy, but unnecessary. This sandwich is an addictive winner.
Drink in the restaurant's rich trappings with one last decadent bite: the Grille's notorious chocolate hazelnut cake. Layers of chocolate ganache. Toasted hazelnuts. Créme anglaise with a swirl of raspberry. This is the Capital Grille at its seductive best. Soon, you'll be kicked back, sipping a brandy, and plotting a corporate takeover of your own. The minivan and kids' soccer practice? They can wait.
Get the SideDish Newsletter
Dallas' hottest dining news, recipes, and reviews served up fresh to your inbox each week.