Business Lunch: Rosemont
Good and tasty things come in small packages at this Deep Ellum gem.
The old adage "less is more" is in full effect at Deep Ellum's new Rosemont. But fight those bigger-is-better Lone Star State urges. In this case, less is definitely a good thing.
Owner/chef Tracy Miller already has a jewel of a restaurant in Local, her sexy eatery that opened in Deep Ellum's historic Boyd Hotel in 2003. There, Miller pioneered the "eat local" movement, long before it became such a common theme in the Dallas dining scene.
Open two blocks to the west along Elm Street, the breakfast-and-lunch-only Rosemont is a bit quieter experience. At Local, slinky lounge music pulses through the restaurant's sleek, downtown-cool environs. Patrons clink champagne cocktails and indulge in Miller's simple yet, at times, decadent Modern American fare. It's quite the scene.
At Rosemont, the airy space is all white and light-strewn, feeling more like an art gallery. It's a fitting scene for Miller's precise and composed plates of simple yet satisfying food. Each dish is minimalist art on a plate. A perfect example was the petite heirloom tomato and haricot vert salad. Architecturally, it was stunning: a small pyramid-like stack of crisp, thin French green beans, tiny tomatoes, and crumbled feta all tosssed in oregano-mint vinaigrette.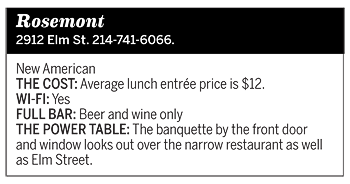 Other light lunch standouts included a classic Caesar with a tangy white anchovy dressing, green lentil soup with crumbled Canadian bacon, and a homey pimento cheese salad with garlic mayonnaise and layers of crunchy iceberg lettuce on classic country white bread.
Entrées are a bit heartier but still on the petite side. A lovely filet of salmon was citrus glazed and served atop a bed of dried apricot and pistachio couscous. Cod was lightly fried and served on a buttery brioche bun with tangy tartar sauce. I wished the accompanying cole slaw had been tossed with a vinegar dressing instead of mayonnaise. The dish screamed out for some acid. But a diminutive dessert of lemon pound cake served with lemon curd cream was sweet citrus solace.
Rosemont also does breakfast, my favorite dish being the oatmeal waffles topped with marscapone cream and figs. It was perfect: nutty, sweet, and a little tart. And, once again, a proper portion size: not too tiny nor too gluttonous. In fact, I find Rosemont's smaller portions welcome relief from the loaded platters that plague most area restaurants. In chef Miller's case, less isn't just more. It's delicious.