Round the corner just past the reception desk at Robot Entertainment, and you'll come upon a German beer hall.
"At Ensemble, every time we'd ship a game we'd go to the Bavarian Grill in East Plano to celebrate; that was a bit of the inspiration," explains Patrick Hudson, CEO of Robot, a Plano-based video game developer launched after Ensemble Studios' demise. "It's just a nice place for people to congregate."
The North Texas gaming industry is known for its fun-loving corporate culture. But it's also serious business, employing roughly 1,100 at two dozen development and publishing companies, to say nothing of global retailer GameStop, which raked in $9.1 billion in revenue during its most recent fiscal year.
Since 2005, the industry has grown nationally at a 10 percent-plus annual clip, according to data from the Entertainment Software Association. For 2009, gaming revenue was about $50 billion worldwide and $22 billion nationally, says Peter Raad, executive director of The Guildhall, a master's degree program in video game development at Southern Methodist University.
The video game industry added $490 million to the Texas economy during 2009 according to ESA, a figure that includes employee compensation, certain taxes, and gross operating surplus. To help measure local impact, Ron Jenkins, deputy director at The Guildhall, made a rough estimate of Dallas-Fort Worth video game developer/producer employment after talking with area developers. Multiply about 1,100 employees by an average video gaming salary of around $89,800, and you come up with $98.8 million in wage impact.
"Today, there are game development studios in Dallas creating software for all platforms and in all genres for all imaginable audiences, and it is one of the most vibrant development communities in the country," says Randy Pitchford, CEO of Gearbox Software in Plano, the area's largest developer, with about 200 employees here and another 150 or so worldwide.
The big gorilla in the room is not a developer or producer, but the world's largest retailer of new and used video games and accessories—GameStop, based in Grapevine, and number 255 on the Fortune 500 list of publicly traded companies. GameStop has 6,500 stores worldwide and plans to add 400 more in fiscal 2011, according to the company's website.
North Texas also has a critical mass of developers, leading to an economic cycle of successful companies spawning new companies, as programmers and artists break out to form new ventures.
An example is Ensemble Studios, Robot's predecessor. Founded in 1995, Ensemble was purchased by Microsoft in 2001, and then dissolved in 2009. At that time, Microsoft approached Hudson and other Robot founders, asking if they'd like to continue supporting the lucrative Age of Empires and Halo Wars games. "We kind of struck a development deal, and that helped Robot get some startup cash," Hudson says. "It's an unusual founding of a company when your startup has 45 people on day one."
Three other companies came out of Ensemble: McKinney-based Newtoy, formed by Paul and David Bettner; Windstorm Studios, also based in McKinney, launched by Dusty Monk; and Dallas-based Bonfire Studios, founded by several former Ensemble employees. Both Newtoy and Bonfire were subsequently acquired by FarmVille creator Zynga; they now operate as Zynga With Friends and Zynga Dallas, respectively.
Bigger than Hollywood
If the entrepreneurial stew is bubbling in the DFW gaming industry, so is technical innovation. Newtoy targeted the then-new opportunity of creating iPhone applications, or apps, in 2008, and hit the jackpot with its Words With Friends game. Robot is creating an Internet version of Age of Empires, which will be downloadable for free in its simplest form, with feature enhancements that can be purchased via micro-transactions—a newer way of monetizing games.
Meanwhile, Terminal Reality of Lewisville is working on a Star Wars game for Microsoft's Kinect, a new add-on for the Xbox 360 that utilizes voice and gesture recognition technology.
It's one of the things Gearbox's Pitchford says he likes most about the gaming industry. "Technology moves quickly, so each year brings new platforms and opportunity," Pitchford says.
At the Zynga With Friends studio in a revamped cotton mill in downtown McKinney, Paul Bettner, co-founder, says total revenue from Words With Friends hit $750,000 per month in September of 2010. "It has been great—enough to build the business on," says Bettner. "We came from the traditional game environment where, if you were lucky, you had a hit and sold 2 million copies, but then you need another hit. What we have now is this recurring revenue stream."
A sophisticated, traditional video game will cost $20 million to $30 million to bring to market, says Jenkins of The Guildhall. A big hit will bring in multiples of that, several hundred millions. In contrast, iPhone games have a much lower development cost, but face the challenge of visibility among a vast array of apps.
Up until the sale to Zynga, Bettner said Newtoy had been largely self-funded. "The cool thing is that you can grow very organically" in the iPhone gaming environment, he says. "We've been able to bootstrap the company and build this studio based on our own revenue." Bettner also believes that his chunk of the gaming industry is on the cutting edge of where gaming is going—connectivity. "It's sort of like gaming meets text-messaging," he says. "So many of our users describe that the game connects them with people."
The same connectivity trend is part of the growing popularity of games like FarmVille on the Facebook social site, says Raad. All facets of gaming are expanding rapidly, he says: "Even in August of 2002, [the industry's] revenue was already exceeding box office revenues of Hollywood."

Corporate Opportunities
It was in 2002 that Raad, then director of the Linda and Mitch Hart eCenter at SMU, was approached by some leaders in the DFW gaming industry about the need for training more programmers, artists, and designers for the industry. The Guildhall's masters degree program was developed in collaboration with the gaming industry, Raad says. "They opened their hearts and access, and we built a master's degree from scratch."
So far, more than 350 developers have graduated from the program. Demand for graduates remains high, with local companies like Robot, Terminal Reality, and others posting help-wanted listings on their websites. The Guildhall is one of only a handful of universities nationwide to offer a master's degree in video game development.
Raad sees gaming technology moving further into the corporate environment, beyond the current flight simulator, oil, and defense industry applications. Already, alums from the SMU program have worked with the U.S. Department of Justice, Garland schools, and the Cooper Institute.
The Guildhall has also spawned the first development company formed by graduates—Controlled Chaos Media, a Dallas developer of iPhone games that is working on other platforms as well. "We have two very high-profile projects we're working on right now and another one that's in negotiations," says Hunter Woodlee, Controlled Chaos founder. "One is for iPhone and one is for the xBox and Playstation."
The company has had success with an iPhone app called Pocket Fish that made Apple's top 100 apps list. "People give it to their kids, and their kids go crazy. We've gotten a lot of e-mails from people saying thank you," Woodlee says.
The developer says he has no doubt that gaming technology will expand not only in its own sphere, but also into other facets such as work life. "If you think about it," he says, "people who are coming into maturity in the work force are people who grew up playing video games."
And the market keeps expanding, not only with new user-friendly technologies, but also as the core constituency ages. Forty percent of game-players online are women, and 42 percent of heads of households play games on wireless devices, up from 20 percent in 2002, according to ESA.
"Think about it this way," says SMU's Raad. "The average age of a game player is in the late 30s, and it's going up every year. Every one of us is going to be engaged in this."
For Gearbox's Pitchford, the potential for game developers is unlimited. "Of all forms of entertainment, video games are the most interesting to me because they are new and growing," he says. "It's like the Wild Wild West at the moment, where the future is unfolding before our eyes."
Game On
The North Texas gaming industry is home to a wide array of developers. Here's a sampling of who's doing what.

Controlled Chaos Media
WHO: Founded by Hunter Woodlee in 2008 and initially staffed with graduates of The Guildhall program at Southern Methodist University.
WHERE: Dallas
WHAT: Best-sellers include Pocket Fish and Texting of the Bread
WEB: www.cchaosmedia.com

Robot Entertainment
WHO: Founded in 2009 by Patrick Hudson, Tony Goodman and Harter Ryan, and initially staffed by 45 former employees of Ensemble Studios, which developed the Age of Empires series and Halo Wars.
WHERE: Plano
WHAT: Robot is developing Age of Empires Online, due out in 2011, under contract with Microsoft. It continues to support earlier versions of Age of Empires and Halo Wars.
WEB: www.robotentertainment.com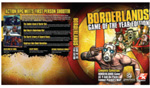 Gearbox Software LLC
WHO: Headed by Randy Pitchford as CEO, Gearbox was founded in 1999 by Pitchford, Executive Vice President Brian Martel and CFO Stephen Bahl. 
WHERE: Plano
WHAT: Top products include Borderlands and Brothers in Arms.
WEB: www.gearboxsoftware.com

Zynga With Friends
WHO: Founded as Newtoy in 2008 by brothers Paul and David Bettner, formerly of Ensemble Studios, with cousin Michael Chow. Sold to FarmVille creator Zynga in late 2010.
WHERE: McKinney
WHAT: Hits include the iPhone games Words With Friends and Chess With Friends.
WEB: www.newtoyinc.com

Terminal Reality
WHO: Founded in 1994 by Mark Randel, Drew Haworth, and Kyle Richards; in development of a new Star Wars game for Microsoft's Kinect.
WHERE: Lewisville
WHAT: Best-sellers include Terminal Velocity, Ghostbusters.
WEB: www.terminalreality.com
Get the D CEO Newsletter
Stay up to speed on DFW's fast-moving business community with weekly news reports, interviews, and insights.