Twenty-seven years ago when the federal courts took apart Ma Bell, a massive influx of players from around the world began to claim equity stakes in Richardson's Telecom Corridor.
With the shackles off local phone service monopolies, telecom giants like Northern Telecom, Fujitsu, MCI, Samsung, and Ericsson all wanted a piece of the action.
Fast forward to 2011. The Telecom Corridor still is home to about 600 companies, many of them telecom-related, such as MetroPCS, Fujitsu and Cisco Systems. But the cluster has diffused. Other hotbeds now include Irving, which is the U.S. home for Research In Motion; and Plano, where both Ericsson and Alcatel-Lucent have moved their U.S. headquarters.
"The idea of having it in the Telecom Corridor made it identifiable; [now] it is filtering off in more accommodating locations, but still in the same region," says Donald Hicks, professor of political economy and public policy at The University of Texas at Dallas. "The real value of Bell's technology is not so much in making things, but how it has transformed everything in the economy."
That transformation has helped create high-tech jobs for more than 230,000 workers in North Texas, about half of whom are in the telecommunications sector, says Drew Snow, director of member services at the Metroplex Technology Business Council. There are more than 864 privately owned telecom companies here and dozens of public companies that have either set up their North American headquarters or established a large presence in DFW.
Case in point: AT&T relocated from San Antonio in 2008 and is now among the largest high-tech employers in Dallas-Fort Worth with 14,000 employees. It's also one of the state's largest employers, with 36,400 workers in Texas.
The Fortune 500 company was spawned from four telecom companies: the old AT&T, Cingular, SBC, and BellSouth.
"Dallas has been a great home for us," says Forrest E. Miller, AT&T group president of corporate strategy and development in Dallas. "It has exceeded our expectations. It's certainly a business-friendly climate and a great place to live. We wanted a presence in a significant telecommunications and technology cluster, and Dallas certainly fits the bill."
AT&T has deep pockets when it comes to spending. In the first half of 2010 alone, the company invested nearly $850 million in Texas in its wireless and wireline networks.
Proximity to its customers and suppliers, a reliable transportation system and access to a vast applications development community are bonuses for the company. And from a human resources perspective it's not bad, either.
"There's a great skilled, experienced labor pool here, and it's relatively easy to recruit people to come and work in Dallas," Miller says.
Easy access to customers also is a big plus for Ericsson, which started out in Richardson and was spread among 23 buildings there before opening its Plano campus in 2001. Locally, Ericsson employs about 3,200, including 1,000 former Nortel employees in Richardson. The Swedish company provides telecom equipment and services to mobile and fixed network operators and counts AT&T, Verizon, T-Mobile, and MetroPCS among its biggest customers.
"More and more of our customers are locating here," says Arun Bhikshesvaran, senior vice president of strategy and chief technology officer for Ericsson North America. "When it comes to executive relationships and working on critical issues, across the board it helps to be in close proximity with customers."
Bumpy Road
Although the forecast for telecom looks bright, the last decade hasn't been easy. The dot-com bubble burst in early 2000, and dominoed into a telecom downturn that persisted from 2001 to 2004. The climate improved from 2005 to 2007, but then a three-year recession took hold.
Charlie Vogt, president and CEO of Genband Inc., describes the latest recessionary wave as trying to "manage through a tsunami."
"A lot of smaller subscale companies really struggled over the last decade in telecom," he says.
Genband was one of them. Vogt took the reins in 2004 when the now-Frisco-based company had 80 employees and few sales. Today the 2,220-employee company, which has 400 workers locally, is one of the largest privately held telecom equipment manufacturers in North America. Revenue has climbed from $5 million in 2005 to $750 million in 2010.
Vogt credits the company's success to strong investor backing and consolidation in the Voice over Internet Protocol industry. The evolution of legacy Time Division Multiplexed networks to all IP broadband networks continues to create opportunities for companies like Genband, he says.
During the last three years, Genband  has executed four major acquisitions, including Tekelec's VoIP business in 2007 and Nortel's Carrier VoIP and Application Solutions business in May 2010.
Integrating those operations is a major focus for Genband, which swallowed businesses that were up to three and half times larger than the company itself.
"What's making Genband Genband right now is how well we are executing on our vision and implementing the integration of these larger entities," Vogt says.
The reason there's so much consolidation from the equipment supplier side is that it's catching up to an aggressive consolidation that took place with service providers during the past 15 to 20 years.
"Equipment suppliers weren't in a financial position to consolidate, but businesses are healthier now," Vogt says.
There's An App For That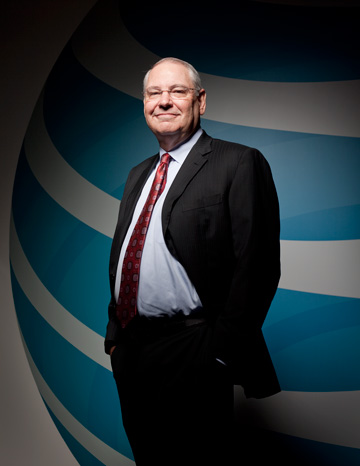 Another hot telecom segment is applications for mobile devices. Chris Koenig, senior developer evangelist for Microsoft, says he learns about what kind of apps people want through presentations he gives—the best parking options and where items are in grocery stores are some of the latest requests—then connects with developers about how to deliver them.
These days, Koenig is jazzed about the recent launch of Windows Phone 7, which is receiving positive reviews from critics, and is encouraging developers to create apps on the easy-to-build-for platform.
"[Windows 7] has taken a step toward something unique in the marketplace," says Koenig, who works at the Microsoft campus in Irving, home to 1,140 employees. "We understand people's desire to manage their personal and professional lives and to use technology in a smart way. I'm excited about how we can take the core platform and expand it in new ways."
App creators aren't limited to just the developer community. He's seeing more collaboration between the creative community and developers because of the visual capabilities of the apps. Koenig isn't kidding about the potential of individuals, companies, and developers to tap into a $6.2 billion market. That's how much consumers reportedly spent on apps in 2010—a whopping 50 percent more than in 2009, according to information technology research firm Gartner Inc.
The market is so hot that this past October, AT&T announced plans to work with Alcatel-Lucent, Amdocs, and Ericsson to open three mobile application development facilities, including one in Plano. The others are in Palo Alto, Calif., and near Tel Aviv.
"It speaks to the breadth and depth of the telecom resources and energy here," says Miller of AT&T. "It gives you a sense of our perspective. It's a very high growth part of the business."
The move reinforces North Texas' standing as a breeding ground for app development.
Greg Smith, president and CEO of Accudata Technologies, found that to be true when his Allen-based telecom data services company sought to develop an app for a subsidiary company, Privus Mobile. The app adds Caller ID to smartphones, which without it only displays names in a user's contacts list when a call is received. It also provides caller ID for VoIP phones.
"We don't develop all of that ourselves," Smith says. "I met the first [developer] at a Metroplex Technology Business Council lunch. He was sitting right next to us and said, 'My company does that.' Two weeks later, we had a contract. All of our developers are right here in North Texas. I get calls all the time from around the world, but there's no need for us to go anywhere else."
Privus Mobile introduced another app in 2010 that adds a voice announce feature for people who are driving and receive a text or phone call.
The app market is relatively new for Accudata, which got its start in the payphone business. The company's core business is validating phone numbers for collect calls, processing about 10 million data transactions a month. Accudata later added caller ID service for landlines and naturally gravitated to cell phones. "We're seeing the proliferation of the LTE [long term evolution] capabilities for 4G that most of the major carriers have that expands the bandwidth universally," Smith says. "Our caller ID works better and better with the bandwidth that's out there."
A First With LTE
In November, MetroPCS and Ericsson became the first wireless carriers in the country to launch a 4G/LTE network in Las Vegas and Dallas.
"Putting Dallas on the LTE map is a huge accomplishment globally," says Bhikshesvaran of Ericsson.
Many believe LTE, which is next-generation mobile broadband technology, will replace slower second- and third-generation mobile networks, which include Global System for Mobile communications and Code Division Multiple Access. LTE/4G also is expected to cut costs for service providers and open the door to more mobile phone apps with enhanced video capabilities.
AT&T began its own LTE trials in Dallas and Baltimore and expects deployment to start in mid-year 2011. The company plans to reach up to 75 million people by late 2011.
The number of LTE subscribers is expected to hit 300 million by 2015, according to Juniper Research. Embedded devices such as netbooks and smartphones are driving demand for LTE, which is expected to be a $100 billion industry by 2014.
Another feather for Dallas' cap came in November, when about 800 high-level execs attended the LTE North America 2010 conference downtown.
"You could literally look at the audience and all of the key players related to LTE were sitting there," Bhikshesvaran says. "That is impressive. People are beginning to realize what is happening in Dallas—the concentration of talent and companies that are here. The energy level was very high."
Mother Ship Perks
Wireless broadband and the advent of cloud computing, where companies move their operations to the Internet, continue to drive a resurgence in the DFW telecom sector that has implications for all industries. Health care-related tech firms, for example, will reap the benefits when the country standardizes its medical electronic records and allows doctors and patients access from the "clouds."
All across North Texas, nearly a dozen business incubators are helping to ramp up new technologies and products derived from the brains of locally grown workers.
"If you go around to the major telecom players they are incubating all sorts of new ways to create markets," says UT Dallas' Hicks. More important, workers who are trained in those domains have a high probability of starting their own businesses. The entrepreneurship and innovations that are percolating outside the big mother ship have been a defining dimension in this region."
Combine that with the area's low costs of living and doing business, an abundance of skilled telecom workers, and  the ease of recruiting new graduates, and it all adds up to a breeding ground for innovation.
"I think right here in the Metroplex is one of most exciting places to be as far as participating in the telecom world," says Smith of Accudata Technologies. "We have a unique breadth and depth of telecom players right down the street. There's a lot of collaboration and cross-pollination that goes on to enhance the business."
Answering the Call
A sampling of major telecom or telecom-related companies based in North Texas or having sizable operations here:
Accudata
Alcatel-Lucent
AT&T
Avaya
Cisco Systems Inc.
Ericsson
Fujitsu
Goodman Networks
Hitachi
Huawei
Juniper Networks
L-3 Communications
LTC International
Masergy
MetroPCS
Mitel
Motorola
Network Engines, Inc.
Nokia
Nokia Siemens Networks
PAETEC
Samsung
Telmar Network Technology
Time Warner Cable
Verizon Business
Verizon Wireless
XO Communications
Source: Metroplex Business Technology Council  
Get the D CEO Newsletter
Stay up to speed on DFW's fast-moving business community with weekly news reports, interviews, and insights.