For the most part, financial results did indeed appear to impact bonus awards. Six of the 10 companies paying no bonuses had negative net income, while three companies (Comstock, Nexstar, and Union Drilling) did pay bonuses to the CEO despite negative income. In the case of Comstock and Nexstar, losses diminished substantially compared to 2009. The compensation committee of Comstock's board noted that management had successfully executed a challenging strategic shift, and losses were cut in half in spite of low natural gas prices. The company's bonus system is admittedly "subjective," i.e., based on the consideration of financial and other strategic factors, but non-formulaic. Thus, there is no automatic "zero-ing out" of bonus awards when net income is negative.
Cameron of Paradox notes that "most larger firms have formulaic bonus programs, where pre-set goals are linked to specific levels of bonus payouts. A substantial number of midsize companies still use a more discretionary approach to determining bonuses, reflecting more flexibility among these organizations than is found at larger firms." Also, in larger firms, shareholder groups appear to be more active, and institutional investors are guided by organizations such as Institutional Shareholder Services that evaluate the "shareholder-friendliness" of executive pay programs.

The DFW midsize companies paid a median $630,000 in total cash compensation (which includes salary and annual bonuses), versus $547,957 in 2009—a 15 percent increase. In contrast, total cash in 2009 had dipped by 1 percent versus 2008. More companies paid bonuses in 2010, and salary increases were higher. This is a strong indicator that midsize companies were feeling confident about their own economic recovery.
Simple Long-Term Programs
Over the last couple of decades, long-term incentives (e.g., stock options, restricted stock or units, and other long-term performance plans) have played an increasingly important role in executive compensation. At larger firms, the fair market value of long-term incentive awards accounts for 50 percent or more of the CEO's total pay package. Larger public companies, both locally and nationally, tend to have multiple long-term incentive approaches and, in any given year, the CEO receives several types of awards. In both poor and healthy economic times, companies make grants to motivate executives to enhance shareholder returns and, consequently, to share in that success.
In general, midsize companies have much simpler long-term incentive programs than larger companies, and some smaller firms have no plan at all. Last year, our study found that the DFW midsize companies were far less likely in 2009 to make long-term incentive awards to CEOs than larger companies, and that finding has not changed based on economic improvement. Forty-nine percent of the companies made no awards in 2010, versus 40 percent in 2009. If an award was made, the median value was $305,144, which is 12 percent higher than the 2009 median value among those actually receiving an award.
"Not much has changed in regard to long-term incentives among midsize companies over the past year," says Cameron of Paradox. "They are more aggressive in this area than private companies, and less systematic than larger public firms. Plans are not as complex as those in larger companies, and grants may be less frequent."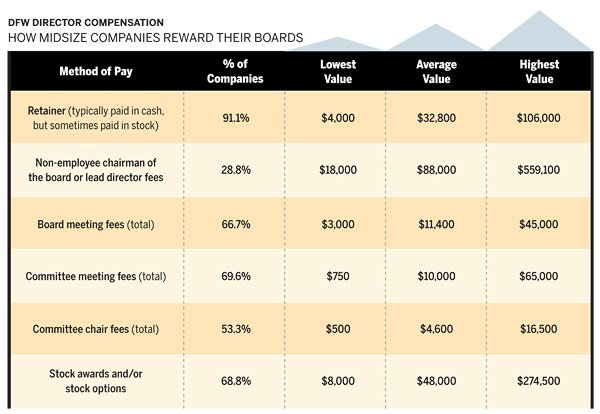 Only two CEOs in the midsize group have long-term incentive awards that begin to compete with those typical of larger public firms: Allison of Comstock Resources ($4.7 million), and Glenn Darden of Quicksilver Resources ($3.7 million). Allison's award was made in restricted stock that vests over four years, and the actual value to him will be based on the company's stock price when the award vests. His 2010 award is actually down in value from prior years (minus-43 percent versus 2009). Whereas the Comstock compensation committee applies judgment about the impact of the role on strategic initiatives when making grants, the Quicksilver committee works with a third-party consultant, analyzes practices in peer companies, and has a stated philosophy that guides grant practices. All of these factors were considered when determining Darden's 2010 stock option and restricted stock awards.
Company size, stage in the corporate lifecycle, financial results, compensation philosophy, and ownership history all influence total direct-compensation decisions. Industry is also a factor because certain industries have historically been higher-paying than others, and the economy has impacted some industries more intensely than others.
In many ways, compensation among the midsize group is less predictable than at larger companies. Midsize companies are willing to make reductions in challenging times, but have been unwilling to fully reopen the money spigot once the economy begins to improve. Continued caution appears to be the modus operandi in most cases.

Directors And The Economy
If examining executive compensation can be challenging, measuring board of directors compensation can be even more so. Paradox Compensation Advisors examined the same 45 companies to provide some insights on how directors are compensated in the midsize segment.
Total direct compensation for directors within the same company often varies, based on the specific role. Given the scrutiny and liability related to reporting company financials since Sarbanes-Oxley was passed and implemented, it's not surprising that the audit committee chair has risen to the fore as one of the highest paid positions on most public boards. Pay for the compensation chair has also increased, again in recognition of increased regulation and reporting. Given the challenge of recruiting experienced directors with the skills to add value in today's business and regulatory environment, it's unlikely that compensation for board members will decline.
Uniquely in our annual study of middle-market companies in North Texas, this is one area of compensation where the economy has little impact.
Get our weekly recap
Brings new meaning to the phrase Sunday Funday. No spam, ever.