Improved business results for midsized companies in North Texas last year translated into more pay for their CEOs. That's according to a new study of executive compensation trends among middle-market public companies in Dallas-Fort Worth by D CEO magazine and Paradox Compensation Advisors, a Dallas-based compensation consulting firm.
Paradox and the magazine first partnered to do the exclusive study last year, when we noted that economists often point to the middle-market-companies group as a harbinger for recovery. Midsize companies, in many ways, are the "heartland" of American business, both locally and nationally. Yet while executive compensation is covered generally in the press, no one else is focusing exclusively on the middle market in North Texas.
How midsize companies choose to reward their CEOs should provide some clue about their economic confidence. This year, our study also provides a first-time look at a rarely analyzed and poorly understood topic: board of directors compensation.
Last year, if you'll remember, business conditions were a little different than they are now. National surveys of the largest companies in America were showing a slight decline in CEO pay, public opinion of executive pay hit an all-time low, and government intervention was on the rise.
Last year's study for D CEO, which examined business results from 2009, was based on 49 companies ranging in size from $50 million to $800 million in annual revenue. These companies had experienced an 11 percent median one-year decline in revenue, and a 26 percent reduction in net income. Our analysis demonstrated that in the wake of difficult economic times, local midsize companies were more likely than larger companies to freeze CEO pay­—or to reduce it.
A key question for this year's study: whether the economic recovery has led to a rebound in CEO pay among these businesses.

Overall Improvement
This year's group was again determined based on annual revenue (between $50 million and $950 million). A few companies dropped out of the group—several due to M&A activity and one that suffered a precipitous drop in revenue—while a handful of new companies moved in.
In all, we reviewed the 2010 performance of 45 companies for this year's survey. On average, total revenue had climbed by 11 percent and net income increased by 33 percent, indicating significant growth among middle-market companies in North Texas.
The chart below shows total direct compensation for the CEOs of these companies, arrayed from about $8 million for Comstock Resources CEO M. Jay Allison at the top, down to $262,500 for Tandy Leather Factory's Jon Thompson.
Reports on the 2010 performance of the largest companies nationally also showed overall improvement in revenue growth and net income. These improvements were accompanied by significant increases in bonuses and equity compensation. A study of CEOs in the Standard & Poor's 500 by Equilar, an executive compensation research firm, showed a 24 percent increase in total direct compensation following two straight years of small declines.
Our study last year indicated that CEOs at DFW midsize companies experienced somewhat larger declines in total direct compensation in percentage terms than their counterparts at bigger companies. A significant number of these midsize companies chose to freeze or reduce base salaries and/or forego incentive awards for CEOs. In this year's analysis, we focused on whether or not improved results led midsize companies to loosen the purse strings a bit.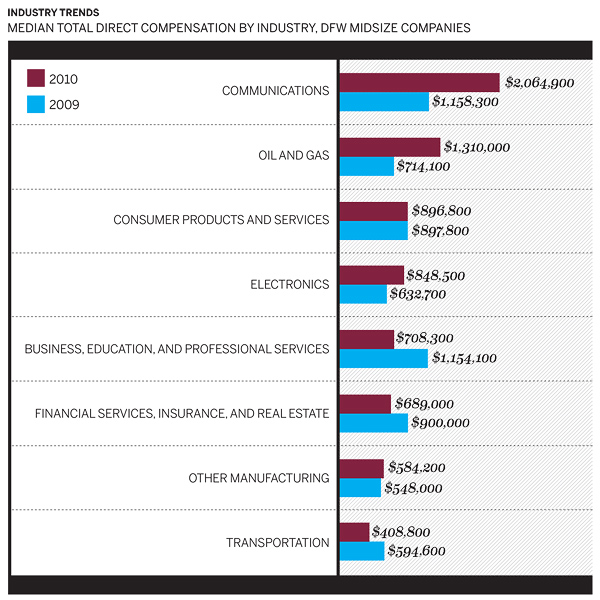 Total direct compensation in 2010 for the DFW Midsize Group CEOs was $727,721 at the median. Considering the 43 CEOs where full 2009 versus 2010 comparisons are possible, this is a seven percent increase in the median value. In cases where the same incumbent was in place, 26 companies made increases to the CEO's compensation, 14 companies decreased pay, and three made no adjustment. The range in year-to-year swings varied from minus-67 percent to plus-177 percent.
However, "summary statistics of total direct compensation in this group have to be viewed with a grain of salt, because of less standardized approaches to executive compensation than what's typical in larger public firms," says Marsha Cameron, Paradox senior partner. "For instance, these companies are less like to award equity every year. Thus, a 'decrease' could simply be the result of a biannual equity-award practice. Some pay history needs to be examined to understand what really happened with these companies in 2010."
Where base CEO salaries are concerned, the median for this group was $410,923, a 1 percent increase over the year before. Interestingly, this is lower than the average increase reported in most national surveys for all employees (2.9 percent). In the 43 companies where the same incumbent was in place during the last two years, 24 companies increased base salary in 2010, 16 maintained base salary at the same level, and three actually decreased base salary for the CEO. Among those experiencing the largest increases were Lawrence Cohen at Capital Senior Living (up 48 percent) and George F. Jones Jr. at Texas Bancshares (up 21 percent). It is risky, though, to evaluate just one component of compensation in isolation. For instance, Cohen's base salary increase was due to eliminating a special quarterly bonus for achieving earnings-per-share goals and implementing a new employment agreement.
Bonuses Were Up
Revenue growth and net income are two factors that often are considered when determining bonuses. Given the significant uptick in both metrics among the midsize companies, increased bonus payouts would be anticipated. Excluding 10 companies that paid no bonuses for 2010 performance, the median bonus paid was $257,700 (versus $250,000 in 2009). Twenty-two percent paid no bonus, versus 41 percent in last year's study. Clearly, bonus payouts improved here, primarily because more companies paid bonuses.
The highest bonuses in the midsize group were paid to Allison at Comstock Resources ($2.8 million) and Rick Wessel (about $1.5 million) at First Cash Financial Services. In fact, Allison's bonus is ranked among the highest (specifically, eighth) among all DFW companies.
Get our weekly recap
Brings new meaning to the phrase Sunday Funday. No spam, ever.