I'd like to work for Stan Richards. I mean, I have a great job already, and no particular desire to enter the advertising game. But the guy just seems like someone you'd want to have sitting down the hall in the corner office.
Richards is a stickler for requiring all the company's employees to be at work by 8:30 a.m., but that's because he wants them to get home in time for dinner each night. He says he refuses to let the agency work for any client that doesn't treat his people with respect. And, at age 78, he arrives for our 7:30 a.m. meeting at Bread Winners Café and Bakery in Inwood Village with far more energy than I'm feeling. He began his day with a half-hour on the elliptical machine, as our appointment precluded his customary 3- to 4-mile morning run at the Cooper Aerobics Center.
Almost as soon as we're seated in the dining room, where only a few other tables are occupied, we're ordering breakfast. Both of us make uncomplicated requests: the veggie scramble and a cup of coffee for him, a bowl of oatmeal and glass of orange juice for me. We ignore the plate of assorted complimentary sweetened breads the server sits before us.
"The last three years have probably been the most difficult time in the advertising agency business, maybe forever," Richards says. "We've just ridden through it, continued to grow. Whereas so many of our counterparts in the industry have had massive layoffs, we have not." When Red Lobster dropped the agency late last year, The Richards Group had to "tighten our belts for a very short time," he says, but it has since replaced that lost revenue with new clients.
The agency doesn't have a business outreach department. It counts on its reputation as the dominant advertising firm in this region of the country to bring business. Often a client becomes enamored with one of its best-known campaigns—like Chick-fil-A's cows that implore customers to "Eat Mor Chikin"—and want Richards to do the same for them.
"I can't tell you how often we hear, 'Where's our cow?' " he says with a laugh. "What they're really asking … is 'Can we have an icon?' and the answer to that is, 'Maybe.' There's a lot to be said for icons. They make advertising easier."
Whether it's for Chick-fil-A, its noted work for Motel 6 or Bridgestone Tires, or really any of the agency's efforts, Richards' goal with advertising is to create something that's "endearing" to the audience. He equates advertising to working as a car salesman: the first objective of any good car salesman is to be liked by his customer. Being liked makes the rest of the pitch much easier, because the customer is more receptive.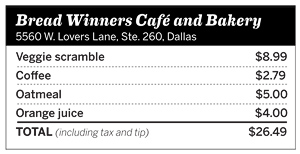 Our simple orders result in a surprising amount of food delivered to the table. Richards' veggie scramble—the eggs overflowing with spinach, tomato, broccoli, and mushrooms—comes with diced potatoes. My oatmeal arrives with two whole sliced bananas, a cup of cranberries, granola, and brown sugar.
As we dig in, we discuss just how Richards managed to grow his business from the boutique design shop he started in 1955 to a company of multiple divisions, with more than 650 employees, today. Although most advertising companies segment their office by department—creative, accounts, media, etc.—The Richards Group purposefully seats employees from different departments together, in order to combat the sort of "tribalism" that can set in when each group spends its days living within its own silo, not hearing other perspectives.
"What I saw as the biggest danger in store for us as we got bigger—as we grew to multiple floors in various buildings—was that we'd fall into the same pattern that every agency falls into," he says. "That tribalism really gets in the way."
Richards has already designated his successor within the company, though who that person is won't be revealed until after the founder is gone. (He's got no plans to retire.) He'll say only that it's someone from the company's creative team. Richards himself started as a graphic designer, and he believes it's vital that an advertising agency be run by creative people.
"The only thing that the [advertising's target] is ever going to see is the commercial or the magazine ad. So if that's our product, then it seems the person in charge should be someone who is really good at that product," he says. "And they don't have to be a business wizard, because I'm certainly not. They just have to have good business instincts."
We finish up and shake hands as we say our goodbyes in the parking lot. I remark that he may be in trouble, since it's already past 9 a.m., making him late for his agency's official start time.
"I got special dispensation," he says with a smile.

Get the D CEO Newsletter
Stay up to speed on DFW's fast-moving business community with weekly news reports, interviews, and insights.