When the Catholic Foundation held a blind-juried competition a couple of years ago to pick a mural to adorn its Catholic Foundation Plaza downtown, one of the entries that got an honorable mention in the contest was by top local business executive Jim Keyes.
Who knew that Keyes, chairman and CEO since 2007 of Dallas' embattled Blockbuster Inc., was also a budding Monet?
"I believe everyone has creative abilities," says the 56-year-old chief executive, who previously was president and CEO of Dallas-based 7-Eleven. "I'm passionate, but clearly not a professional artist. I've never had an ounce of training."
That may be so. But Keyes' entry in the annual mural competition—a riff on piano keys with references to Dallas' new performing arts district—hints in several ways at his lifelong passion for the arts.
As a youngster growing up in Grafton, Mass., in a "somewhat underprivileged environment"—the family home lacked running water—Keyes learned to play the trumpet, the piano, and the organ. He even paid for part of his college education as a church organist, showing up for weddings and other events.
Later he took up the guitar, Keyes says, and developed a fascination with fine art and painting.
"I think it was an opportunity to study in Europe, and my exposure to some of the great masters on my tour of European museums as a college student, that gave me the desire to begin painting," he recalls. "I started literally trying to copy an Impressionist style. Impressionist art was my favorite, and I could never dream of affording anything more than a poster. So I began to make my own."
These days the busy businessman, who also dabbles in traditional sculpture with a hammer and chisel, prefers to pursue his art after returning from trips abroad, when he's still jet-lagged. "That way I can focus for a couple of days," he says, "instead of sitting on a couch with the remote."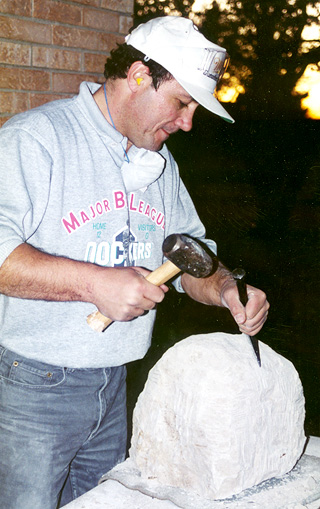 Business strategy and artistic creativity aren't, and shouldn't be, mutually exclusive, Keyes contends. As proof he points to his "artistic challenge" at Blockbuster, the $4.1 billion (revenue) video-rental chain that's been in Chapter 11 bankruptcy since last September.
"I see this corporation as a blank canvas … or an existing sculpture that can be reformed and reshaped into something very different," he says. "That's what's required to transform a company."
Blockbuster's also very much a work in progress—a "picture that's not completed," Keyes adds. "It's an artistic endeavor for me to create the vision of a future Blockbuster that's able to satisfy the customer's demand for convenient access to media entertainment in very different ways."
Get the D CEO Newsletter
Stay up to speed on DFW's fast-moving business community with weekly news reports, interviews, and insights.