Flavor. That's how he says it. Just like you're supposed to. Long "a" in the middle. Hard "r" at the end. Flay-vohr. Except, the right way is wrong in this case, and you have to figure he knows it. But Terdema Ussery says "flavor" anyway when he tells the story of the group of kids he came across while walking through New York's Central Park last year.
The story goes like this: There he was, the 52-year-old president and chief executive officer of the Dallas Mavericks. Right-hand man to Mark Cuban. Friend to NBA Commissioner David Stern. And one of the most powerful African-American executives in a league dominated by black players. And there they were. Four teenage boys who Ussery pegged as, "obviously from New York," a city where the Knicks Rule! and some Russian guy owns the New Jersey Nets and the Dallas Mavericks notch a few wins every year against the hometown teams. And, yet, each of these kids was dressed in navy blue, royal blue, silver, black, and white. Dallas Mavericks' colors. Four obvious New York teenagers, walking through Central Park, all wearing Dallas Mavericks' jerseys.
"I thought it was really strange," Ussery recalls from the team's offices in Dallas. There, he oversees anything and everything having to do with the Mavericks that isn't handled by owner Mark Cuban, general manager Donnie Nelson, Coach Rick Carlisle, or forward Dirk Nowitzki. "So, I caught up with the kids," Ussery continues. "And, just to be sure, I asked them, 'Are you guys from Dallas?' They said, 'No. We're from the Bronx. Why?' I told them I was the president of the Mavericks. They got all excited, and we ended up taking pictures and everything. Finally, I asked them, 'Why do you like the team so much?' They said, 'You guys have flavor.'"
Flay-vohr. Not "flava"? It had to be "flava." No self-respecting Bronx teenager would have said it any other way. Go ahead, check the Urban Dictionary. "Flava" is the word for describing style. "Flavor" is the word for describing ice cream. And Ussery, who has two teenagers of his own, likely knows that. So why avoid the hip-hop lingo in an anecdote?
Maybe he didn't want to sound like an old guy talking like a young person. Or maybe it was just a reflex. After all, four decades ago, when Ussery was moved out of a gritty South Central Los Angeles junior high and into a tony prep school 80 miles outside the city, he forced himself to banish street lingo from his vocabulary. He also trimmed off his Afro. There were 212 white kids and just seven black kids at The Thacher School in Ojai, Calif., and fitting in and getting ahead in school, Ussery figured, would require such sacrifices.
He figured right. After The Thacher School, Princeton would follow. Then Harvard. Then a law degree from the University of California, Berkeley. And, eventually, his role just below the top of the Mavericks' organization.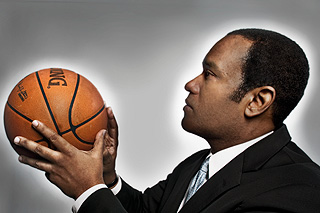 Ussery has been with the team since 1997, predating his current boss' ownership. Under previous Mavericks owner Ross Perot Jr., Ussery was instrumental in getting American Airlines Center designed, financed, and built. Since then, he has helped Cuban's Mavericks reach lucrative deals with a range of corporate partners, more than double ticket revenue, and reap a windfall from improved TV deals. Plus, Ussery was the linchpin in the complex deal that brought the NBA All-Star Game to Cowboys Stadium last year—the biggest event in basketball history. That's why some believe Ussery could succeed Stern as NBA commissioner someday.
But no matter how well Ussery has done his job of improving revenue and expanding the Dallas Mavericks brand, there is one thing he can't do: put the team in the black. And the thing is, he's okay with that.
Fancy Cars Are Nice, But Career Planning Is Overrated
It's probably best that he lost the Afro. Today Ussery is handsome, with a closely cropped head of hair and the muscular frame of an Ivy League linebacker. Bulging biceps pop out from the sleeves of his Dallas Mavericks polo shirt as he chats from his cluttered office at the back of the team's Deep Ellum headquarters. Actually it's not so much an office as it is a cubicle with doors. Noise from a clackety air conditioner and from dozens of other workers in the warehouse pour down into Ussery's space from the 25-foot-high ceiling with its exposed ductwork. The space used to house Cuban's Broadcast.com. But it's not really the kind of work space where you'd expect to find the president of a organization with $150 million in annual revenue. Then again, there are less pleasant places Terdema Ussery could have wound up.
Back in his Afro days, when he was 13, Ussery was a smart kid on a bad path in a tough neighborhood. "I was in the process of having a series of fights with a guy in my class," Ussery says. "We were trying to establish who was going to be the king of the junior high school on the way to going to high school that next year." The fights landed him in a school counselor's office and the counselor, who saw potential in Ussery beyond being Freshman King, suggested he apply for admission to The Thacher School, a prestigious prep school located in a valley at the foothills of the Topatopa mountains—90 minutes north of Los Angeles. The Thacher School charges tuition and, although Ussery's parents owned a grocery store in Watts, he was certain they wouldn't be able to afford to send him there. "I told her I didn't want to apply if there was a cost involved," Ussery says. "But she said she'd help me get financial aid if I got in and, if I didn't get in, we just weren't going to tell my parents. Luckily I got in, and got the financial aid. That really changed the trajectory of my life."
After graduation, that trajectory pointed east, to Princeton, where Ussery got a B.A. from the Woodrow Wilson School of Public and International Affairs. Harvard, and a masters from the John F. Kennedy School of Government, came next. Then Ussery came back west to get his law degree from the University of California at Berkeley. After that, he landed a job in the L.A. offices of the San Francisco law firm Morrison & Foerster, a firm confident enough to refer to itself as "MoFo." And that should have been that. Get big law firm job, make connections with powerful people, buy a fancy car, secure corner office. Become a permanent MoFo.
Except Ussery didn't play it that way. In fact, he almost screwed everything up. When a thief put a bullet in Ussery's father's thigh during a robbery in 1986, Ussery and a cousin spent three days prowling Watts, trying to find the shooter. And, as Ussery told Sports Illustrated when it profiled him in 1993, handing the shooter over to the law wasn't necessarily the first thing on the young lawyer's mind. Eventually Ussery decided that continuing the search would be a mistake, and he called it off.
His law career continued, however. And, within a few years, Ussery knew exactly where he was headed. "At that time, my path was certain," Ussery recalls, pushing a stack of papers to the side of his desk. "I was being told that I was on a partnership track. I could see where partnership was going to take me. Those guys were walking around me every day. They drove the same cars. They lived in the same neighborhood. Their offices were decorated the same. They all lived the same life. And I knew, literally, where my office would be 15 years later. I'd have a window, and I'd have an assistant who would have a window."
But that script—if Ussery was really going to follow it—was rewritten the instant United Flight 232 tumbled down a runway making an emergency landing in Sioux City, Iowa, on July 19, 1989. The crashed killed more than 110 people, including the 25-year-old commissioner of the Continental Basketball Association, Jay Ramsdell.
The CBA, which was already in a financial shambles, was thrown into complete disarray by Ramsdell's death. To restore order, the league looked to a sports industry veteran, 68-year-old Irv Kaze, who at the time was a senior executive with the then-Los Angeles Raiders. Kaze, in turn, looked to Ussery to join him at the league's offices in Denver. Kaze had already recruited Ussery to spend some of his off-hours quietly helping several Raiders players work through various legal issues. But this was something different. Moving to Denver would mean a massive pay cut. And even though Ussery would be serving as general counsel for the CBA, he'd be leaving the certain security that MoFo offered. Ussery took the job. "In the end," he says, "the unpredictability at the CBA was more alluring than looking at my life 15 years down the road and knowing exactly where I was headed. The thought of that literally made me cringe."
As it turned out, the job was even more unpredictable than he could have imagined. Within a year, Kaze was out. And Ussery, at 32, was tapped to take over as commissioner. The league had been in business for 47 years at the time, but it seemed unlikely to reach 50. Franchises were failing at a frightening clip. Ussery's response was to push for revenue growth by signing a slew of new corporate partners and expanding the CBA's relationship with the NBA. "The CBA was a league that was being operated like a minor league in every sense of the word, and my attitude was we should operate like a major league," he says. "We may not have the salaries to pay like the major leagues, but we should operate the business in a very professional way. That's how we'll get deals and respect."
Get our weekly recap
Brings new meaning to the phrase Sunday Funday. No spam, ever.