No one likes to get sick, but Ken Schnitzer seems even more annoyed than the average businessman to be feeling under the weather for our meal at Fearing's in the Ritz-Carlton, Dallas.
He says he hasn't been ill in five years. Seeing his fit appearance, and hearing about his normal morning routine (running several miles, followed by a breakfast of fruit and egg whites), convinces me that he takes great care of himself. No wonder he's frustrated to be suffering what sounds like painful congestion.
Still, he's the first to arrive for our 8 a.m. rendezvous at the restaurant, rising to greet me as I walk in. We're seated in the middle of Fearing's breakfast dining area, with a few empty extra chairs at our round table.
The place is busy, as you'd expect a hotel restaurant to be on a Tuesday morning. Judging by the pile of suitcases that sit just inside the entrance, the clientele are mostly business travelers stopping off for a final bite before leaving town. (Though I was able to spot one minor celebrity—Dallas Symphony music director Jaap van Zweden tucking into some grub in a booth against the far wall.)
Schnitzer picked the spot because it's across the street from his Park Place Dealerships corporate offices in the 2100 McKinney building. It's clear that he's had plenty of breakfast and lunch meetings at Fearing's when I pick up the menu to make my selection. He pronounces that "It's all pretty good here" before explaining how they offer two kinds of oatmeal.
We talk for nearly 10 minutes about how the luxury auto business has been doing (2010 was better than 2009, but still not back to 2006-07 levels) and how a fourth-generation Houstonian whose family made its fortune in the real estate game ended up selling cars in Dallas ("It was an accident," he jokes) before we finally have to flag down a waiter to flag down our waiter so that we can order.
After weighing the two oatmeal options, I choose the "steel cut" variety that's infused with vanilla bean, sugar, and milk. Schnitzer sticks with the traditional type. We both ask for banana slices on the side. I order a large orange juice while he drinks coffee.
When the food arrives, the server brings me a plate of berries instead of banana. Fearing's service clearly isn't on top of its game this morning, which is especially notable because great customer service is a recurring theme during my discussion with Schnitzer.
"You can have the greatest vehicles in the world, but if you can't provide that ownership experience, they're not coming back," he says. In his view, the company's 13 dealerships—luxury brands like Mercedes-Benz, Porsche, Jaguar, Bentley, Lexus, and, beginning this summer, McLaren—are in the service business much more than the sales business. Which makes sense, since they attract high-end customers and aren't competing primarily on price.
"People who purchase our vehicles can purchase any vehicle on the market, and we recognize that. So we have to just work every day to try to anticipate their needs and provide a very high level of service that they can't find anywhere," he says.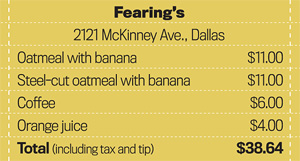 As evidence that Park Place is getting this aspect of the business right, Schnitzer points to the Malcolm Baldrige National Quality Award that the company's Lexus dealers were awarded in 2006. The Baldrige program is run by the U.S. Department of Commerce, which recognizes organizations that have put into practice a slew of recommended procedures to ensure "performance excellence." Park Place is the only auto dealership to have earned the distinction.
But enough about promoting outstanding customer service and facilitating best practices. Isn't the real fun of running a car dealership the chance to get behind the wheel of so many different vehicles?
Schnitzer nearly brushes off the question, and will only mildly admit to this being a perk of the job. He always keeps two different vehicles—a two-door and a four-door—on hand at a time. Right now he can be seen tooling around town in either a Porsche Panamera or a Maserati GT convertible.
"What do you drive, if you don't mind my asking?" he says. Having heard about his rides, I sheepishly say "a Toyota RAV4."
"That's a good vehicle," he says, before remembering that he doesn't have a Toyota dealership and that he's invested in a Honda dealership set to open this year in Burleson. "We need to get you into a Honda Pilot or something."
Get the SideDish Newsletter
Dallas' hottest dining news, recipes, and reviews served up fresh to your inbox each week.