John Goff is a visual kind of guy. The chairman and CEO of Crescent Real Estate Holdings likes to see things—and put things—in writing. And he appreciates the "look" of things. His Fort Worth office sports a clean, tasteful design. In the conference room, panels of windows showcase the view of Sundance Square; large terraces offer an even closer look. One of the conference room walls is covered in floor-to-ceiling whiteboard. And as we begin to discuss Goff's various operations, he jumps out of his chair, grabs a marker, and starts scribbling.
Goff, 55, draws four boxes to illustrate the different segments of his business life: Goff Capital Inc., Goff Capital Partners, Goff Family Foundation, and Crescent.
Goff Capital Inc. handles the family money. Six investment pros—including former Goldman Sachs executive Keith Ohnmeis and Goff's oldest son, Travis—trade interests in public securities (both debt and equity), as well as oil and gas, private equity, and real estate.
Goff Capital Partners, launched in 1997, handles investments for institutional partners and others. It's run by Goff and two managing partners who head offices in Denver and Stamford, Conn. The group has purchased $4 billion in real estate debt during the past two years, and it just closed on a $500 million commitment with an offshore investor.
For both capital groups, Goff is the idea guy, focusing primarily on strategy.
Goff Family Foundation, which Goff formed in 2007, is led by his sister, Jill Goff. It provides scholarships to students, as well as significant support to Como Elementary School on the west side of Fort Worth.
And then there's Crescent Real Estate, the company Goff launched, built, took public, sold at the peak of the market in 2007 for $6.5 billion—and reacquired in late 2009 with Barclays Capital for much, much less.
Leading up to the deal's closing, Goff says it was hard to believe it was going to happen. And once the ink dried, he says, "I had to pinch myself for two weeks afterward."
Goff runs his various operations from a building on Commerce Street that sits about a block away from Crescent's Fort Worth headquarters. In his office hangs a striking painting by Craig Hawkins that bears the quote, "It's your heart, not the dictionary, that gives meaning to your words," a variation of Matthew 12:34.
Goff has plenty of heart, but it's his gut instincts that have gotten him where he is today.
He grew up in Lake Jackson, a blue-collar town off the Texas Gulf Coast that sprung up in the mid-1940s around a new Dow Chemical plant. Goff was a "surprise," much younger than his two older sisters and brother. (His brother, Charlie, is the retired chairman and CEO of Houston-based Destec Energy. At one point the two Goffs were both heading up NYSE-traded companies, the only time two brothers are believed to have done so.)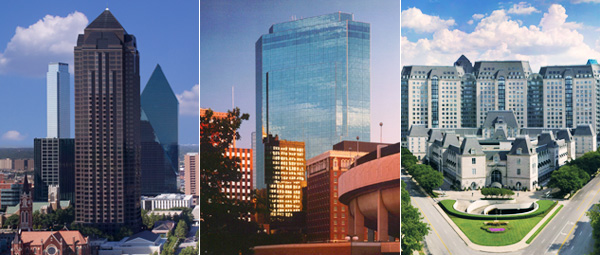 Goff started working at the age of 12. He loved to make money—and he saved it. After earning an accounting degree at The University of Texas, he joined a CPA firm in Houston. He dove into the numbers, learning as much as he could about the financial operations of a business.
Eighteen months later, he went to work for prolific Houston developer Kenneth Schnitzer. Then in 1981, the newly married Goff moved to Fort Worth, so his wife could be closer to her family. Goff had offers from a number of Dallas real estate firms, but opted to go back into public accounting and joined Peat Marwick (now KPMG).
"Something in my gut didn't feel right about the real estate business at the time," he says. "Within a few years, all of those firms I had talked with were gone."
At Peat Marwick, Goff took on advisory work, audit work, SEC work, initial pulic offerings, soaking up knowledge and experience. He also connected with Richard Rainwater, the financial genius who grew a fortune—first for the Bass family, and then for himself.
After Rainwater left the Basses, Goff joined him. The then-32-year-old's first assignment: take $50 million and buy companies that had been hit by the October 1987 stock market collapse. "It was frightening, but by this time I felt I could tear apart a financial statement as good as anybody," Goff says. "I worked from the ground up, just trying to find companies that I liked that were being sold at what I felt were very cheap evaluations. It was nirvana for me."
Quarterbacking Staubach
In the late 1980s, Rainwater and Goff were approached by Roger Staubach, who was looking to focus his growing real estate firm. At the time, The Staubach Co. was heavily invested in commercial properties. "Roger's tenant rep business was quite small, but it was profitable," Goff says. "We convinced him to focus exclusively on tenant rep, and we invested $1 million for a 20 percent stake in the company."
That $1 million eventually turned into more than $70 million, through distributions and the $700 million sale to Jones Lang LaSalle in 2008.
"So many times the focus is on Roger and football, but he grew an incredible business," Goff says.
Staubach shares credit for his firm's success with Goff. "John was very instrumental in some of the decisions we made through the years—Richard, too," Staubach says. "John is very smart financially and has a sense for people. He helped me develop a concept to grow the company without accumulating a lot of debt."
Serving on The Staubach Co. board, Goff saw the beginning of what would become a significant migration of companies from the coasts into North Texas. At the time, though, Dallas was the most overbuilt market in the U.S.
"I went to Richard and told him I wanted to take everything that was on my desk and set it aside and focus on the commercial real estate business," Goff says. "I thought it was a chance for me to start my own company. He said, 'Great, you put up your entire net worth.' He then came up with what he was willing to expose to it—it was significant." (Reports had Goff investing $8 million and Rainwater backing it with $110 million.)
"There was not one real estate professional in the area who thought it was a good idea," Goff says. "But I felt in my gut that it was the right time to do it, as long as we could buy great assets at a discount to what they were built for."
Building a Reit
During winter months, when he's not in Texas, Goff can often be found schussing down the slopes at Beaver Creek in Colorado. He loves to ski fast, and he's good at it, having raced as part of a Celebrity Pro-Am program several times. When he works out, he needs to be working toward something, he says. Racing through a giant slalom course helps him do just that.
Goff put that same drive and purpose into building Crescent. He began by lining up partners to invest in the various acquisitions. The first was Caroline Rose Hunt, who was looking to recapitalize The Crescent, a 1.3 million-square-foot luxury office complex in Uptown. After that 50-50 partnership was created, Goff put together additional buys, focusing exclusively on Class A buildings. He also took advantage of the real estate downturn to bring top leasing talent on board.
"I'd love to say it was easy, but it was really hard," Goff says. "It took a number of years for the assets to turn around, to fill them up and validate that we bought at the right price at the right time."
In May 1994, Goff raised more cash by taking the company public with a $550 million IPO. It was at this point that the venture was given a name—Crescent Real Estate Equities, in honor of Goff's first buy and favorite property.
Thirteen years later, Crescent, which had become one of the largest real estate investment trusts in the country, was sold to Morgan Stanley for $6.5 billion. Investors who got in at the IPO were rewarded with a 15.4 percent compounded internal rate of return, including more than $3 billion in cash distributions.
"We were at a point where I felt prices had peaked," Goff says. "I'm not about to say that I was smart enough to see what was about to come. It was just my gut, again."
Crescent, Round Two
Goff turned his focus to Goff Capital Partners in 2008, buying up more than $4 billion in distressed real estate debt and growing his team. But by the summer of 2009, rumors began to swirl that Morgan Stanley would be giving up Crescent to lender Barclays Capital, which had a $2 billion note coming due. 
Goff wanted back in. He tried to buy the whole thing on his own, but the parties could not come to an agreement on price. "What we were able to do was agree on a joint arrangement, so [Barclays] was able to stay in the deal and achieve upside along with me," he says.
Barclays and Goff Capital Inc. formed Crescent Real Estate Holdings to acquire the Crescent portfolio in November 2009. At the helm again, Goff brought back five former Crescent executives—including John Zogg, managing director of leasing—and went about stabilizing and improving the assets. Along with five resorts, Crescent owns 35 Class A office buildings totaling 17.3 million square feet in Dallas, Fort Worth, Houston, Las Vegas, and Denver.
Goff scoffs at speculation that he is just repositioning the prized assets for sale. "These are not workouts; we are not interested in selling," he says. "We are actually looking to grow the business, and have already committed a significant amount of capital to new projects."
Goff's gut is telling him 2011 will be a great time to buy. And he intends to listen. It hasn't let him down yet.

Get the AtHome Newsletter
Enjoy Dallas' best trends, hot properties, and tips from local designers to help you nest in style delivered weekly.