Breakfast with D CEO: Randy Dewitt
The creator of Twin Peaks and Rockfish eateries talks up his many new ventures over a few bites of lemon pound cake.
Randy DeWitt eats out for lunch and dinner nearly every day, but breakfast is another matter. It usually comprises a bit of espresso and a banana at home before he heads off to a morning spin class. His lack of interest in the most important meal of the day might explain why he's a tad indecisive about his order when we meet one Wednesday morning at a Corner Bakery Cafe in Irving.
First he asks the cashier at the counter for a muffin but soon changes his order to a slice of lemon pound cake topped with strawberries and blueberries. "This is like eating birthday cake," he says after our order is delivered. He takes only a few bites during the nearly two hours we discuss his life in the restaurant business.
These days DeWitt's biggest brand is Twin Peaks—a fast-growing entrant in the "breastaurant" category (eateries where the sex appeal of the female wait staff is the key selling point). But he first entered the industry with a coffee bar and cafe in University Park's Snider Plaza in the early '90s. As he sips his coffee, and I tuck into my bowl of oatmeal topped with cranberries and almonds, DeWitt describes how he quit commercial real estate development in Washington, D.C., and Charleston, S.C., to move back to his hometown of Dallas and take his chances in food service. He says it's more creative and fun than planning shopping centers.
That first foray into the business resulted in his own take on Starbucks. "I thought to myself, there's no way Starbucks will come to Dallas," he says. But only a short time later, the Seattle coffee giant arrived, and its first two local shops were in the same Park Cities area as his cafe. So he decided to reinvent his business.
The result was a casual seafood place that's known today, still in its original location, as Half Shells Oyster Bar. With its success, DeWitt eventually took on a partner to whom he sold the concept after deciding he wanted to go in another direction by creating an alternative to Red Lobster that he called Rockfish.
"I'm not really a trained marketing person, so I don't know the right buzzwords, but the way I expressed it is, we're for the customer who has an allergic reaction to the Red Lobster brand," he says.
Promising results in taking the restaurant to Plano, Richardson, and Southlake attracted investment from the area's biggest player, Brinker International. While DeWitt remains positive about his experience with the big corporation, he says the brand quickly got off track. "We kind of got full of ourselves," he says. "We changed the development strategy from the target of the wouldn't-be-caught-dead-in-the-Red-Lobster customer to the let's-just-build-right-next-to-them approach."
When new units in markets such as Lewisville and Mesquite failed to perform, Brinker decided to pull out of the partnership. DeWitt was able to raise the money to buy their shares. He downsized the Rockfish business significantly before selling it off a few years ago.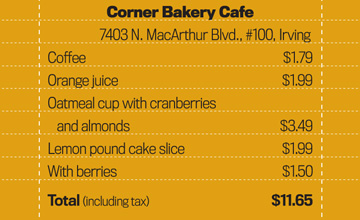 Parting ways with his seafood business became a "no-brainer" thanks to the big, and relatively cheaper-to-accomplish, success of Twin Peaks. It's strange to use a grocery-store wine metaphor to describe a consumer's breastaurant options, but that's precisely how DeWitt sizes up his strategic advantage over the big dog in the segment, Hooters: Twin Peaks, with about a dozen locations in three states so far, is like Kendall Jackson to Hooters' Turning Leaf. "It's a cut above," he says.
What excites DeWitt most about the business is the creativity of the development phase, rather than the operations of individual restaurants. It's no surprise then that his Front Burner Restaurants continues to create new concepts even during the current economic doldrums. In addition to the "true taste of Texas" Ranch at Las Colinas, he's partnered with Rich Hicks of Tin Star restaurants on Ojos Locos Sports Cantina (described as Twin Peaks for a Hispanic customer base), and he has plans to reopen the former Plano Tavern (a casualty of the Bennigan's bankruptcy) as a "farm-to-fork," chef-driven restaurant called Whiskey Cake this fall.
The restaurant industry is a challenging one. But, as DeWitt heads off to a morning meeting at the Ranch, I'm left with the sense that he enjoys the business precisely because it is such a challenge.