The Rejuvenation of Downtown Dallas
A focus on parks, the arts district, and economic incentives has helped.
I'd lived in North Texas nearly two years—and never strayed from my MapQuest directions—until the day 10 years ago of my first meet-and-greet with Grubb & Ellis Co.'s former top executive in Dallas. With time to kill, I did my first downtown drive-through—a decision that nearly made me late for lunch in the West End.
After a hasty introduction and quick handshake, I jumped to the most pressing issue on my mind. "What is a city the size of Dallas doing with so many empty buildings in its downtown?" I blurted out.
Fast-forward to 2010, and it's a different story. Although there is still vacancy there is now life downtown—not yet 24/7, but it's coming. Dallas has accomplished more in the last decade than many U.S. cities have accomplished in 50 years. It's a can-do story about economic-development incentives, public-private partnerships, and risk-taking investors.
And, it's been written about before.
So, is there anything new to tell? You bet. Downtown Dallas is destined to have a new feather in its cap by year's-end, say John F. Crawford, president and CEO of Downtown Dallas Inc., and Mike Rosa, vice president of economic development for the Dallas Regional Chamber. Relocation interest, they say, is at an all-time high.
Crawford's team has 20 to 30 active courtships under way, evenly split between local/in-state and out-of-state companies. The big gorilla, if it happens, will be a headquarters relocation from California.
In the chamber's backrooms, meantime, Rosa's team is wooing a dozen "real deals"—half from California, three from the Upper Midwest, some from New York, and some whose existing HQs are closely guarded secrets at this point in the talks.
"I really notice the attributes of the downtown core coming into play," Rosa says.
Consider the region's recent past. In 2006, the big news was Fluor Corp. moving to Irving from California; 2007 brought Comerica to downtown Dallas from Detroit; and 2008 saw AT&T leave San Antonio for the Dallas CBD. During the past 30 months, Crawford's team has tracked more than 50 companies relocating to downtown Dallas, mostly in-state businesses and in-migrations from North Texas suburbs. However, Crawford cautions, "the relocation process is very, very long."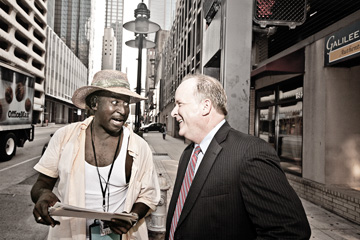 For example, Cushman & Wakefield Inc.'s Bob Edge spent 10 years in talks with American Airlines before it agreed to move its headquarters to Dallas-Fort Worth from New York in 1979. This year's decision by Deloitte to renew its Chase Tower lease was 30 months in the making, and Winstead PC spent more than a year before agreeing this summer to shift from the CBD to Uptown in 2012.
The difference between success and heartbreak often is an economic-incentive package that's protected by clawbacks to make sure new jobs are created by the perks.
"It's all about jobs," Crawford says. "There are different kinds of incentives that the city of Dallas is offering, but it's [all] built around jobs. Every deal is different … and each one is evaluated differently."
For example, Deloitte sweetened its deal by pledging to add about 400 jobs in downtown Dallas in its move from Irving.
Real estate sources at Grubb & Ellis believe more change is coming this year, as Pizza Hut, Alliance Data Systems, Denbury Resources, CB Richard Ellis, and Quicksilver Resources weigh local relocation decisions.
Interestingly, the recession hasn't taken much of a toll on the value of regional incentive packages. Though nearly every city is facing financial pressures, several local mayors recently said that the recession has not usurped their ability to incentivize deals for economic development.
The trends are reflected in some of the numbers. Because national brokerage houses collect data differently, second-quarter reports show mixed signals about the Dallas CBD's current status. CB Richard Ellis paints downtown Dallas in the most positive light, saying it had the highest amount of net absorption (207,766 square feet) in the region, and was the only one of five submarkets showing any gain.
In contrast, Grubb & Ellis Co.'s Q2 stats show the Dallas CBD suffered the largest space loss in the region, 682,639 square feet, with the big setback pinned on Elm Place's remaining tenants exiting 500,000 square feet. Cushman & Wakefield of Texas Inc., meanwhile, found that the CBD's net absorption fell 257,442 square feet, although leasing activity was 514,865 square feet—an increase of 166,736 square feet since Q2 2009.
What isn't in question is the still relatively high vacancy rate for the Dallas CBD's estimated 30 million square feet of office space: 28.4 percent (as pegged by CBRE); 25.8 percent (according to Grubb & Ellis); and 30.1 percent (C&W). It's a tenants' market downtown—and elsewhere in North Texas—and it's likely to stay that way into next year.
With landlords battling for deals, it's no surprise that downtown rental rates have dropped. The average class A office rent ranges from $19.70 to $21.79 per square foot.
Whether for a new lease or a renegotiated one, the market response can be as much as a year's worth of free rent. Tenant-improvement packages are growing more generous. And some landlords are offering drastically reduced rents over the long term.
Focus on Green Space
Dallas has stacked its deck with game-changing projects to make a difference in perceptions by tourists, newcomers, longtime residents, and, most important, corporations. Crawford says the growing number of downtown parks and buildout of the 68-acre Dallas Arts District clearly are influencing today's relocation decisions, as is the under-construction Woodall Rodgers Park, which will be completed in late 2012 in tandem with a 1,000-room convention center hotel. The 5.2-acre park linking downtown to Uptown has been likened to Chicago's Millennium Park and New York's Bryant Park.
Earlier this year, work wrapped up on the 1.7-acre Main Street Garden. Work begins soon on Belo Garden, whose completion is set for 2011. There's also the 10-acre Elaine D. and Charles A. Sammons Park, an urban oasis surrounding the $354 million AT&T Performing Arts Center.
There's also talk about razing an empty downtown high-rise to make way for one more park. Crawford won't say which building because it's too early in the game, but stresses that "it would make a lovely, lovely location for a park."
Houston-based Spire Realty Group also has a park in its 12-acre proposal for a mix of office, retail, and residential space on land at the edge of the Dallas Arts District and close to the Pearl Street DART Station.
Dallas' focus on green space began as a catalyst to attract residents to downtown rental and condo properties. Crawford says the plan has worked, with the head count increasing in recent years from 200 residents to more than 7,000—and 35,000 in the greater downtown area.
"No great city is great without parks," he says. "You can't have all freeways and concrete if you want a true live, work, play environment."
Rosa says corporate leaders from Los Angeles, San Diego, New York, the San Francisco Bay Area, and Chicago have "a comfort level" when they see the likes of Dallas' parks, light rail access, and arts scene. "They see it's not just cowboy boots," he says. "The other surprises are our reservoirs and thriving urban scenes in Dallas and Fort Worth."
The sum of all parts has made a difference. "It's not just one project; it's been a collection of projects," Rosa says. Other major game changers are First Baptist Church's $130 million expansion of its downtown campus; the $185 million Perot Museum of Nature & Science at Victory Park; the Sheraton's $90 million hotel renovation and the Hyatt's $63 million makeover; the Margaret Hunt Hill Bridge, a Santiago Calatrava design; and the $150 million convention center hotel project.
"Companies are looking for places where people want to be, not where they have to be," Rosa says. "What we're seeing now is partly the function of pent-up relocation demand that was put off in 2008-09. Some of that turmoil has settled. Many companies are now able to reach over to that backburner."
Connie Gore is a veteran journalist who's spent the last decade focusing on commercial real estate for daily newspapers and online publications. She's currently a freelance writer.