Business Lunch: Shinsei
Elvis is in the house, adding a lot of rock to his rolls at this sushi hotspot.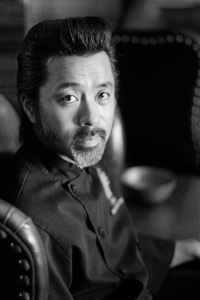 WHY SHINSEI: The brainchild of Lynae Fearing and Tracy Rathbun, this Greenway Parks restaurant has been delighting the Park Cities crowd since 2006. On any given night, a well-heeled crew dons its Tory Burch best, throws back a few saketinis (an addictive blend of cucumber vodka and sake), and feasts on brash Pan Asian fare with a rock n' roll kick, as well as some of the best sushi in town.
It's a tricky balance. But given the owners' lineage, it shouldn't be a surprise that they pull it off with delicious aplomb. Lynae is the wife of Dean Fearing, Southwestern cuisine darling and owner of Fearing's. Tracy is the wife of Kent Rathbun, whose mini-empire runs the gamut from the global cuisine of Abacus to the haute backyard barbeque fare of Jasper's. Neither chef is afraid of bold, aggressive flavors, nor are their wives. Rounding out the Shinsei team are chef de cuisine T.J. Lengnick and sushi chef Shuji "Elvis" Sugawara. With his striking black pompadour and sideburns, Sugawara is one of Shinsei's main draws. Sushi aficionados love not only his sure knife but also his showmanship. It's no surprise that Elvis is a perfect fit for the rollicking Shinsei.
WHAT TO EAT: Though only open for lunch on Fridays, happily the restaurant's bravado and sexy good looks translate well to the light of day, making for a frisky noontime respite from a harried workday.
The food keeps up as well. Start with the coconut chicken jalapeno poppers. Sure, they sound like something you'd find at an Applebee's. But you'll still sop up every drop of yellow curry with the crunchy, fried chiles. Also try the surf and turf tataki: lightly seared thin cuts of tuna and tenderloin served alongside a Chinese broccoli salad. Topped as it is with lightly fried cabbage, I could eat an entire bowl of the zippy, fragrant salad.
Though big appetites will appreciate Shinsei's hearty honey hoisin baby back ribs, I prefer the kitchen's lighter fare, such as seaweed salad with chilled blue crab and its special noodle or rice dish of the day. On my most recent visit, a bowl of chewy rice was topped with mussels, rock shrimp, and grouper, all surrounded by a moat of green curry broth. I begged the waitress to add it to the regular menu. "We hear that all the time," she confessed.
Sugawara is one of the finest sushi chefs in town and his namesake Elvis "Mack" sashimi, featuring Spanish mackerel, yuzu, olive oil, shiso, and Japanese cucumber, hits all the right refreshing notes. Another standout was the fiery Kaji roll: big eye tuna with Japanese yellow mustard and sriracha. Obviously, Sugawara isn't afraid of bold flavors. Alas, that was his undoing with the overdressed Hawaiian sashimi. Slices of beautiful kampachi languished under too much hibiscus vinegar. But the occasional misstep is to be expected from a place like Shinsei, where culinary caution is thrown to the wind, and exotic fare and brash showmanship combine for a deliciously memorable good time. Rock on, indeed.


THE FOOD: Asian 
THE COST: Average lunch entrée price $15
WI-FI: No
FULL BAR: Yes
WHO'S THERE: Denis Boulle, Daryl Johnston, Stephen Jones
THE POWER TABLE: Table 44 or 31. Both sit by the front window and offer a commanding view of the room.