Dallas' Toughest Political Publicist
No one in the rough-and-tumble world of local governmental PR plays a harder game—and has been more successful at it—than Carol Reed.
Dallas has always spent an inordinate amount of time primping before its mirror, making sure the hair is perfect and the wrinkles don't show.
That's why publicists and media consultants thrive here. Most spin fluff. For years, Dallas publicists concerned themselves with how often they could get their clients' names in the around-the-town newspaper columns of Helen Bryant and Alan Peppard.
Carol Reed is among a rare breed of publicists who play an edgier game. Lisa LeMaster built an agency around crisis management. Rob Allyn's company, before and after he sold, took on heavy political battles and tough civic challenges. But in the hardball world of Dallas politics and bond elections, there hasn't been a cleanup hitter quite like Carol Reed. Not over the past quarter century, if ever.
Of the many words that might be used to describe her, fluffy and giddy do not spring to mind. In and out of meeting rooms, she is sharp-witted and, when she so chooses, sharp-tongued.
"She's a Mack Truck," says one longtime associate. "But I like Mack Trucks."
She's also brash, cocky, funny, and blunt. Reed became a political player in Dallas more than 30 years ago and forged her own way, from carrying the hors d'oeuvre tray to calling the shots. She's managed or helped manage the campaigns of five of the last seven Dallas mayors: Jack Evans (1981-'83), Starke Taylor (1983-'87), Annette Strauss (1987-'91), Ron Kirk (1995-2002) and now, Tom Leppert. She carried the American Airlines Center election, the Trinity River Corridor Project, Arlington's Cowboys Stadium, and the Dallas Convention Center hotel referendum, all tough issues that began with her side the emphatic underdog.
Reed avoided the fluffier, more traditional approach to public relations by parachuting into the Dallas scene from above. She started as a political director for U.S. Sen. John Tower (R-Texas) in the late 1970s, helped organize the Reagan/Bush presidential campaign in 1980, and was the North Texas political director for U.S. Sen. Phil Gramm (R-Texas). She lived for most of that time in Dallas, built impressive contacts here, and in 1981 decided to put her primary focus on the city.
"That's the way the guys have done it," she says, "and that's the way Dallas works. There was nobody like me that was on the boards of the commissions, and now today I'm at the table with them, making the decisions about what we do, instead of being the one that just implements what they've decided. Which is kind of neat."
One particular election—Ron Kirk's first mayoral campaign—was the catalyst for her prominent rise as a difference maker. From his Washington, D.C., office where he serves in the Obama administration as United States Trade Representative, Kirk looks back and laughs and says, "I have had to remind Carol, 'It ain't the jockey; it's the horse.' I'd like to believe I brought something to the table.
"But I can't imagine having run the campaign we did without her," he says. "To the degree that I do have some political ego—I honestly believe candidates matter—I can tell you Carol saved me a lot of money, and she saved me from making a lot of mistakes."
She did it by beating the good ol' boys of Dallas on their home turf. And then she paid them back by becoming one of them.
"I'd be the first one to say old white guys just don't get it anymore," Reed declares. "But they're the ones that support me. They're the ones that made me who I am. I have this wonderful relationship."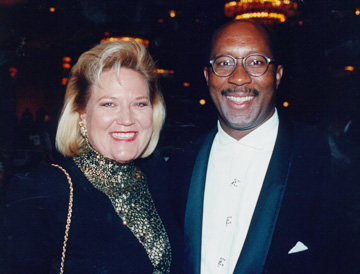 A Crucial Meeting 
The year was 1994, and Dallas had never had a black mayor. As Gov. Ann Richards' Secretary of State, Kirk mustered a mere 12 percent name recognition in Dallas. But most of the candidates for mayor weren't much higher. Reed asked one of North Dallas' most prominent citizens to call together, as she puts it, "the guys with their names on the freeways," to meet with Kirk.
Kirk and Reed had met earlier that year when they sat on a political panel. He took an immediate liking to her sharp mind and no-nonsense approach. But he wasn't so sure about this meeting. He says, "I would have given you a hundred reasons why it was a waste of my time to go and sit in with a bunch of, for the most part, 60- and 70-year-old, conservative white guys."
Dallas' image of the black leader had been shaped by the loud and proud rantings of John Wiley Price, Al Lipscomb, Diane Ragsdale. Rather than run from the race issue, Reed confronted it—in her own way. She told Kirk to keep his mouth shut throughout the meeting.
"I don't want you to say a word," she said. "They will say things that will be so offensive to you, but you've got to understand they just don't get it. You just be still. And you won't recognize me because I'll be kind of like Little Gidget. But I promise you when we leave, we will have their support."
Kirk laughs out loud now and says, "Every time I wanted to interject, Carol almost pinched my arm off. I'm sitting there thinking, in the words of Ollie North, 'I'm not a potted plant.' At the end of the meeting, one of the guys turns to Carol and says [Kirk's voice growing gruff here], 'We like him; he's just like us.' Of course, that scared the hell out of me."
Reed says, "Ron has got a fairly colorful vocabulary and when we got in the elevator I said, 'Just hush.' When we got downstairs, he said, 'What was all that about? How could they possibly support me? I never said anything.'
"I told him that no one has just sat there and listened to them in so long, without explaining things to them and telling them they are wrong. We got their support, got their money, and the next thing was how to translate that into votes."
For weeks, they spent time and money attending coffees all over North Dallas. Every precinct staged a party in somebody's home. They worked South Dallas and Oak Cliff, but the real battles were waged—and won—in North Dallas.
"And the word got out," Reed says, "'You've got to meet this guy; he's not like John Wiley Price'—and I don't mean to use John Wiley as the whipping boy, because I think John Wiley is great—but at that time he was a signal for not great things."
Kirk won with 62 percent of the vote and no runoff. And when he became mayor, he leaned on Reed for advice. He won a second term with a landslide 74 percent of the vote in 1998. Within that same nine-month span, Dallas had to decide whether it wanted to build a new arena, the American Airlines Center, and whether it wanted to dump money into refurbishing the Trinity River corridor. Reed ran both elections.
Kirk says, "I tell people today that winning the arena campaign may have taken more out of me emotionally than losing my United States Senate race [in 2001]. It was unquestionably the hardest thing we've ever done. The passions against the arena, against the Perots, were so deep. When the early vote came in, we were down 29 points."
Reed completely shifted the strategy.
"She proved her genius," Kirk says. "We stopped mailing to North Dallas. We stopped mailing to voters that we knew hated the proposition. And we ran an Election Day strategy because we knew we were going to have to win on Election Day. That day when the first polls started coming in, we were still down, like 58-42, and Carol Reed told me at 8 o'clock, 'We're going to win.'"
They did, by 2,600 votes.
"That was probably the toughest I've ever done," Reed says, "because there wasn't anybody in town that didn't have an opinion about it. I've never worked with anybody that I developed a closer bond to than I did with Ron at that time. We just went on a mission."
Another vote on a massive urban-development project along the Trinity River provoked more outcries, more divides, and yet another come-from-behind victory. Kirk was always proud of his ability to build coalitions. Those skills, and Reed's strategizing, sealed the $250 million project.
Her game plan, back then and to this day, is to focus on three primary areas of attack. And never stray.
"You find three things, and you execute them well," Reed says. "You stay on message, once you've decided it's the right one. I have a really good gut on when you should say something, when you should just let it alone. Timing is everything, just like in comedy."
Also, no two elections are the same. To approach them with a sameness spells death. "If you get into a cookie-cutter approach," she warns, "you usually do boring and lousy work. A lot of people into print and TV do that. They've got something that worked for them with one race, and they keep trying to re-create it."
Dallas businessman Ward Lay, CEO of Andeluna Cellars winery, describes Reed as an organized person who "cuts through stuff" with personality, charm, and wit. When he was working with Reed on Jerry Rucker's 1990 campaign against Rep. John Wiley Bryant (D-Texas) in the 5th Congressional District, Lay recalls, they were having trouble persuading a party official in Washington, D.C., to release some promised funds for the GOP hopeful. Reed advised Lay to personally phone the official, whom he'd known for years, and state the candidate's case. "I did," Lay says—and the money was soon on its way.