Craig Hall Knows His Grapes
The entrepreneur and award-winning vintner tells D CEO what he likes to drink.
Dallas entrepreneur Craig Hall is known around these parts for his real estate, financing, and high-tech projects, as well as his vast collection of art. But in California, he's mostly known for being an award-winning vintner.
Hall and his wife Kathryn bought the Bergfeld winery in St. Helena, Calif., in 2003. Two years later, they opened a winery in the Sacrashe Vineyard in the hills of nearby Rutherford, Calif. Today the couple owns more than 500 acres of classic Bordeaux varietals: Cabernet Sauvignon, Sauvignon Blanc, and Merlot.
Hall says being a vintner is different from his other interests. "Wine is a uniquely challenging business," he says. "It involves farming, production, manufacturing, marketing, people skills, and strategy. It is just intense and very complex—but all of that also makes it fun and interesting."
He must be doing something right. HALL wines have quickly won favor with connoisseurs—and a long list of industry awards. (See hallwines.com/whats-new.)
So, what wines does Craig Hall himself enjoy most? Here are his top five recommendations, with explanations in his own words:
HALL Wines. "We truthfully love to drink our own wines [at right] and often do. Our 2006 Hall 'Exzellenz' Sacrashe Vineyard Cabernet Sauvignon was Wine Enthusiast's No. 1 Cellar Selection Wine of the Year for 2009 and is certainly one of our favorites. We also like our Segassia Vineyard designates and our Diamond Mountain and Jack's Masterpiece wines. We love good Cabernets; it's great to taste the distinctions in the wines that we make from grapes grown in our vineyards in different areas."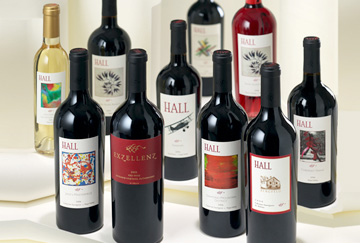 Roessler Cellars: "They make the best Pinot Noir anywhere around and have a great selection of specialized handcrafted vineyard designate Pinots."
Staglin Family Vineyard: "Garen and Shari [Staglin] are friends and we love their Chardonnay. Anytime they come over, we are usually lucky enough to get them to bring us a bottle."
Quintessa: "What Agustin and Valeria [Huneeus] have done to show the Rutherford appellation is incredible. Quintessa is a great wine for any great event or experience."
Schramsberg Vineyards: "When it comes to sparkling wine, no one has to go to France. In California, the Schramsberg sparkling wines give champagne a run for its money."