A pair of worn-out shoes he wore when he first came to America, a passage-marked Bible from his great-grandfather, and a $25 tip from a businessman who mistook him for the doorman at one of his properties. These are mementos that real estate investor Zaya S. Younan keeps close at hand to remind him of his humble beginnings. Today Younan owns 14 North Texas office buildings totaling 6.4 million square feet, making him the area's largest office property owner.
It's a start. Within five years, Younan aims to become the largest office landlord in Texas. "I believe if you are capable of dreaming, you should also be capable of making it happen," he says.
His eight-year-old company, Younan Properties Inc., owns a total of 36 office buildings: 14 in Dallas, 11 in Houston, seven in Chicago and two each in Los Angeles and Phoenix. It's also gearing up to raise capital through an initial public offering.
Younan credits his success to unrelenting determination, instilled in him by hard-working parents in the Middle East who supported six children on a truck-driver's salary and strong family values. The first real estate he'd know would be his parents' one-bedroom flat in Iran. Today Younan divides his time between the Residences at the Ritz-Carlton Dallas and a mansion in Woodland Hills, Calif., where his wife of 20 years and their five children reside. Both residences offer a stark contrast to Younan's first home in America—a room at St. Viator School in Chicago.
He learned of the school after he had allowed a tourist to use his family's bathroom. "I told him I always wanted to come to America," Younan recalls. "He was from Chicago … and helped me to write the school a letter. [The school told me] if I could get to Chicago, I could go to school for free and stay one year. I started fixing bikes and charging my friends until I got enough money to buy a ticket."
Eventually, Younan raised $800; he spent $760 on the only ticket he could afford—a hopscotch of four cities in a 48-hour flight. He had his passport and visa and was packing his clothes when his mother came upon him and asked him what he was doing. "I told her I was going to America," Younan says. "I had it all figured out at the age of 13." A  year later, Younan's parents and five sisters joined him in Chicago, where he'd go on to graduate from high school and earn a bachelor's degree in mechanical engineering from the University of Illinois at Champaign.
He had a successful corporate career, including management stints at General Motors, Johnson Controls Inc., and TRW. He took a job in London 10 years ago, but moved to Los Angeles in September 2001 because he and his family missed the United States. "I'm an American by choice," he says.
Back in the states, the lure of commercial real estate beckoned—despite zero experience in the industry. Younan made his first office investment in January 2002, a 21,800-square-foot building at 412 W. Broadway in Glendale, Calif., which had sat empty for two years. As he scouted for tenants, he worked side-by-side with contractors to learn plumbing, drywall, HVAC, and everything about keeping a building running smoothly.
"I grew this business from scratch without any previous knowledge or [family connections]," Younan says. "And I've always put my own capital to work to grow my business."
Since 2002, the 47-year-old investor has completed 84 transactions totaling more than 16.2 million square feet of office space, working his way up from class C buildings to exclusively class A. Today his portfolio, which has a current average occupancy of 66.2 percent, is valued at $1.5 billion.
Younan takes exception to the adage that investors shouldn't become too attached to their properties. "There's something wrong with that," he says. "How could I not fall in love with our real estate? I love our buildings. I like looking at them and being in the buildings."
Younan clearly has a soft spot for Dallas, and says he'll eventually move his company's headquarters here from California. "It's a matter of time," he says.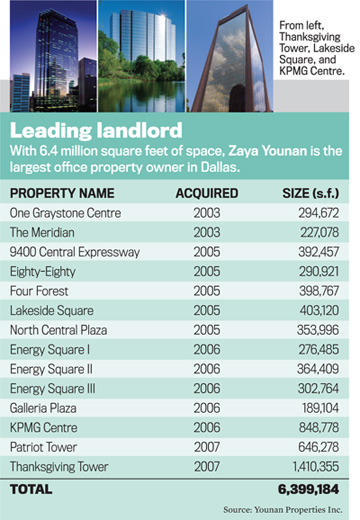 His love for Texas is tied to its business-friendly climate. His affection for Dallas is grounded in its quality of life, culture, diversification, positive job growth, and strategic location. "All over the U.S., the people I talk with are surprised at how well Dallas weathered this particular recession," says the self-trained economist who scans reams of market reports each week. "We owned a lot in California, sold it, and bought in Texas. I saw the future changing and, if you look at today, we made the right decision. We can all expect a new Dallas in the future."
Younan has positioned his Texas team for expansion. He recently hired leasing executives Thom Ridnour in Dallas and Michael Adams in Houston. He also added Dan Svachula in Chicago. About 70 of the company's 120 employees work in Texas, mostly in Dallas. Earlier this year, Younan hired Robert C. Peddicord as chief operating officer, sending a signal that the company was about to move on its long-rumored IPO.
Besides raising capital through the offering, Younan is scouting potential buys in his existing markets. He'd like a Cowtown deed, but the right opportunity has yet to come along. "If tomorrow we'd find a good opportunity in Fort Worth, we'd be in line to buy it," he says. "We are also looking constantly in Seattle, Denver, and Atlanta."
Younan isn't interested in Washington, D.C. or New York City, high-barrier markets with "extremely high asset values." Part of his Texas conviction is his belief that the low-barrier markets of Dallas and Houston will soon transition to high-barrier status. "We want to be where companies want to be in the future," he says. "We aren't buying real estate for yesterday. We are buying real estate for tomorrow."
Younan was outbid by other buyers on two iconic Chicago properties: the 100-story John Hancock Center and the 4.6-million-square-foot Sears Tower (now called Willis Tower). Other than those two properties, he says he's been fortunate enough to get what he wants. The hard-driving investor works long days and says he hasn't taken a vacation since he graduated from college—until this past August, when spent a week in Dallas with his family.
Younan says he loves to kick back by smoking cigars with his wife, Sherry, whom he met through a Catholic priest at a Los Angeles church. And yes, he has a bucket list. If he can sit still long enough, he'd love to take a cross-country drive of America to explore its diverse cultures. Mostly, though, he says he just wants to see his children grow and contribute to society.
He also wants to build a legacy company. Younan says he isn't planning to pass all that he's amassed onto his children, but aims to share the wealth with other investors—thus, the IPO.
"I am who I am because of all the people who have come into my life and added value to my life," he says. "I am very sentimental, and I don't want to change the value of what got me where I am today."                                               
Connie Gore is a veteran journalist who has spent the last decade focusing on commercial real estate for daily newspapers and online publications. She's currently a freelance writer.
Get the AtHome Newsletter
Enjoy Dallas' best trends, hot properties, and tips from local designers to help you nest in style delivered weekly.