WHY NAGA: Much has been made of the once ballyhooed Victory Park development and its fall from grace. Gone are many of the luxury retailers and restaurants such as N9NE and Nove. Only a handful of brave and traffic-deprived souls survive. Case in point: Try walking the main esplanade. Vacant storefronts and empty parking spaces confront visitors. One almost expects a tumbleweed to roll by.

But lately, Victory Park has been trying on a new look. Shucking its Gucci for the Gap, the urban center is focusing on wallet-friendly tenants: a pizza joint, the return of the Hard Rock Cafe, and most recently Naga Thai Kitchen & Bar. For an affordable Asian restaurant, Naga has quite the pedigree.

It's the brainchild of restaurateurs Jeffrey Yarbrough, who had much success with the groundbreaking Liberty Noodles in the 1990s; Tom Chawana, founder of Nandina; and Lam Promwanrat, partner in Jasmine. Kitti Lirtpanaruk of New York's Spice Thai Restaurant Group completes Naga's fab four and provides the expansion model. Yes, they plan to roll out more Nagas, and it's easy to see why. Naga is one smart formula: approachable, affordable, and delicious.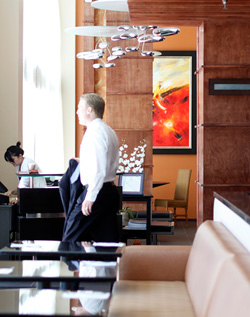 WHAT TO EAT:
Naga's lunch menu is a mishmash of greatest hits: stir fry, curry, noodles, and fried rice. No surprises. But here's the difference: Everything tastes so fresh. That probably sounds odd. Shouldn't a meal out always taste fresh? In the case of Asian cuisine, that's not always true. Meats are often overcooked and dry. Ingredients are oversauced.

Naga bucks this trend, keeping it simple. Cashew stir fry was served with a choice of meat and laden with cashews, carrot, scallions, and vibrant red bell pepper. I opted for tofu, a protein that's easy to under or overcook. Naga gets it perfect, keeping the silky cubes of bean curd light and moist. King Rama featured a delicate curry peanut sauce and was topped with a crunchy slice of lotus root. Even the namesake fried rice was much lighter than usual except for a welcome burst of black pepper.

Curries run the gamut from sweet massaman with peanuts to brisk green curry with green peas. Both were delicious. The menu lists the curries as spicy dishes; I found them tame except for the country style curry, a sinus-clearing blend of bell peppers, basil, and red curry broth. All entrées come with your choice of 11 different appetizers free of charge. Appetizer is a generous term—amuse bouche is more apt. These are all two-bite tastes at best, but I appreciate the breadth of the choices, from dumplings to ginger miso soup.

It's easy to see why Yarbrough and crew are bullish on Naga. It doesn't sacrifice taste and style for accessibility but manages to find an ideal balance. On paper, it makes for a delicious success story. For the restaurant's and Victory Park's sake, let's all pray for a few more customers and a lot fewer tumbleweeds.
Get the D CEO Newsletter
Stay up to speed on DFW's fast-moving business community with weekly news reports, interviews, and insights.