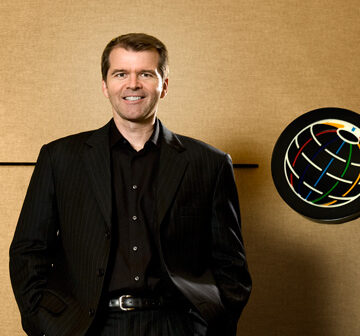 Although he says Canada is known for its "divas," Bruce MacMillan is definitely not one of them. Vancouver-born MacMillan is president and CEO of Meeting Professionals International, a global association that helps its members through strategic organization, education, and networking. MacMillan made the trek from Canada to Texas to work out of MPI's Dallas-based international headquarters when he took the position in 2006. He leads the meeting and event industry's largest association, with more than 24,000 members and 71 chapters and clubs throughout the world. A professed urbanite, MacMillan says he loves the Dallas area and has a new appreciation for the slower-paced lifestyle of his adopted Texas home.
Title
President and CEO of Meeting Professionals International
Age
49
Best Job
I was the executive director of the Vancouver Olympic Bid. It touched a lot of things. I love sports, [and] got to take a vision and create an event around it. It really made a difference for the community. And that was really special because I was born there.
Worst Job
I don't want to name the firm, of course. But I worked for a public accounting firm. It was just a little too rigid for me.
First Job
My first job was a great job, too. I worked for the park board. It was a summer job while I was going to college. I was involved in carving out running trails through forests. It was great to be outside all summer; you got to be active and build something for the community. I learned how to build a bridge. Plus it also taught you the value of a team—because you couldn't do it all alone. It taught me responsibility. I think all of those things provided a great foundation for the development of my career.
Best advice
"Twenty years from now you will be more disappointed by the things you didn't do than by the ones you did." —Mark Twain
Best part of your job
Connecting with a diverse group of thought leaders, political leaders, and social leaders around the world. That's helped me personally; it's helped my business. That's a benefit few people get.
Weakness
Moving too fast. I like to move things faster than they probably should be. That is something I try to work on—to have patience with due process.
Book
Outliers by Malcolm Gladwell. Well, it's on my iPad.
Family
I live in Southlake and have two girls, 12 and 8. My wife of 18 years is very involved in the community. We've been in Texas a total of six years, and we like it here a lot. The kids are doing very well here; it is a great place to watch kids grow and work. Working in Dallas is easy. You can fly anywhere really easily, and it is easy to get around. It is great for business. I'm not saying the work is easy; I'm just saying it is easy to work here!
Weekends
Mostly I try to keep up with my wife and kids, who are very active in tennis and swimming. When I am not doing that, I read a lot. I read a lot of newspapers and magazines to keep up with what's going on in the world.
TV
Star Trek
Management style
I try to drive thought and innovation. How are we innovating? How are we adding value to our customers? It's driving that next big idea and trying to tell the story around it. I am a big believer in storytelling as a management philosophy. It's just more authentic.
Industry trends
The integration of technology into the traditional live event. Even though people attend an event, the event is not over because the doors are closed. It is: how have we packaged all the content, reached out to people who couldn't attend through the web? What are we doing after the fact to share video, or asking for people to follow up and collaborate. It is really reaching beyond the room, beyond the venue.
Get the D CEO Newsletter
Stay up to speed on DFW's fast-moving business community with weekly news reports, interviews, and insights.