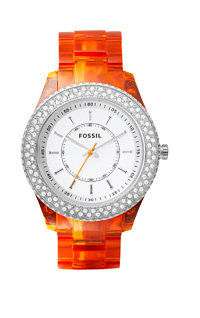 Every company wants to spark a creative spirit. How many can keep it alive?
Fossil Inc., best known for making watches, may be the most creative shop in North Texas. From a one-man startup in the 1980s, it's thriving in three cutthroat businesses: fashion design, manufacturing, and retailing.
The global enterprise rests on a singular devotion to the Fossil brand. With its modern vintage design, Fossil has carved out a look that sells a lifestyle, not just a product.
Its creative team designs the sunglasses, watches, handbags, belts, jewelry, and more that generated $1.55 billion in sales last year. It also produces every element of the Fossil presentation, from hand-drawn posters to photo shoots to its store interiors.
The company has 150 designers, primarily based at corporate headquarters in Richardson. They're grouped into teams around each specialty, including a large graphics department, in-house architects, and a photo studio and staff that are bigger than most newspapers'.
In an era when outsourcing is a default business strategy, Fossil recruits its own talent, nurtures it, invests in it. The benefits? More than 20 years of consecutive profits in an industry beset by roller-coaster cycles and spectacular failures. Last year, much of the fashion world took a header, and yet Fossil grabbed market share and earned a record $139 million. When most department-store partners cowered from the recession, Fossil stocked up its own outlets and bet correctly that holiday shoppers would clamor for its must-buys.
At Fossil, modern vintage usually means simple, clean designs that are rich in detail. The inspiration comes from mid-20th century designers like Frank Lloyd Wright and Charles and Ray Eames. As with those icons, Fossil's creative side is considered the company's defining asset—a cash generator, not a cost.
"It makes us a lot of money," says Tim Hale, senior vice president for design management and marketing.
Hale joined Fossil in 1987, and his path still influences how the company develops talent and maintains interest. A graphics major in college, Hale set up the in-house design team that created the early vintage posters and tin packages that helped establish Fossil's image.
Hale was quickly designing watch faces and picking color trends for packaging. He added in-store displays. He helped with furniture cases, store fixtures, and counter-tops.
As a designer, the variety was exciting. For the company, having one person in so many areas helped deliver a cohesive message and encouraged cross-pollination. Today, Hale says that Fossil "mindfully" looks to move designers around. "Designers are constantly looking for the next thing," Hale says. "It's almost a creative trait to have a lot of balls in the air."
A decade ago, designers in Germany pushed to add an affordable jewelry line, saying it fit Fossil's profile and could be made in existing factories. Jewelry brought in $9 million the first year and now tops $150 million annually.
Fossil emphasizes collaboration and personal chemistry because, as it gets larger, teamwork doesn't happen as naturally. It screens for people who are upbeat about working together, and sometimes hires talented designers and figures out how to use them later.
For more than a decade, Fossil's paid internship program has attracted students and recent graduates from regional universities. Hale says that keeps a "pipeline of young ideas" flowing and often leads to full-time hires. Fossil occasionally recruits outsiders, especially if it immediately needs a veteran expert, such as a catalog stylist or web developer. The Dallas area is attractive, because creatives appreciate the low cost of living along with the museums, sports teams, and regional food.
"I like that Texas has a personality," says Jennifer Pritchard, who came from California in 2006 to become president of Fossil's retail stores.
Fossil's wholesale business reaches more than 100 countries and accounted for three-quarters of sales last year. Fossil brands, plus licensed products from Michael Kors, DKNY, and others, are sold in specialty stores and giant retailers like JCPenney, Target, and Nordstrom.
The wholesale business declined 8 percent last year, while Fossil's direct-to-consumer channel grew almost 22 percent. Fossil opened 30 stores, for a total of 354 globally in 2009. It mailed 10 million catalogs, almost 3 million more than the year before, and posted strong online results. Fossil's same-store sales, key to any retailer's health, surged 12 percent in the all-important fourth quarter.
While many department stores hesitated to buy for the holidays, Fossil pushed fresh designs to its outlets and got an enthusiastic response. That gave it confidence to load up inventory for the high season, and it paid off.
This feedback loop encourages Fossil to experiment all the more, knowing it can adjust quickly. When it's wrong (as with boxer shorts, handkerchiefs, and early purses), the company cuts its losses quietly. When it's right, it funnels hot items into Fossil stores, and mass merchants play catch up.
"Failing is good," Pritchard says. "If you never fail, you'll never be wildly innovative."
Designers tend to get bored and move to ad agencies or design studios or start their own firms. Hale, more coach than designer these days, tries to engage them with new assignments and different collaborators. He says turnover has slowed, and many Fossil designers have more than five years of tenure. When they create a great logo or jeans or watch face, the joy comes back again, strong as ever.
"At the end of the day, it's all about the work," Hale says.
If only more companies realized that.
Mitchell Schnurman is the business columnist for the Fort Worth Star-Telegram. For the past five years, his column has been named the "Best in Business" by the Society of American Business Editors and Writers.
Get the D CEO Newsletter
Stay up to speed on DFW's fast-moving business community with weekly news reports, interviews, and insights.