Like many top executives, Doug Brooks would rather talk about his business than himself.
As CEO of Brinker International Inc., Brooks is animated and articulate describing his strategy to reinvigorate the company's iconic Chili's restaurant brand. The words flow freely when the talk is market share, international expansion, or "the kitchen of the future." But when the conversation turns to Doug Brooks the man, there are longer pauses and shorter responses. The energy that had permeated his office slowly dissipates, displaced by a general sense of unease.
It's easy to chalk this up to typical male reticence, especially because the topic is his physical disability—an above-the-knee amputation that occurred after a freak accident about 10 years ago. But separate conversations with his friends and co-workers reveal another explanation: Doug Brooks isn't your typical CEO.
"I've never seen a CEO without an ego," says Valerie Davisson, chief PeopleWorks officer for Brinker. "I've worked for plenty of CEOs, and Doug is amazingly humble. He has an ego, but it's the healthy kind—not the kind [he developed after the title on] his business card changed."
And although the accident that cost Brooks his left leg may have changed his lifestyle, it didn't affect his positive outlook on life. "A lot of good has come out of that one bad day," he says.
Brooks, who is 58 but says he does his best to "act 28," began working at Chili's Grill & Bar in 1978, shortly after his graduation from the University of Houston. The Houston location where he began training as a manager was only the second unit in the budding Chili's chain, and Brooks soon moved up to take over management duties at Chili's first location, at Greenville and Meadow in Dallas.

It was a classic case of being in the right place at the right time. According to industry experts, Chili's virtually invented the "casual-dining niche." Through most of the 1970s, eating out meant either white linen tablecloths or fast food. There was no middle ground until Chili's created the concept in the 1980s. Today casual dining accounts for $185 billion of the $580 billion that Americans spend annually on eating out. From the 1950s through the early 1990s, the amount of money U.S. consumers spent eating out rose steadily, coinciding with the rise of dual-income families, which also peaked around the same time.
Brooks' career rode the crest of this wave of spending: general manager, area director, regional vice president of the Chili's brand, and so on. In 1999 he became president of Brinker International; five years later he was named chairman and CEO.
Soon after taking the helm, Brooks determined that the company needed to pare its stable of restaurants. During the past six years, he has guided the company through the sale of its interests in the Big Bowl Asian Kitchen, Corner Bakery Café, Rockfish Seafood Grill, Romano's Macaroni Grill, and On the Border Mexican Grill & Cantina brands.
Today Brinker focuses on its two core brands: Chili's (more than 1,550 locations), and Maggiano's Little Italy (45 locations).
For fiscal year 2004, when Brooks took the reins, the company earned $154 million on sales of $3.7 billion; in its most recent fiscal year, which ended June 30, 2010, Brinker earned $138 million on revenue of $2.8 billion. Brooks says the company's focus on building shareholder value has resulted in a "much stronger balance sheet."
"We went from spending $400 million a year building new stores to less than $100 million now," he says. "We paid down debt and engaged in a share buyback program, all of which increased dividends from 11 cents a share to 14 cents a share."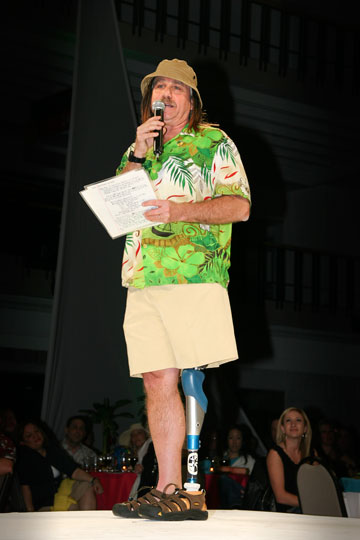 Following a Legend
The late Norman Brinker, who died in June 2009, is an icon in the U.S. restaurant industry. He acquired the Chili's chain in 1983 when it numbered 23 locations. In a 2003 interview, Brinker told Nation's Restaurant News that he recognized Brooks as one of the up-and-coming leaders of the company. "He [is] very much involved in the precept of exceeding—and this is important—exceeding customer expectations," Brinker told the trade publication. "He's admired personally for his directness and his knowledge of the restaurant industry and his knowledge of how to innovate and encourage people to do their very best."
Although Brooks did not immediately succeed Brinker as CEO—he was preceded in the job by Ron McDougall—Brooks understands the burden of following a legend.
"Is it daunting?" he asks rhetorically. "Sure. But I'm glad it's me in this job, because I worked with Norman for 26 years, and I know what made him tick. Every [manager at] the company watches a video on his leadership philosophy: 'Respect every job and the people who do it.' I'm not him and I'll never be him. But I know enough about him to try to follow in his footsteps as much as any mere mortal could."
Roger Thomson, executive vice president and general counsel for Brinker, worked with both men for decades and says he sees a lot of similarities between the two. "Both are very people-focused," Thomson says. "They surround themselves with good people and let them do their jobs. Both are philanthropic and think it's critical to be an active participant in the community and to give something back.
"But there are some differences," Thomson adds. "Norman was very intuitive about what guests would like, and he was inclined just to follow his gut. Doug is more data-focused. He listens to his gut, but he wants data to back it up. Other than that, they are cut from the same basic cloth. Everyone is treated fairly. That basic fairness was, and is, always evident."
Rauly Williams, who's known Brooks since 1972 and describes him as his best friend, agrees with Thomson's assessment.
"What impresses me the most about Doug is that he knows everybody's name and treats everybody the same," Williams says. "When he sees the parking lot attendant at Mavs games, he'll roll down the window, give him a cigar, and ask about his kids. It's amazing."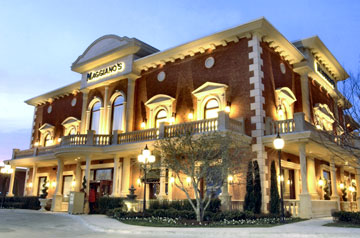 Even those who don't know Brooks personally often compare him to his mentor.
Nation's Restaurant News
in October gave Brooks its inaugural "The Norman," an award the publication created to honor a restaurant executive with "extraordinary leadership skills who consistently mentors and inspires future industry leaders." The Hospitality Industry Hall of Honor at the University of Houston also recognized Brooks in October. In announcing the honor, John Bowen, the school's dean of the Conrad N. Hilton College of Hotel and Restaurant Management, said Brooks "continues to preserve the positive culture within the company first established by company namesake Norman Brinker."
Despite the similarities, the CEO has his own vision for the company's future—one that has him focused on reinvigorating the Chili's and Maggiano's brands and ramping up their global expansion. Brooks plans to evolve the Chili's brand through a four-pronged strategy: a "team" service plan that allows servers to share tables and improve attention to customers; a $15 million technology upgrade to control inventory, cut waste, deliver customized marketing messages to individual customers through the Internet, and streamline online "to go" orders; the introduction of what he calls the "kitchen of the future" to increase the speed, efficiency, and consistency of the food; and an evolution of the look and feel of the restaurants themselves. (For those who want a sneak peek, the first "new-look" Chili's—the design of which is still being tweaked—is in Allen at Interstate 75 and McDermott Road.)
Brooks seems most excited when talking about Brinker's international expansion efforts.
"The rest of the world looks like the 1980s [in the U.S.]," he says. "People are beginning to eat out more and more."
Brooks aims to take the company from its current 230 international restaurants to 425 by 2014, making it the No. 1 U.S.-based casual dining chain. Currently, Chili's is strong in Mexico, where it has 75 units, and the Middle East, where it has 70. Brooks is focusing on the "BRIC" countries—Brazil, Russia, India, and China—which have developing markets with large populations and few restaurants.
"When you put all of this together," he says, "it's a complete change to our business model. The goal is to double earnings per share by 2015."
Burning Rubber, Spinning Tires
Although Brooks downplays his disability, it's hard to believe that his rise in the company wasn't made even more difficult by the accident that cost him his leg.
The fateful day in 1998 began much like any other. Brooks was out for a run along Independence Parkway in Plano, training for the New York City Marathon. A lost limousine driver made a sudden U-turn and collided with a painter's van, sending it careening off the road. Brooks, who was running on the sidewalk against traffic, saw the van coming and attempted the superhuman feat of vaulting over it. He didn't make it, but the jump probably saved his life. The van took pushed him through a brick wall, but all of his injuries were from the waist down.
What Brooks remembers next is "the smell of burning rubber, tires spinning in the air, and a lady standing above me shouting, 'Are you okay?! Are you okay?!' " He told the woman to call his wife, Holly, but doesn't remember much about the next few weeks.
Holly certainly does: "I got this hysterical phone call from a woman saying Doug had been in a car accident. 'No, that's impossible,' I said. 'He was running.' I drove over there literally two minutes from the house, and there were EMTs, cops … just chaos."
Doctors at Parkland hospital spent the next month trying to save Brooks' left leg. After five surgeries, they advised amputation. "Doug had such a great attitude about it," Holly recalls, "but our boys [12 and 16] were freaking out. 'How will people look at you?' they worried.'
"But the thing that makes me saddest for him is that his entire life prior to that was athletics—basketball, skiing, golf. He played softball for 20 years. Everything was done to the ultimate."
Adds Brooks' friend Williams: "He was a tremendous athlete. That's probably what was most difficult for all of us to take. He played everything all out, all the time. He once separated his shoulder diving into home in a softball game [in which] we were up 15-1."
Brooks didn't escape the darker moments one would expect an amputee to experience. He had moments of depression and anger, and he quickly tired of counselors with all four limbs trying to tell him what his life would be like with a prosthetic leg. A turnaround came after Norman Brinker mentioned Brooks' predicament to his old friend Ross Perot, the Dallas billionaire, who thought he knew someone who could help.
That person was Craig Gavras, now 44, who had lost a leg in a training mishap as a cadet at the Dallas Police Academy seven years before Brooks' accident. Perot knew that Gavras had become the director of Limbs for Life, a charitable organization that raises money to donate prosthetics to amputees. Perot gave Brooks' phone number to Gavras and, after several phone calls and offers to help, Brooks finally agreed to meet with him.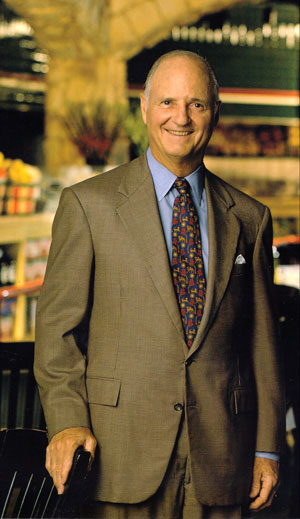 Gavras went so far as to visit Brooks at his office wearing shorts, exposing his prosthetic leg. "People have a lot of questions," Gavras says, "and a lot of times they don't need the answer verbally; they just need the visual of someone using a prosthetic leg."
Shortly afterward, Gavras extended an offer for Brooks to join the board of directors of Limbs for Life. Holly also joined her husband on the board. As part of their involvement the couple host a benefit for the organization every year that attracts about 600 people.
"They are very influential and active on our board," Gavras says, "even though there is no pay. Everything they do is out of a love to help others."
Charitable work is a big part of what Brinker International does, too. Chili's is a partner with St. Jude Children's Research Hospital. In 2006, it committed to raising $50 million for St. Jude Children's Research Hopsital. It has raised $35 million so far and in 2007 opened the Chili's Care Center at St. Jude's campus in Memphis.
"I've cut a lot of ribbons, but that was definitely the coolest ribbon I've ever cut," Brooks said. "When I think about this company, I'm proud to say that it has a big heart."
Despite his work for Limbs for Life, many people in the Brinker organization still have no idea that Brooks wears a prosthetic leg.
"He is very sensitive about drawing that fine line of pressuring people to participate in his work with Limbs for Life," says Brinker HR head Davisson. "A lot of people don't know [about his disability] unless they've expressly been told. I heard him speak one time at a non-company function, and that was the first time I actually heard him tell his story."
That seems to be par for the course for Brooks, who still maintains his golf game. The ever-humble head of Brinker International will come downstairs to the lobby of his corporate headquarters to greet visitors and escort them to his office himself. They might notice a slight limp on the way down the hall, but little else would give them a clue that their host is anything but the typical CEO.
And that's just the way Doug Brooks likes it.

Get the SideDish Newsletter
Dallas' hottest dining news, recipes, and reviews served up fresh to your inbox each week.