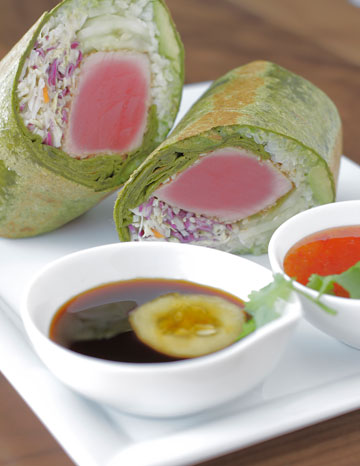 WHY DIVE:
After lunching at this new Snider Plaza eatery a few times with several different dining companions, the consensus was unanimous: "Wow. I wish I had a place like this in my neighborhood." And what's not to love about Dive? Owner and chef Franchesca Nor imbues her counter-service seafood café with plenty of chic, seaside shanty charm. The food is a creative mix of healthy seafood fare at reasonable prices. And Nor certainly knows her audience: tony Park Cities soccer moms looking to stay trim yet craving something tasty. But don't let all those matching yoga outfits and Tory Burch bags fool you. This isn't mere rabbit food for calorie-conscious ladies who lunch. Nor knows how to feed her patrons—and feed them well.
WHAT TO EAT: Dive's seafood is shipped in daily. That freshness is evident in its ceviche, which changes regularly depending on what's in season. My favorite was the grouper. The lean, firm fish held up well against an unconventional mix of lime, mango, jalapeno, and tomato. Another crowd-pleasing starter was Dive's skinny dips, a quintet of Mediterranean-inspired dips such as hummus, roasted eggplant with red pepper, and finely diced portobellos topped with serrano ham. Served with pita and crispy lavosh, all five dips can be sampled for $15, an easy and frugal appetizer to share with two or more.
Dive plays to its core audience with a host of salads in both "cove" (small) and "Olympic" (large) sizes.  The best of the lot include ginger slaw, a trio of cabbages tossed with carrot and red onion; and the hearts of palm salad. The latter is a savory and sour melange of crunchy hearts of palm, avocado, grapefruit, and garlic citrus vinaigrette finished with Hawaiian sea salt. I added perfectly seared scallops to the salad for a $6 up charge, making it a hearty yet healthy lunch.
Sandwiches and wraps provide the only diversity on Dive's menu. Chickens of the sea can opt for a decent barbeque pulled-pork sandwich or grilled steak wrap. They're fine but pale in comparison to chef Nor's seafood options. An off-the-menu Ahi tuna slider with garlic aioli has proved so popular that Dive plans to make it a regular option. It was good if a bit oversized for a slider. Better was a daily special offering: salmon salad melt with white cheddar and capers, a delicious spin on the classic tuna melt.
The aforementioned grouper also makes for one of Dive's best entrées: a mojo marinated filet topped with mango avocado salsa. A preponderance of red onion overpowered the sweet mango but the garlic and cumin-infused mojo sauce was a winner. Mussels steamed in champagne, chorizo, and garlic broth and seared scallops with lime burre blanc were standouts as well.
With its great taste , good looks, and winning concept, Dive seems a prime candidate for expansion. Until then, you'll have to join the minivan brigade at Snider Plaza for lunch. Yoga outfit not required. But it wouldn't hurt.
DIVE COASTAL CUISINE
THE FOOD: Seafood
THE COST: Average lunch entrée price $11
WI-FI: Yes
FULL BAR: Beer, wine, and limited cocktails
WHO'S THERE: Tony Romo, Bob Boulogne, Fehmi Karahan
THE POWER TABLE: A round table at the front of Dive that comfortably seats six.

Get the SideDish Newsletter
Dallas' hottest dining news, recipes, and reviews served up fresh to your inbox each week.