Certain people just don't need last names. Beyoncé. Boone. Bono. Harvey. Yes, Harvey.

In the arcane world of neural-data acquisition, those two syllables not only suffice but, after 25 years, command iconic status. If you're a research scientist most anywhere on the globe studying brain and peripheral nervous system activity, you probably smile when you hear the name.
"He is wonderful—a scientist much more than a salesman," says Dr. Regina Carelli, professor of psychology at the University of North Carolina.
Carelli is talking about Harvey Wiggins, 67, who runs a Dallas company called Plexon Inc. that invents, develops, and manufactures hardware and software that acquires, amplifies, records, and analyzes signals from individual brain cells.
Used mainly in university and medical-school laboratories, Plexon's equipment captures neuron firings in real time from live brains—usually those of rodents or monkeys—and isolates and displays which "waveforms" come from which cells. Scientists use the data in many areas of study including autism, prosthetic limb control for paralysis patients, and the effects of drugs on brain processing and memory.
During experimentation, tiny electrodes typically are implanted surgically into a mammal's brain, Harvey explains one recent day, as he manipulates thousands of waves on a computer screen in the company's laboratory off Greenville Avenue. Wires run from the electrodes to a connector, made by Plexon, which is attached with epoxy onto the top of the animal's head. Other wires hook up to Harvey's orchestra of instruments.
"Before the implant, the scientists train the animal to do some task they want to study," he says. "Then, they put the electrodes in, have the animal do the task, and look at the set of cells and their responses while the animal is doing it. We're looking at when cells fire in time. Some fire in bursts, some of the time. Some fire continuously.
"Now I'm identifying waveforms by selecting clusters," he goes on, beginning to position squares over certain segments on the screen. "We can go and look at it in 3-D if that helps."
Since launching a company called Spectrum Scientific in 1983 (it was renamed Plexon in 1996), Harvey has been inventing whatever has helped the company succeed. Plexon—the name derives from "plexus," an anatomical term referring to a network of nerves and nerve cells—pioneered many of the techniques and products that its four competitors now produce. It has won numerous technology awards and has a loyal and expanding roster of customers: university and medical-school research groups, government labs, pharmaceutical firms. Debt-free, and with annual revenue ranging from $5 million to $10 million, the company has grown from one guy with an assignment to 25 employees, from 700 square feet to 9,000. Walls are lined with spools of high-density wire, bins of mechanical parts, gizmos and gadgets, like buttons in a dress factory.
"I would have killed to be in a lab like this, as a student," Harvey says with a smile.
Now, as advancements in neuroscience show promise for human patients, Harvey knows he must continue to be the innovator he was when he found his first client. Or, rather, when his first client found him.

Getting The Call
It all began with a box.
In 1970, after completing his master's degree in computer science and biomedical engineering at Southern Methodist University, Harvey decided to enter the school's Ph.D. program. But halfway through, he got a tempting offer from The University of Texas. "I got to go build something," he says, remembering the thrill. "I just walked out." For the next 12 years, he developed single-electrode data systems for UT's Callier Hearing and Speech Center—"rudimentary stuff" that would be the precursor to his later success. By 1987, though, the demand for these data systems had declined.
"It looked as if I would have to shut down and move into the garage," Harvey says. But then he received a call from a professor of anatomy and cell biology at Dallas' UT Southwestern Medical School. "He heard that I was making this stuff and came to see me," Harvey recalls. "He was trying to build multi-electrode recording equipment, with marginal results."
Ultimately, the anatomy professor received a $600,000 research grant from the National Institutes of Health and funded Harvey's creation of the Multi-channel Acquisition Processor, or MAP. "I built a bunch of them, and he named it The Harvey Box," Harvey says. "Some of my old customers still call it that, though I never do." Since its invention in 1988, The Harvey Box has been standard issue in labs around the world. Nearly 600 of them have been sold, at an average price of $75,000 apiece.
"We still joke about the name," says Carelli, who has used the box in her drug-abuse research for 15 years. "But the box is exceptional. There is nothing like it on the market."
The emergence of this technology—and Harvey's role in it—was merely a case of good timing, he insists. "None of this was planned," says Harvey, a white-haired, gentle-mannered academic with a really messy desk. "I happened to be in a place when a transition was made. It was a zig-zag path."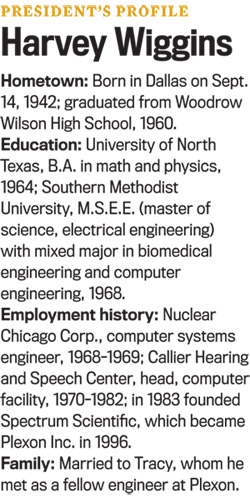 Nurturing Personal Relationships
Not a student who earned remarkable grades at Dallas' Lakewood Elementary school, Harvey built his own go-cart, did chemistry experiments, and constructed simple electronics at home, a house to which he has returned as an adult with his wife Tracy, a fellow engineer and Plexon employee.
While studying math and physics in college at the University of North Texas, however, Harvey took a required biology class that seemed to give purpose to his natural gift for creativity. "I thought bio was counting leaves on a tree branch, but I found it fascinating from a technical point of view," he says. "When I got to Callier, what I managed to learn was how to learn. Where do I get the information? How do I assimilate the information to do something?
"In the end, though," he says, "you've got to have imagination to use the information. That is what drives you in the first place."
The Harvey Box remains the heart of Plexon's operation, even today. But in order to maintain his standing as developer of the device and the industry leader, Harvey has realized he will need eventually to update the original design. Meantime, he seems to have perfected the universal business strategies that have grown profits and congealed a devoted customer base. Most notably, Harvey spends time nurturing personal relationships with the scientists who rely on his products, training them in their use, creating and customizing new technology, and keeping his tools easier to employ than the competition's.
"Harvey is unique in the way he'll come out to the lab and set [the box] up for you. He has an unusual friendliness in the way he conducts his business," says Dr. Andrew Schwartz, a professor of neurobiology at the University of Pittsburgh, and one of Harvey's first customers. "He was very willing to work with us, and that's a big reason for his success."
Schwartz has used Harvey's multi-channel processors in his study of brain-controlled prosthetics, which has been widely reported on recently for its ability to demonstrate how monkeys can control a mechanical arm using miniscule sensors in their brains. With a spike in paralyzing head and spinal injuries and amputations in Iraq and Afghanistan veterans, interest in human applications for The Harvey Box is climbing.
Harvey will often spend from three to four days installing a system. Last year, he took 18 trips to labs around the world. One-quarter of his business is international. "You learn what they want and what they need. This is what has sustained us," he says. "Other companies don't do this." For one researcher, for example, Plexon built a system that could accommodate 512 electrodes, instead of the standard 128. The investment isn't lost on Harvey, who sees today's graduate student as tomorrow's customer. "He'll get a Ph.D., then a post-doc, then he'll start his own lab. And then he'll buy equipment."
When Harvey returns home after the installation, his products generally hum without much tweaking. "His is a more turnkey system for people who are not tech-savvy," says Schwartz. "With others, you may have hardware that is several generations ahead and less expensive, but you have to put the work in. You may not want to write the software yourself."

Continual Innovation
At a work table in the Plexon complex off Greenville, a man is soldering a metal part—a heavy, canister-shaped machine set like a patient in front of him. He's working on a problem. Often, it seems, when a rodent runs around during testing, it can get tangled in the cable that stretches from its head to The Harvey Box. So, this engineer has devised a solution—an intermediate implement that has a rotating end, to which the wire can be attached. As the animal scurries the wheel moves with it, keeping the cable free.
For a scientific company to thrive, continual innovation like this is critical. "The product evolution rate balances between features and cost," says Harvey, who usually works a split shift, arriving in the morning around 10, leaving for dinner, and then regularly returning to work until midnight.

With 20 technical minds on staff, five of them with Ph.D.s, Harvey seems to spend a lot of time thinking about what to do next. He's interested in making the electrodes, perhaps—the only part of the system that Plexon doesn't currently manufacture (besides the circuit boards for the computers). He's also investigating the trend toward miniaturization of the pieces that interface with the brain, or electrode nanotechnology. In the back of his, well, brain, is the notion of a wireless arrangement in which the animal is not tethered at all. And, to cut down on animal usage altogether, he's collaborating on an alternative process with a professor from the University of North Texas.
Harvey digs through a drawer and comes up with a flat plate of glass, about an inch square. "It's an artificial nervous system, made with real cells," he says, holding it up to the light. When Harvey discovered in the late 1980s that UNT's Center for Network Neuroscience, or CNNS, was growing these nerve cell networks on microelectrode arrays in vitro, he had an idea.
"He simply asked, 'What do you need in the multi-channel recording arena, and how should the data be formatted?' " remembers Dr. Guenter Gross, regents professor of neuroscience and the CNNS director. "We gave him a basic description of the problems and he took it from there, with remarkable speed and ingenuity. As in his other work with animals, multi-channel recording is essential, high-resolution waveshape identification is highly desirable, and accurate storage of action-potential data is paramount. In all these areas, Plexon began to dominate worldwide."
The company has teamed with CNNS in what Gross calls a "fruitful symbiotic relationship." In 2005, for instance, Plexon pledged $200,000 in in-kind support to explore technology that might eventually minimize the need for animal use. With these matching funds, a state-funded Advanced Technology grant became possible.
Simultaneously—if not quite as excitedly—Plexon is developing the new Harvey Box. "I keep asking him when it's coming out," Schwartz says, "and he always says, 'Soon.' " While the impetus may not be pressing—after all, Plexon "sells [the existing ones] like hotcakes," Schwarz points out—the company is committed to creating a viable state-of-the-art replacement for its signature commodity.
"We need the new box," says the unassuming man who invented it 21 years ago. "Maybe we'll call it Harvey Jr."
Get the D CEO Newsletter
Stay up to speed on DFW's fast-moving business community with weekly news reports, interviews, and insights.