Duncan Quinn

Known For:
Suits, shirts, ties, pocket squares
The Lowdown: The definition of a dandy is the Duncan Quinn client. Influenced by the Savile Row style of the 1960s, this New York import set up shop in Victory Park in 2008 and brought with it a stylish yet playful sensibility. Quinn's bespoke suits are done in myriad fabrics, from basic super 80s worsted wool to exotic blends such as guanaco, cashmere, mohair, and even Andes mountain goat belly hair. Prices start at $4,000 for the basic bespoke service (including at least two fittings) and run as high as $30,000 for that one-of-a-kind suit. Bespoke shirts are made from the finest cottons milled in Italy and are single needle-stitched in a small artisanal shop in Umbria. A Duncan Quinn shirt starts at $380 with a minimum order of four shirts. Bespoke neckwear—a rarity in the custom-made world—doesn't come cheap: $660 per design, which can be used to make up to four ties or pocket square-tie combos.
Barneys New York

Known For:
Suits, sports coats, tuxedos, trousers, dress shirts
The Lowdown: Visiting this luxe shop is like going to a holy place: it's a religious experience for fashion zealots devoted to the New York-based retailer with its blend of understated luxury and modern sensibility. Barneys made-to-measure service offers such labels as Isaia, Kiton, Hamilton, and its namesake Barneys New York line. Suits start at $1,595 and dress shirts at $315. "Our customer is the man who uses style for self expression," says Timothy Elliot, Barneys' public relations director. "We're in love with the prestigious art of sartorial tailoring and our goal is to exceed the expectations of our customers."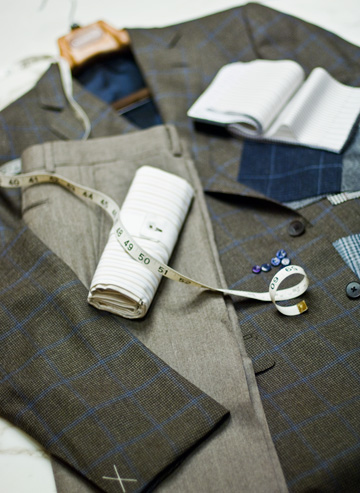 Pockets Menswear

Known For:
Suits, shirts, and more
The Lowdown: Ermenegildo Zegna lovers of Dallas, take note; this chic Highland Park Village shop is your mecca. Owner David Smith pioneered the presence of Zegna in Dallas and provides an in-store boutique—the city's largest—for the luxury Italian designer. Pockets also offers made-to-measure Zegna suits, as well as suits by Canada-based Coppley. For the harried businessman, try Pockets' 7-Day Suit service: a Coppley made-to-measure service turning around a custom suit in one week. In addition, Pockets offers custom-made trousers, dress shirts (by Houston-based Hamilton), and, yes, even boxers and pajamas.
Lombardo Custom Apparel

Known For:
"Everything on the exterior" for men and women
The Lowdown: If you're built like a brick house, Jay Lombardo can sympathize. The former collegiate weightlifter and rugby player has built his business on the broad shoulders and backs of a clientele desiring luxury apparel that fits like a glove. His customers include Tony Romo, Tom Leppert, Avery Johnson, Emmitt Smith, Frank Branson, and the late Tom Landry, one of Lombardo Custom Apparel's first clients. Luckily, you need not be big and beefy to appreciate Lombardo's finely tailored wares. Custom suits start at $1,500 and are available in more than 5,000 fabrics. That many choices may sound intimidating, but Lombardo prides itself on superior customer service, sitting down with each client and doing a "lifestyle analysis" to design the best look and fit. Custom-made shirts are also available in a variety of fabrics, starting at $150.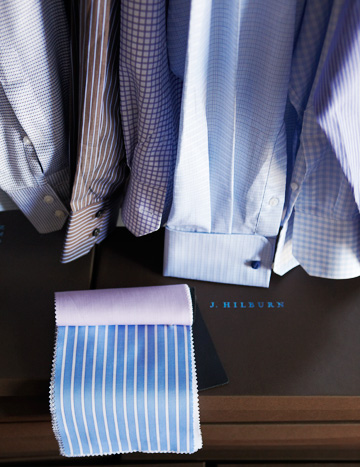 J. Hilburn

Known For:
Shirts
The Lowdown: Affordable custom-made shirts for all seems to be the mantra of J. Hilburn co-owners Hil Davis and Veeral Rathod. In business since 2007, their upstart company keeps things simple. Customers choose from three collections. The Blue Label ($79) offers 50-count fabrics in Egyptian cotton. The Brown Label ($99) uses twisted yarns providing a superior feel and two-ply Egyptian cotton up to 100 count. The Black Label ($149) features double-twisted yarns, and 120-140 thread counts in luxurious Giza 45 cotton. Though the prices are low—especially for bespoke shirts—the J. Hilburn experience is first-rate: more than 250 colorful swatches from which to choose, your own style advisor to take your measurements at your home or office, and shirts crisply folded in a chic, chocolate-brown box. Coming soon: cashmere sweaters and "partially" custom slacks.
Ken's Man's Shop

Known For:
Suits, sports coats, slacks, and shirts
The Lowdown: So, just who is this Ken who's been helping North Dallas businessmen suit up since 1993? Actually, the store's lineage goes back to 1964, when owner Ken Helfman's namesake shop first opened in Garland. But after a visit with his hero Stanley Marcus—one he likened to "meeting the pope"—Helfman decided to relocate his Ken's Man's Shop store to the Preston-Royal Shopping Center. The new clientele was a better fit for Ken's classic look, which now includes such labels as Pal Zileri, Empire, and Eton of Sweden. Custom shirts average $225, and a made-to-measure suit can run $975-$3,500. Get on Ken's e-mail list to receive monthly specials.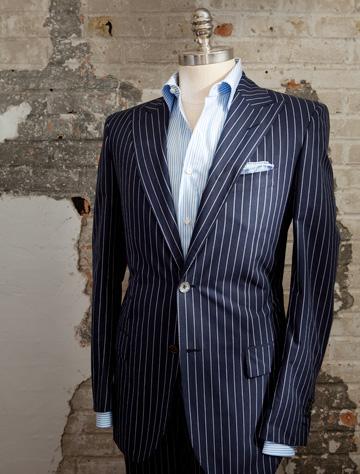 Hadleigh's
Known For:
Suits, shirts, ties, scarves, and more for men and women
The Lowdown: Co-owners Adnan and Gable Shaikh must have fine fabrics coursing through their veins. The Shaikhs' boutique, located in their Kessler Park home, is all about the best: made-from-scratch suits, shoes, shirts, neckwear, and more that exude the bespoke lifestyle. Of course, that lifestyle doesn't come cheap. Hadleigh's namesake suits start at $1,700. Bespoke suits by Cesare Attolini and d'Avenza can run $5,000-plus. But it's not about the price points, the Shaikhs say. It's their love of uncommon fashion—one curated for more than 15 years by the couple during their stints at Ralph Lauren and Stanley Korshak. That makes Hadleigh's a shop without peer, where hand-knit cashmere ties and Barker Black shoes mix and mingle with an Emanuele Maffeis ruffled halter and BRM custom timepieces (a Hadleigh's exclusive). The Shaikhs even organize occasional trips to the world's fashion capitals (Savile Row, Milan, Champs-Élysées).
Q Custom Clothier

Known For:
Shirts, suits, slacks for men and women
The Lowdown: Rows of carefully rolled silk ties by the likes of Robert Talbott, Duchamp London, and Ted Baker greet guests as they enter Q Custom Clothier's Highland Park or West Village locations, and the clean-lined stores exude an air of relaxed elegance. It seems to instill confidence in the worrisome male who's perhaps making his first sojourn into the world of custom-made clothing. No need for worries, though. The Ratan family has been custom experts since 1965, knows its way around a needle and thread, and is most renowned for custom shirts. Each Q design starts with 120-thread count in the world's finest Egyptian and Swiss cottons, and each custom design includes such choices as 15 collar styles, 10 cuff styles, and more yokes than you can shake a thimble at. Q also makes it easy for the busy businessman with its online shirt builder. Simply select your fabric, collar, cuff, and other design details, then determine how you want to submit your measurements—whether you measure yourself, select a standard size, or send in your best-fitting shirt for Q's team to measure.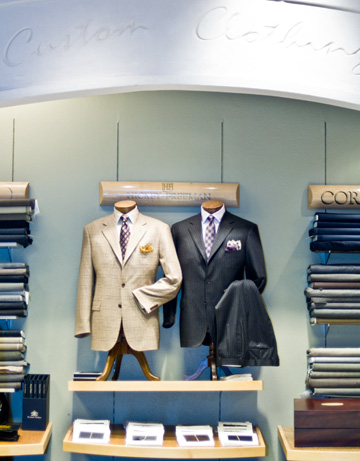 Culwell & Son

Known For:
Suits, slacks, sports coats, and shirts
The Lowdown: This University Park mainstay has been clothing Park Cities fathers and sons since 1920, and the look is decidedly traditional. Think Hickey Freeman and Oxxford, among others. It's a handsome, timeless collection that serves many of the Dallas business elite. Surprisingly, Culwell & Son also offers some of the city's best values in custom-made apparel. Clothing packages include the Business Basics (three tailored suits and three custom made shirts for $1,600), the Made-to-Measure package (three suits and shirts for $2,400), the Custom-Made package (two custom-made suits and four shirts for $2,600), and custom shirt packages ($595-$795 for six shirts).
Stanley Korshak

Known For:
You name it, they'll make it
The Lowdown: In a state where bigger is often believed to be better, this 60,000-square-foot store at the Crescent still maintains a boutique experience. Perhaps it's the highly personalized service that Stanley Korshak prides itself on that makes the department store seem so intimate. Size does have its privileges, though. You won't find a larger selection of Brioni or Kiton in the city, and both are part of Korshak's made-to-measure service, as are collections by Oxxford and Ralph Lauren Black/Purple labels. Suits range from $1,500-$8,000. Made-to-measure dress shirts run $345-$450 and include such designers as Brioni, Hamilton, and Isaia, a recent addition that reflects a more modern sartorial style.
Get the ItList Newsletter
Be the first to know about Dallas' best events, contests, giveaways, and happenings each month.