Shirley Goldfield wasn't the first person to decide that Vaux le Vicomte, a  17th century French château some 35 miles southeast of Paris, would look pretty dandy transplanted to the middle of nowhere. That distinction belongs, at least in fiction, to Hugo Drax, the squatty archvillain in the 1979 James Bond movie
Moonraker
. Approaching the fiend's estate in a helicopter piloted by a comely Drax minion, Bond gapes as the magnificent castle, with its moat, parterres, spewing fountain, oval dome and slate pyramidal roofs, rises beneath them from the Mojave desert, courtesy of movie magic.
If you happen to tool down the I-35E service road just north of Hickory Creek, hang the first right after the Chili's onto Turbeville Road, and drive half a mile or so past a housing development and some scrubby ranchland, you'll know just how Bond felt. The first sign that you're approaching something unusual is the ornate wrought-iron fence strung between stone columns. Then, in the distance between twin gatehouses faced in the same stone, you'll see something so huge and so incongruous in its French-baroque-meets-Plano-McMansion mashup that it seems more hallucination than house. This is the Denton County dream home of CellStar Corp. founder Alan H. Goldfield and his wife, Shirley. And in this time of economic apocalypse, Champ d'Or (that's French for "field of gold"—get it?) has turned into something of a nightmare, just like the dream homes of so many of us. Only bigger.
Much bigger. At nearly 35,000 square feet, the Gold–fields' house could contain 20 median U.S. homes. The new Bush residence in Preston Hollow, at a mere 8,500 or so square feet, would fit into Champ d'Or four times over. To be sure, the Bushes' former home in Washington is somewhat larger than the Goldfields' digs, but then the White House has six floors and 132 rooms, including 35 bathrooms. By contrast, Champ d'Or seems a little skimpy, with a mere six bedrooms and six full and eight half baths. Of course, Champ d'Or isn't the residence of the leader of the free world, either.
In the distance, you'll see something so huge and so incongruous in its French-baroque-meets-Plano-McMansion mashup that it seems more hallucination than house.
It is, instead, the sometime-home of the retired chairman and chief executive officer of a Carrollton-based distributor of cellphones and related accessories—and a company with an interesting history. The Brooklyn, N.Y.-born Goldfield founded the company in 1969 as National Tape and Record Center. In late 1997, as CellStar's stock rode the tech and telecom boom, his 34.7 percent stake in the company was worth a little more than $500 million. This being a tech company, you probably know how the story turns out: In 2000, the company posted a $63 million loss. By July of the following year, Goldfield was out of the company he had created, although he remained its largest shareholder, was paid $4.25 million in severance and a consulting fee of $70,000 a month for five months, and stood to earn a commission of as much as $15 million on new business in the Far East.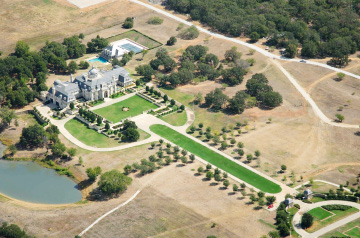 Then things for the company got worse—a lot worse, with the familiar tech-bust litany of missed earnings, brushes with bankruptcy, a reverse stock split, a Securities and Exchange Commission investigation, and delayed financial filings. Those delayed filings got CellStar busted from Nasdaq and relegated to the pink sheets, the ghetto for tiny, unaudited, or thinly traded stocks. Goldfield's holdings in the company took a severe hit, although he did sell large slugs of stock starting in 2003. And in 2005, when the value of his 13.6 percent stake had shrunk to $7 million, he made a play to take his company back. He pledged some natural-gas properties he owned to secure a $25 million investment in CellStar by a financial firm. The deal, which would have given the firm control of CellStar and replaced its board and management, would provide CellStar the capital it needed to survive, Goldfield said in an SEC filing. Perhaps not coincidentally, it also would likely have resulted in the return of Alan Goldfield as CEO.
The name of the financial firm that was to have taken control of CellStar: Stanford Financial Group. That's Stanford as in Sir R. Allen Stanford, the alleged perpetrator of an $8 billion fraud and Texas's very own mini-Madoff.
CellStar's board refused to reply to the offer and, happily or unhappily, the deal never went through. CellStar continued to dwindle, burdened among other things by an accounting scandal in its Far Eastern operations and wrestled over by various shareholders. In 2007, its successor company, CLST Holdings, sold most of its remaining businesses, and by 2008 had "no significant operations," according to its latest, oddly plaintive 10-K filing.
CellStar may have ended ugly, but at least it served to fund the construction of what Shirley Goldfield called her "collection of dreams." Unlike Hugo Drax, the Goldfields, who declined to be interviewed for this story, did not have Champ d'Or brought stone-by-stone from France. Instead, they imported it idea-by-idea. As Shirley put it in a promotional online video prepared by Ebby Halliday Realtors, one in a series of real-estate firms to handle the listing, "I've traveled all over the world for a lot of years, and I've seen a lot of beautiful, wonderful things and places. So it was just a collection of all the things that I like."
Ornate Exemplar Of The Bust
The things she likes include the Château de Versailles, and particularly its Hall of Mirrors, which inspired the mirrored ballroom in Champ d'Or. They include the Palace of Fontainebleau, Napoleon's digs. "I remember … Napoleon had all of his plates in the hallway," Shirley recollects in the video. "I was walking through and I said, you know, we can have a hallway of plates, too."
Those things also include the Chanel store in Paris, the inspiration for Champ d'Or's two-story, all-black-lacquered "closet of everyone's dreams"; New York's Tavern on the Green, the source for the Goldfields' tea room; and the rooftop pool at the Hôtel de Paris in Monte Carlo, which inspired the couple's pool room. Shirley also observed the renovation of Vaux le Vicomte, which prompted Champ d'Or's most distinctive feature. The French original "has a central dome," she says. "So that's why I wanted a central dome."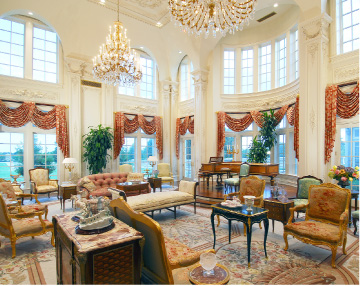 The Goldfields spent four years building the house, which was finished in 2002—and promptly put it on the market at $45 million. The rumor that they decided to sell after an argument over who would get out of bed and make the trek to the kitchen for some ice cream is not, apparently, true. What is true, says Terry Bates, the Nashville architect who designed Champ d'Or, is that the Goldfields came to feel "it wasn't necessary to have that much space." And so on the market their house has sat, an ornate exemplar of the Great American Real Estate Boom and Bust, at times priced as high as $72 million and as low as $35 million. Its current listing price: $65.5 million.
In part, those wild price swings have reflected how much land was included with the house (current offer: 119.42 acres) and whether or not the deal included adjacent houses also owned by the Goldfields, one a mere cottage of 16,000 square feet. But they also reflect something else, local real estate agents say: Champ d'Or is "very, very difficult to price," says Joan Eleazer, senior vice president at Briggs-Freeman Real Estate Brokerage, who was the first agent to try to sell the house. "There's a very narrow market for a home like this."
In that sense, the Goldfield house is a lot like a mortgage-backed bond, say, or the balance sheet of Citigroup. It's impossible to value because nobody's buying anything similar. One way to judge real estate prices is to look at the sales of nearby comparable properties—and the problem with a house that is, as the agents like to say, "truly unique," is that there's nothing even remotely comparable. The two "comps" that come up in a North Texas Real Estate Information Systems analysis clock in at a mere $6.5 million and $10.3 million; both are nearby homes also owned by the Goldfields, and those are asking prices, not actual sale prices. The next-most-expensive home in the Dallas area, a new Andrew Merrick Mediterranean in Highland Park, can be had for just $17.9 million. That works out to about $950 per square foot—pricey even for HP, where a more, ahem, modest multimillion-dollar house might go for around $600 a square foot. But it's a bargain compared to Champ d'Or, at $1,881 a foot. "The house is simply way too big, way too much money," says a Dallas broker.
But perhaps we're just being too parochial in our search for comps. If we cast a wider net, we find something almost eerily similar: Fleur de Lys, a 45,000-square-foot house modeled after Versailles, Louis XIV's palace (which was in turn modeled on—how's this for eerie?—Vaux le Vicomte), going for $125 million. It's in Beverly Hills, Calif. Closer to Champ d'Or's price point is the penthouse at the Pierre, the top three floors of New York's legendary hotel, on the market at $70 million until the owner pulled the listing last year. Also in Champ d'Or's range is an 1895 landmark house with stunning views of San Francisco and the Golden Gate Bridge. Or at least it was in the same range: Originally priced at $65 million, the Belvedere, Calif., house has been knocked down to $48 million. And there were other, far more ostentatious houses planned or put up by the super-rich in the latest Gilded Age, that era before the current economic deluge. Mukesh Ambani, an Indian billionaire, is building a 20-odd-story, $2 billion home in Mumbai. Ira Rennert, a controversial industrialist, built a house in Sagaponack, in New York's Hamptons, that at 66,395 square feet is one of the largest residences in the U.S.
Notice something all these joints have in common? Houses in Champ d'Or's financial neighborhood are in pretty fancy actual neighborhoods, to judge by
Forbes
magazine's listing of the most expensive residences in the world.  The Hamptons. San Francisco Bay. Beverly Hills. Central Park. Plus Greenwich, Conn., Lake Tahoe, the Cote d'Azur, Bel Air. Not exactly exurban Texas.
Hickory Creek has many fine points. It has lots of good recreational opportunities, thanks to nearby Lewisville Lake. It has a spiffy new town hall on Ronald Reagan Avenue. It is about 18 miles north of Dallas-Ft. Worth International Airport. It has outlets of many restaurant chains.
But Hickory Creek is not Cap Ferrat, or Fifth Avenue, or East Hampton. Nothing wrong with that, of course. By all accounts, the Goldfields, who have been married since 1972, are unostentatious folks except perhaps for their taste in architecture and home furnishings, and perfectly at home here. But other members of the super-rich, who after all make up the potential market for Champ d'Or, might not be so willing to settle in rural Denton County. "For this kind of money, you could have oceanfront property in Palm Beach," says Jim Trippon, who as head of Trippon Wealth Management in Houston styles himself as America's top financial adviser to millionaires. "Or a great condo in Manhattan. You could buy a real château in France for a lot less."
A $314,000 Monthly Mortgage Payment
Champ d'Or doesn't exactly sit on Tobacco Road, mind you. There are some handsome ranches nearby, with horses and cattle, and a few fancy homes that don't even belong to the Goldfields. But it might have some drawbacks for the sort of person who can float a monthly mortgage payment of $314,164 (that's at 6 percent interest, with 20 percent down). About a half-mile from the main gate, for example, is the entrance to Hickory Creek Estates, "a mobile home community" featuring a badly rutted road, dead cars, and severely weather-beaten trailers. Another very close-by neighbor includes a mostly empty mall, Cornelius Town Center. The back entrance to a Wal-Mart Supercenter is especially convenient. Sure, it's ugly and elitist to point these things out. But if you're shopping for a $65 million home, you are, by definition, elite.
"For this kind of money, you could have oceanfront property in Palm Beach. You could buy a real chateau in France for a lot less."

Jim Trippon, Trippon Wealth Management
But what about more practical considerations? Champ d'Or is indeed a fairly short hop from DFW Airport, and you can get to Hickory Creek from downtown Dallas in less than 40 minutes.  That is, of course, unless somebody's smacked into an overpass on the Dallas North Tollway, or something's flipped over on I-35E. Even by the sprawling standards of North Texas, Hickory Creek is out there. "A Dallas executive is not going to want to drive" that distance, says Erin Mathews, a prominent Dallas broker and executive vice president of Allie Beth Allman & Associates. "That keeps it from being really a contender."
On the other hand, the sort of people who would buy this house probably aren't the sort of people who have to hop in their Lexuses at 7:10 and head down to Renaissance Tower five mornings a week. They can live wherever they want to. A few decades ago, it's true, "super-trophy" houses tended to cluster in enclaves like Newport or Laguna Beach, says Daniel McGinn, a writer at
Newsweek
and the author of
House Lust: America's Obsession with Our Homes
. Today, thanks to FiOS and NetJets, those houses can be more dispersed, and can turn up in unlikelier places. One of
Forbes
's priciest homes, for example, is in Pagosa Springs, Colo. (McGinn also points out that the same mobility helps explain the meager bedroom and bath count in modern palaces like Champ d'Or: When you visited robber barons a century ago, you slept over. And, oh yeah, they needed places for all those servants to sleep, too.)
But even granting the jet-setting ways of today's super-rich, there's another problem that helps explain why Champ d'Or continues to languish. It's an issue that those of us who live a little closer to the ground also have to address—the choice between a new home and an existing one. These days, as McGinn notes, the vast majority of us covet a shiny new house. That's even though we buy almost 10 times as many existing single-family homes—4.35 million of them in 2008, compared to just 483,000 new ones. There is something of a barbell-shaped distribution in the demand for new. First-time and more marginal homebuyers form one end of the market, where the houses are built cheaply on inexpensive raw land, and where major appliances can be rolled into the mortgage for a few bucks extra a month instead of being charged on credit cards.
At the other end of the new-home market are the folks who buy a teardown in the Park Cities and hire George Lewis to build them the house they've always wanted. Further up the food chain, there's Bill Gates' $150 million high-tech house in Washington (it runs Windows!). There's Larry Ellison's $200 million place, modeled on a 16th century Japanese estate, in Woodside, Calif. And there's that Slumdog Zillionaire's $2 billion single-family skyscraper in Mumbai. And therein lies the rub for Champ d'Or. Even with its 78-foot central dome; its cedar-lined, tiled garage for 15 cars; its custom-built La Cornue range; its three kitchens (main, catering, and staff); its French-silk-covered women's powder room with 18-carat gold Sherle Wagner fixtures; its bowling alley, racquetball court, two reflecting pools with waterfalls, swimming pool, poolhouse, tennis court, and—hey!—gift wrap room, it's still an existing home, and a highly idiosyncratic one at that. "If you pay that much money, you're going to want to build your own dream home. You're not going to want to buy someone else's dream," says Allie Beth Allman's Mathews. "The fact that it didn't sell in one of the strongest real-estate markets in history—there's a message there in terms of market viability."
It's a message the current brokers, Dave Perry-Miller & Associates, seem to be getting.  The firm's Matthew Edwards, who has the listing along with Elaine Whitfield, says he believes the house eventually will be put to some corporate or institutional use. The property's web site hopefully lists applications such as "exclusive executive spa/retreat or bed & breakfast," "exclusive golf course community," "corporate headquarters," "museum or church," and, yes, "residential subdivision development." The commercial-use pitch offers Champ d'Or as a 140-acre parcel, with an additional 350 adjacent acres also available, and is full of details about zoning, sewage capacity, area highway improvements, and such. Shirley Goldfield's collection of dreams is mentioned only once, collectively and in passing, as one of "the existing homes."  It sounds like a teardown.
The thing is, even a commercial use for Champ d'Or seems a pretty remote prospect right now. There's the economy, of course. Nobody's building lavish recreational complexes right now, not to mention housing subdivisions. And churches and museums are watching their contributions shrivel and their endowments vaporize. Even worse than the straitened economy is our parsimonious zeitgeist. A corporate playground? "Who wants to be on the front page of
The Dallas Morning News
spending $65 million of the shareholders' money for a luxury retreat center?" says Trippon, the financial advisor.
And so Champ d'Or sits, racking up, among other things, a tax bill that worked out to $712.92 a day in 2008 (and that's just for the house; it doesn't include taxes on most of the land). For Goldfield as for many of us after the tech bust, houses must have looked, well, safe as houses. With our net worth nuked by the Nasdaq and eviscerated by Enron, we all saw real estate as the true field of gold. Now we know different. And the Goldfields, like so many of us, are stuck with a white elephant—in their case a really, really big white elephant. In this one respect, at least, the very rich aren't so different from you and me. As evidence that we're all in the same mess, consider the current listing's "private remarks"—a comment intended only for the eyes of other agents. It reads: "SELLER IS ENTERTAINING ALL OFFERS!!" As it awaits those offers, Champ d'Or serves as a draw for sightseers who pull to the side of the road outside its entrance gates and gawk. And on one recent afternoon, it drew a helicopter, which approached the house from the north and circled it once, slowly, before heading west.
Get the D CEO Newsletter
Stay up to speed on DFW's fast-moving business community with weekly news reports, interviews, and insights.