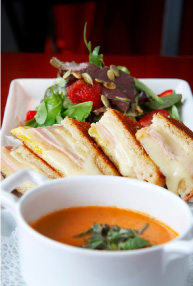 WHY NICK & SAM'S GRILL: Superstar restaurateur Phil Romano has birthed some stunning successes (Eatzi's, Coal Vines, Macaroni Grill) and splashy failures (Il Mulino, anyone?). But his latest venture, a casual offshoot of popular steak house Nick & Sam's, has the one thing going for it every restaurateur craves: the perfect location. Perched on a highly visible corner in Uptown and just a stone's throw away from its tonier sibling, Nick & Sam's Grill has the business glitterati lining up in their Canali best to sip, sup, and be seen. Crescent bigwigs and Harwood executives alike rub worsted-wool elbows on the Grill's street-side patio, already a lunchtime hit. Thankfully for fashionably challenged plebeians such as myself, Nick & Sam's Grill is polished yet unpretentious.

WHAT TO EAT: Nowhere is that stylish, casual vibe more apparent than with executive chef Samir Dhurandhar's menu. It's a comforting blend of hearty steak house faves (New York Strip, striped bass, and Nick & Sam's popular macaroni and cheese) and lighter lunchtime fare. One could easily make a meal of the generous starters. Teriyaki glazed chicken drumettes and delicately fried calamari with cherry peppers were both gobbled up as soon as they hit the table, as was a plate of barbeque-slathered beef sliders and shoestring potatoes. On another visit, Kaffir lime and lemongrass scented mussels had heads swooning.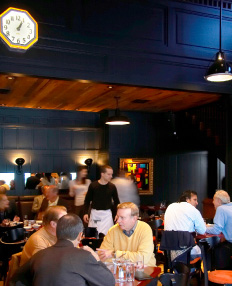 Salads and sandwiches, however, were a more uneven lot. The taco beef salad exhibited a humdrum, chain restaurant quality: nothing wrong yet nothing special. More satisfying was a spinach salad, packing a flavorful punch of raisins, pine nuts, pears, and bacon. A "grown-up" grilled cheese featuring ham, pears, and wonderfully nutty Comté accompanied by a cup of smoky tomato basil soup was a hit. But the shrimp and bacon club sandwich was little more than a watery shrimp salad lumped between limp bread slices.
Not surprisingly, the steak house sibling gets its meatier entrées right. The aforementioned New York Strip was a juicy, slightly charred delight served with those same crunchy "Damn Good" fries Romano serves at all of his restaurants. Baby back ribs glazed in guava barbeque sauce and Sam's roasted chicken were favorites and surprisingly well-priced, each only $12. The affordable prices are yet another testament to Nick & Sam's Grill's balancing act: a mix of style, comfort, and approachability. Whether you're talking Mavericks or mergers, Romano's latest success story is a good fit for all.
THE LOWDOWN
NICK & SAM'S GRILL
2816 Fairmount St.
214-303-1880
THE FOOD: All-American, comfort fare
THE COST: Average lunch entrée price $14

WHO'S THERE: John Sughrue, Greg Weaver, Ramon Longoria, Jack Brown
WI-FI: Yes

FULL BAR: Yes
THE POWER TABLE: The street-side patio to see and be seen; the upstairs balcony (reservations required) for privacy.
Get the D CEO Newsletter
Stay up to speed on DFW's fast-moving business community with weekly news reports, interviews, and insights.