Walk into the Sam Moon Trading Co. off Harry Hines Boulevard near the intersection of LBJ and I-35E on any given weekend, and prepare for bedlam. No, strike that. Walk into Sam Moon most any day of the week and experience bedlam.
As many as 3,000 shoppers pack Moon's main retail store every Monday through Friday, a number that leaps to 7,000 on Saturdays (the store is closed Sundays). In addition to the individual shoppers, tour buses—12 to 24 deep—pull continuously into the store's parking lot and engorge mainly female members of church groups, civic clubs, and assisted living communities from east, west, north, and south of Dallas, credit cards and cash in hand, eager to pounce on Moon's latest deals.
What could Sam Moon Trading Dallas possibly sell to create such a frenzy? Ask your mom, your grandma, your wife, your wife's best friend. They'll tell you: Sam Moon sells the American dream.
Indeed, walking into its store is like entering the Midway at the State Fair of Texas. There's color everywhere, in every hue, from shiny gold to neon rhinestone pink. Handbags in the latest colors, shapes, and styles line the bins, costing just $10 to $40; earrings in silver, sparkling rhinestone, beads, and semi-precious stone are priced as little as $2. Necklaces on chains, on leather, in gold, look chic and can be scooped up by the armful, with money left over to check out the luggage, home accessories, and furniture in the separate Sam Moon Home Décor Store next door.
Customers find they can look trendy without spending big bucks—most of the merchandise consists of designer "knockoffs" made in China—and it keeps them coming back for more. "I go there to find items that aren't expensive, but could individualize an outfit," says Dana Cobb, a Moon shopper from Richardson. "I usually lose the jewelry within days of wearing, but I don't worry, because it didn't set me back too much."
"We cater to the soccer mom. That's who I buy for," says Sam Moon. "They're spending their discretionary income. They want trendy but they don't want to spend too much, and they're looking for values."
In the battered retail sector, Moon's is a seemingly recession-proof formula, generating annual revenue of more than $50 million. While first-half same-store sales were down about 10 percent last year, sales in the second six months were up 11 percent. Through March of this year, Sam Moon says, the company is trending at a 15 percent annual increase for same-store sales.
Interestingly, the Sam Moon we're talking about is probably not the man you think he is. The Sam Moon Group founder, chairman, and CEO is actually Sam Moon's father—a 68-year-old man named David Moon. Sam, 41, is David's first-born son and the company's president and namesake. When David's second son, Daniel, arrived, the name fit in a new way: Sam is similar to the Korean word for "three." Thus stirred the beginnings of a family-owned business dynasty that David Moon envisions eventually as an American icon. "I want to see Sam Moon be a major department store in this country," he says. "That is my desire."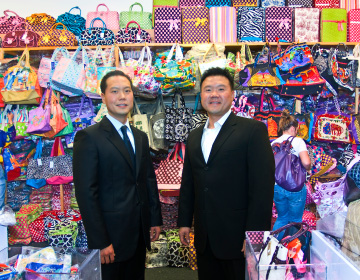 Faith-based Company
The founder of this budding retail empire, David Moon, was born in Seoul, Korea, to a scholar-father named John Moon, one of the earliest Korean immigrants to study in the United States in the 1930s. David's father graduated with a master's degree in chemistry from Northwestern University before returning to his native country. There, John Moon became a national hero leading a resistance movement to the Japanese occupation of Korea.

Those were big footsteps to follow. But David, who moved to America in 1971 as a salesman for a Korean wig manufacturing company, never doubted his vision for a family business built on "integrity, diligence, and endeavor," plus spotting—no, pouncing—on the newest trends.

"I expected my first son [Sam] to help me in the business, and he did," recalls David, who speaks with a thick Korean accent and often allows his sons to do the talking for him. "During high school and college, he was a student and worked part-time, knowing that when he would graduate, he'd take over. Dan got a law degree at SMU and he helps the company as a lawyer."

But working hard to create a Moon empire is not about money, the family insists. "We are a faith-based company," David says. "If we open Sunday, we'd make much more money. But not everything is about money. We use Sunday to dedicate ourselves to Jesus Christ, the true giver of life."

An ordained deacon with his church, New Song Baptist, David actually spent a year studying at Southwestern Baptist Theological Seminary when he first moved to Dallas. In March, the school recognized Moon with its highest honor, the B.H. Carroll Award. Moon serves as a trustee for Dallas Baptist University, which awarded him an honorary doctorate in 2008.

"I have contributed to the city of Dallas, I think," David says. He's referring to the fact that, beyond do-dads and handbags, Sam Moon Trading has helped redefine an industrial area of Dallas that had long been neglected.

Wrong Side Of The Tracks
Maurine Dickey, the Dallas County Commissioner for District 1, knows all about the area near I-35E and I-635, commonly known as the Asian Trade District.

"It's a diamond in the rough," Dickey says. "It's the most prolific Asian district in America, barring the two coasts, with almost 300 businesses of every kind: Asian groceries, bead shops, perfume shops, leather stores. But they [weren't realizing] the property values because of lack of access."

What started out as an industrial area morphed over the years into one marked by huge empty warehouses, one after another. "Warehouses are inexpensive rental spaces," Dickey says. "And for some reason, there weren't the usual ordinances applied—the sign ordinances over there are hodge-podge; there are no sidewalks, no landscaping, and [lots of] potholes."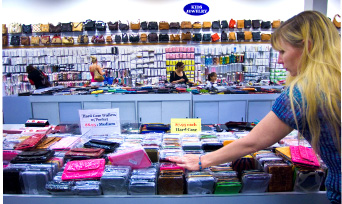 What moved into the district, alongside legitimate ventures, were businesses that could fly unnoticed alongside traffic zooming by at 70 miles per hour. Strip clubs, massage parlors, and prostitution flourished, and the area became known as the wrong side of the tracks after dark.
Until Sam Moon Trading Co. moved in, that is. "We kicked out that junk," David Moon says proudly. "There's no more prostitution."
While the area is not quite 100 percent hooker-free, Dickey says, it's now well on its way to recovery. "The way to clean an area up in a natural and easy fashion is for the price of the land to go up. Sam Moon has affected the area in such a positive way," Dickey says. Rents have risen since the Moons set up shop in a new Sam Moon shopping center, making the businesses with a seedier side uncomfortable. The massage parlors can't afford the new higher rents, Dickey says, and they don't like the publicity.
Family-friendly businesses are thriving now. Case in point: the 34,000-square-foot, Korean-style King Spa and Sauna that opened in October. It offers a café, nine heated rooms, and a karaoke room for birthday parties.
It wasn't that way when Sam Moon was founded in 1984. Early on, the big-box stores forced the Moons' hand, says Daniel Moon, 36, the company's vice president and general counsel. When those stores started moving into the area, making life difficult for their small-town, dime-store clients, the Moons decided to follow the big-box lead.
Originally the Moon company sold wholesale, exclusively to retailers with tax IDs. But then David Moon began noticing that buyers were coming in to shop specifically for themselves through word-of-mouth referrals, and it dawned on him: He could sell directly to the public, charging tax, but in essence keeping the low-price structure the same. Bingo! By selling huge volumes with small margins, he became the best little shopping sensation in a town rife with shopaholics.
"We're the Wal-Mart of what we're doing," Sam Moon says. "We are value stretched to the farthest limit."
Adds Daniel: "What we see when the economy is good and flourishing is, we are busy with the mid- to lower-income shoppers. And when the economy struggles, the mid- to upper-income brackets will supplement their wardrobes with our products without splurging."
The difference between Sam Moon and Wal-Mart is that most of the Moons' merchandise turns over on a daily basis. "In every retail environment, there is always competition," Sam Moon says. "The ones that survive offer creative selection and good prices."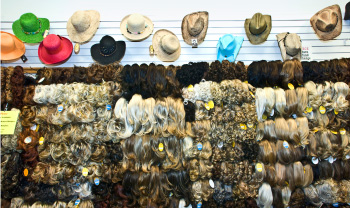 The Moons say their success starts with their "Integrity, Diligence, and Endeavor" model of company management. "Whether you're a manager or working in the warehouse or on the floor, [David] believed in putting those three things into place for all his employees," Sam says. "We've always got new items, new trends. On the third visit to our store, we want our customers to say 'Wow,' and not see the same-old, same-old they might [see] in another store."
With his law background, Daniel moved the family business during the boom years in the direction of real estate development, building entire shopping centers emblazoned with the Sam Moon name. (The family also bought Coyote Ridge, a public golf course in Carrollton, four years ago, but says that is a completely separate business.)
As of March, the Moons boasted three Sam Moon centers: a 130,000-square-foot complex off LBJ, which includes the main store, the home-décor store and Sam Moon Luggage & Gifts; their second (and second-most-successful) realty venture—a 40,000-square-foot center in Frisco featuring branches of the same three stores; and the Sam Moon Center Woodlands, in the Houston area, also featuring the three stores. In April, a 168,000-square-foot center boasting the main store and the luggage and gifts store was scheduled to open in Fort Worth, part of Hillwood's Alliance Town Center.
Recently, however, the Moons have revisited their real estate strategy in light of the slower economy. They still will expand, Daniel Moon says, but it's much smarter to do so in existing shopping centers emptied out by retailers who didn't cut the mustard. "The values on leasing are good," he says. "Landlords are coming down on their prices, so for the next two years we're moving from real estate development to just leasing to expand, which will also help us open our stores faster."
And, there's no doubt that new Moon stores continue to be in demand. While no business is entirely recession-proof, bargain prices on trendy women's accessories is a model that may be as close as it gets. "Many small cities request that we open," David Moon says. "When asked what stores small towns would like to see coming to their centers, they rank Sam Moon No. 1. A few small cities have said, 'Please, come here.'"
Shopping centers do well with Sam Moon as their anchor tenant, Daniel Moon contends. And a bustling center leads to more tax revenue, something no city can pass up these days. That's why, the Moons say, they've had letters from the cities of Grapevine and Colleyville and visits from local politicians like then-Dallas Mayor Laura Miller. As a result of all the interest, they're planning to open two to three new Sam Moon Trading Co. stores each year starting at the end of 2009, including one each in Austin and San Antonio and three more in greater Houston.
Meantime, David Moon says he plans on retiring in four or five years and letting Sam and Daniel take the reigns of this unique American success story. "I've been in this business [more than] 20 years. I'm 68, but they're young," he says. "God allowed me good health, and I started out in the basement of this business. I hope they make double or triple what I made."
Chances are, they might. Consider that, to better serve Moon shoppers, the Radisson Hotel & Suites Dallas-Love Field recently began offering a "Special Shopping at Sam Moon" package. The package includes transportation to and from Sam Moon (dropoff at 10 a.m., pickup at 4 p.m.), a night to recover in the hotel, and a free breakfast to "cap off a great trip."
The buzz, the bargains, and the buses all combine to create a loyal fan base—plus a few migraines in the process. "I have a love/hate relationship with Sam Moon," says Moon aficionada Samantha McIntyre, a Garland native. "It's crowded with shoppers that will not honor your personal space." Then she adds: "But, I got this amazing $15 pleather purse there four years ago that I still get compliments on."

Get our weekly recap
Brings new meaning to the phrase Sunday Funday. No spam, ever.