WHY BLUE PLATE KITCHEN: Amid a flurry of foreclosures and weary 401(k)s, what the world needs now—besides love, sweet love—is comfort food. But this being Dallas, any old mac-n-cheese won't do. We might shuck our Gucci for the Gap when times get tough, but make no mistake, this is a foodie town and we love to eat out. If you give us biscuits and gravy, those better be Tasso ham-roasted corn biscuits and the gravy studded with smoky rock shrimp.
Kent Rathbun is listening. The superstar chef/restaurateur is an expert at knowing when and where to launch a new venture. His fine dining Abacus launched in the heady '90s to critical acclaim. It's still going strong. Jasper's serves its approachable "backyard barbeque" cuisine in family-friendly yet tony Plano. And now Rathbun is helping the Park Cities/North Dallas crowd tap into its culinary nostalgia with Blue Plate Kitchen, his most moderately priced restaurant to date.
WHAT TO EAT: Though the kitschy name indicates Blue Plate is a diner-like experience, that couldn't be further from the truth. The interior feels like an upscale Houston's: non-fussy and comforting. Likewise, the menu flirts with gourmet flourishes without overdoing it. The aforementioned biscuits and gravy appetizer was a scene-stealer: rich, buttery, and devoured in an instant. A traditional wedge salad was updated with tender butter lettuce leaves tossed in homemade green goddess dressing, and cottage cheese made by local fromage guru Paula Lambert. Lunch entrées included Ahi tuna sliders on toasted brioche, rotisserie chicken mopped in an addictive Dr Pepper barbeque sauce, and a Cajun fried chicken po' boy. All were excellent. Alas, the enticing side dishes were a disappointment. Lone Star Gouda mac-n-cheese came out scorched and inedible. An attentive server caught our displeasure and comped the side. Roasted cauliflower-brie gratin was runny. Creamy whipped parsnips were bland. Happily, Rathbun saved the best for last: warm apple pie covered in brandied toffee sauce (à la mode of course). It's the perfect slice of sweet comfort we're all looking for right now, and the shrewd restaurateur gets it. When all else fails, there's always pie.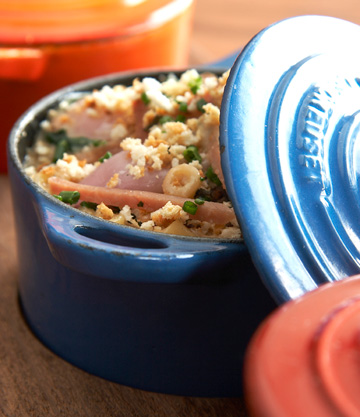 THE LOWDOWN:
RATHBUN'S BLUE PLATE KITCHEN
6130 Luther Ln.
214-890-1103
THE FOOD: Gourmet comfort food
THE COST: Average lunch entrée price $14

WHO'S THERE: Carl Sewell, Dennis Boulle, Laura Bush, Peter Altabef

WI-FI: Yes

FULL BAR: Yes

THE POWER TABLE: The John Gotti booth, a square corner booth that seats eight. Call ahead.
Get the D CEO Newsletter
Stay up to speed on DFW's fast-moving business community with weekly news reports, interviews, and insights.