What makes—and keeps—a company successful, even in the midst of the worst economic downturn since the Great Depression? That's what you're about to discover here in the stories of 34 great entrepreneurs. They're all finalists in Ernst & Young's Entrepreneur of the Year 2009 competition, which is structured as a regional competition leading to national and international award winners. In a nutshell, you'll learn, leaders of successful companies start with a great idea at the right time, and the focused vision to turn the idea into reality. They have the ability to attract capital, as well as the discipline to be a hawk on expenses. They're able to attract and retain excellent people, and they're willing to work long hours—and then work some more. Along the way, they don't shy away from taking calculated risks.  Few know these things better than the judges of this year's E&Y competition. They are: former JCPenney chairman and CEO Vanessa J. Castagna; Matrice Ellis-Kirk, a partner in the Dallas office of Heidrick & Struggles; Tim Golomb, managing director for The NASDAQ OMX Group; John M. Scott III, president and CEO of Rosewood Hotels & Resorts; Julie E. Silcox, managing director in charge of Citigroup's Southwest Investment Banking Franchise; and Charlie Vogt, president and CEO of Genband. All the finalists—and the big winners—in E&Y's Southwest Region North were scheduled to be honored June 27 at the Majestic Theater in Dallas. 


Oliver "Chip" Brewer 
Adams Golf
President and CEO 
If your company lacks the advertising funds necessary to challenge competitors head-on, look for pockets of opportunity and expand from there, says Chip Brewer, president and CEO of Adams Golf. Brewer used this strategy—which he calls "niche-flanking"—to propel the struggling local manufacturer to a nationally recognized boutique maker of golf equipment. 
"The fundamental thing we did was to attract and retain really talented individuals," Brewer says. "They came up with the strategy of product first to position ourselves, and found niches to flank the competition and grow from there." 
By tripling research and development spending, Plano-based Adams Golf took aim at the competition's blind spot and become the first to offer hybrid iron sets in 2002. That began a growth curve, says Brewer, who then focused marketing dollars on the cost-effective Over-50 Champions Tour. Adams has since expanded its hybrid line, gotten endorsements from noted players like Chad Campbell and Tom Watson, and this year introduced aerodynamic drivers for faster swings. 
"Golf is a tough market now, because consumer discretionary income is down," Brewer says. "We still can't compete in the same quantity as the biggest manufacturers, so we have to be good pound for pound." —Wendy Lyons Sunshine 


Scott McCallum
The Aidmatrix Foundation
President and CEO
"Our mission is to take state-of-the-art technology and apply it for humanitarian purposes," says former Wisconsin governor Scott McCallum. Today he works for the common good as president and CEO of Aidmatrix, a Dallas-based organization whose supply-chain software connects disaster relief organizations and charities with donors of supplies and services.
When McCallum—he served as Wisconsin's governor from 2001-2003—came on board in 2005, the floundering organization had 12 employees. The new CEO reduced costs, worked to expand partnerships, and saw in Hurricane Katrina the opportunity to donate Aidmatrix's real-time services. Shortly afterward, the Federal Emergency Management Agency chose Aidmatrix software to be the backbone of the National Donations Management System. 
This was a turning point for the 501(c)3, which now employs a staff of 36 and partners with NATO, Habitat for Humanity, Feeding America, medical clinics for the homeless, and others. "The FEMA program gave us credibility and recognition that technology could be immensely beneficial in disaster preparation and in immediate response," says McCallum, who takes a creative approach to signing on cash-strapped, frugal clients. "We try to create a model that has collaboration, one that provides benefits through tax donations and cost savings." —W.L.S.


Jere Thompson Jr. 
Ambit Energy LP 
Co-founder and CEO 
Ambit Energy's breakthrough happened before any customers signed up, according to Jere Thompson Jr., co-founder and CEO of the residential power firm. 
"By bringing in talented senior management early, people who had scaled fast-growing companies before," Thompson says, "we were able to define for the IT department exactly what we needed to grow and manage the company." 
Pre-launch, the Dallas-based firm spent almost a year creating a proprietary software system and database able to support a rapidly growing company. 
Ambit became profitable during its second full year of operation, and today has 230 employees and more than 50,000 independent consultants providing multi-level marketing in the deregulated energy markets of Texas, Illinois, and New York. Thompson believes that an outstanding web site and robust IT system provide enormous leverage. "Ninety-nine percent of the data that comes through is never touched," he says. 
Customers enroll online, and Ambit's system is so automated that it adjusts the required deposit, based on a quick credit check. Thompson says that filtering out high-risk customers pays off; Ambit's customer base has been relatively reliable during the economic downturn. 
After logging $197 million in revenue in 2008, the company is on track to generate $400 million this year. —W.L.S. 


David Boone 
American CareSource Holdings Inc.
President and CEO
David Boone took the helm of American CareSource Holdings in April 2007, shortly after the company went public. Faced with an enterprise that had not gained any new business in a year, the new president and CEO set out to develop a strategic vision, restore credibility, and become chief salesperson and cheerleader.
"I try to instill in the entire organization that we exist to save money on health care costs," says Boone. "If we have energy and passion around that, we'll be successful."
Dallas-based ACS arranges discounted ancillary medical services for insurance providers, saving their members money on lab work, diagnostic imaging, rehabilitation services, and more. Boone discovered that regional providers were more interested in these offerings than the big national insurers, so he pursued that niche.
"Very shortly after I took over, we picked up Texas True Choice as a client," Boone says. "I was very fortunate that I got an introduction to their CEO and we hit it off. I worked to build credibility with him, and that account turned us around." 
By year-end, ACS was profitable. The following year, sales of $58.3 million garnered the company the distinction of being NASDAQ's top performer. ACS is now debt-free, and on track for 30 percent growth in 2009. —W.L.S.


Shanali "Shawn" Bhagat 
American Fuel Distributors LP 
President, Founder, and CEO 
Shawn Bhagat, president, founder, and CEO of American Fuel Distributors, credits the company's growth to hard work, excellence, and ethical pricing. "We've been fair and ethical to our customers, and that has rewarded us by referrals,"
he says. 
Dallas-based American Fuel Distributors carries all the major fuel brands, and actively helps convenience-store owners maintain an attractive selling environment. Sales staff, called "brand champions," visit clients monthly to ensure they're complying with guidelines from the big brands about required products and cleanliness. 
Bhagat also has a strategy for underperforming or unbranded sites, such as old Citgos and Finas. "We are taking those over and branding them 'Destiny' to bring volume up," says Bhagat. "Once we reach certain numbers, we will brand those to major brands." 
Having a large potential market is critical to business success, says Bhagat. "As a wholesale distributor, my customer base is unlimited." 
Since acquiring the company in 1997, he has expanded its operation from handling 5 million gallons of fuel annually to nearly 180 million gallons last year. With strategic acquisitions under way in Arkansas, Louisiana, Alabama, Tennessee, Mississippi, and Georgia, throughput should rise to 300 million gallons. —W.L.S. 


Dennis Bloom
Ameriplan USA
CEO and Chairman of the Board
Daniel Bloom 
President and COO
Serial entrepreneurs, business partners, and twin brothers Dennis Bloom and Daniel Bloom launched Ameriplan USA in 1992, when they were 50 years old. Today, more than 1 million users benefit from their discount supplemental health services plans, designed for uninsured and underinsured households.
"To me money is just the way to keep score—sure it's important, right up there with air—but the key is to accomplish and build. If you don't love what you're doing, you're in the wrong business."
Daniel Bloom "We hit 50 and had come out of an unsuccessful business," says CEO and board chairman Dennis, who was responsible for Ameriplan's multi-level sales marketing team. "It's how you handle failures that determine whether you'll be successful or not. You can't take it personal. Your attitude has to be that the idea or concept failed, not you. To be a successful entrepreneur, all you've got to do is get up one more time than you're knocked down."
Daniel, president and COO, who leads Ameriplan's back-office operations, agrees that enthusiasm is vital to success. "To me money is just the way to keep score—sure it's important, right up there with air—but the key is to accomplish and build," he says. "Another joy is to make all-stars out of the people. If you don't love what you're doing, you're in the wrong business." 
For a monthly membership fee, Plano-based Ameriplan allows individuals and families to purchase discounted dental services, vision care, prescription drugs, and more. Ameriplan does no advertising to reach its niche market; instead, the company depends on person-to-person marketing by 70,000 independent sales partners, most of whom work part-time. 
Anticipating health coverage changes under the Obama administration, the company has begun diversifying its product line. In July, Dennis says, Ameriplan will introduce legal benefits, an identity theft plan, debt solutions, and emergency roadside assistance. "I try to think at least three to five years out and start working on projects and suggestions about where this company needs to be" he says. —W.L.S.


Gavin W. Manes, Ph.D.
Avansic Inc.
President and CEO
When the time came to grow his company in 2007, Avansic president and CEO Gavin Manes didn't accept the first offer of outside financing that came along. "It took almost seven months to find the right investors," he says. "I wanted people willing to get involved. My two investors sit on the board, meet monthly, and constantly help with guidance." 
As a digital forensics firm, Tulsa, Okla.- based Avansic enables civil litigators to preserve and produce electronic evidence at the center of lawsuits—for example, cases involving theft of intellectual property. Manes' first challenge was selling to busy lawyers intent on billable hours, since cold-calling proved fruitless. 
"We solved that problem by providing continuing legal education certified by state bar associations, where we inform attorneys about rules and issues related to electronically-stored information," says Manes, a former college professor with four patents in digital forensics. "We do it in the setting of education, which is easy for me and my colleagues who came from an educational setting."
 Thanks to sage advice—and his investors' $1 million capital infusion—Manes expanded on the educational marketing strategy and hired expert sales staff to manage client relationships. He credits this strategy with tripling the company's revenue over the last year to nearly $1 million.  —W.L.S.


Paul Spiegelman
The Beryl Cos.
Founder and CEO
The Beryl Cos. serves hospitals by outsourcing their non-emergency phone calls. When Paul Spiegelman was named CEO in 2000, the company had revenue of $6 million. Spiegelman has increased sales five-fold in the years since, using three key strategies.

First, he focused his team on delivering superior customer service at all patient touch points, and helped hospitals measure marketing results by collecting and analyzing individual patient data. Then he established an employee-focused culture, and seized every opportunity to evangelize about the benefits of this approach in building business success. Finally, he has positioned The Beryl Cos. as a thought leader in the industry with a research and educational arm, The Beryl Institute.

"We turned the traditional call-center model on its head and created a great atmosphere and environment where people enjoy coming to work every day," Spiegelman says. "We are a premium provider in an otherwise commodity business by design. We chose to differentiate ourselves based on value, not on price." 

Today, the Bedford-based company employs 380 people at its Hurst facility, regularly wins Best Places to Work awards, and generates nearly $35 million in annual revenue. Spiegelman says the company enjoys a client retention rate of 98 percent, with margins 30 percent to 40 percent higher than its competitors.  —W.L.S.


Carol Roehrig 
BKM Total Office of Texas 
President 
To be successful in a business where profit margins are low and fabrics, paint colors, and laminates change with every job, you have to pay attention to the details, says Carol Roehrig, president of BKM Total Office of Texas. 
Recently, Roehrig's commercial interiors furnishings firm has been focusing on the details of some high-profile projects. At the new Cowboys Stadium in Arlington, BKM has been outfitting more than 300 private suites, while at the Heart Hospital Baylor Plano, BKM furnished the cafeterias, patient treatment rooms, lobbies, and more. 
Roehrig purchased BKM in 2002, and by 2008 reported revenue of $43.6 million. Today the Dallas-based company employs nearly 80 people with skills ranging from finance to custom millwork and upholstery. As the economy shifts, Roehrig has proactively directed the company toward new markets and services. She expanded into the health care, hospitality, and education markets, and added a refurbishing division for budget-constrained customers. 
"My biggest strength as an entrepreneur is persistence, sticking to it, and working hard to find the solution that will solve any kind of issue," Roehrig says. "You also have to be well rounded and able to address any area of the company—whether it's sales, operations, or financial—and give it guidance."  —W.L.S. 


Eric Affeldt
ClubCorp Inc.
President and CEO
With everyone's belt getting tighter during the current recession, country clubs face all-time high attrition rates. Yet Eric Affeldt, president and CEO of ClubCorp Inc. since 2006, has reason to smile. The company has sold more private golf memberships year to date than it did during the same time frame last year. "Belonging to a club still provides comfort; the concept of community is still very relevant," Affeldt says.
Launched over a half-century ago with Brookhaven Country Club in Dallas, Dallas-based ClubCorp today is the world's largest owner of private recreational, athletic, and dining clubs. It has 160 locations, close to 400,000 members, and more than $2 billion in assets. Keeping ClubCorp relevant to today's consumers is Affeldt's primary concern. To better serve them, he introduced shorter golf courses, take-out food options, and healthier menus. 
"With 16,000 employees, we have a lot of creative ideas out there," he says. 
One new product offering is not location-specific, but instead packages services into "virtual" clubs for affinity groups. ClubCorp is also expanding, with contracts pending to either purchase or manage additional facilities in Asia, the Middle East, and Europe. "We will continue to be a member-centric business," Affeldt says. "We like the concept of being exclusive but not exclusionary."  —W.L.S. 


Miles "Jay" Allison
Comstock Resources Inc.
CEO, President, and Chairman
Comstock Resources is riding high. While other oil and gas stocks averaged a 46 percent decline last year, Comstock's stock gained 39 percent—distinguishing it as the top performer in its class on the New York Stock Exchange in 2008. More recently, Comstock was named first among the top 150 local public companies, according to The Dallas Morning News' annual fast-track list.
"To be a real entrepreneur, you have to take calculated risk," says Jay Allison, Comstock's CEO, president, and chairman. "Our great strength is we've not coveted to be bigger than we should be, or branched out aggressively just because money was available." 
Frisco-based Comstock focuses on East Texas and northern Louisiana, operating about 85 oil and gas wells on 250,000 net acres in that region. In 2008, it extended a well an additional 2,000 feet and discovered the Haynesville Shale natural gas field. "It's been a boom area," Allison says. "We have about 582 billion cubic feet of proven reserves, and the Haynesville Shale, we think, exposes us to 3.3 trillion cubic feet of new gas reserves."
At the height of the market, the company divested non-core properties in the Gulf of Mexico and paid down $470 million in debt. "We've never been in a stronger position, because of the moves we made last year," Allison says.  —W.L.S.


Larry Crain
Crain Management Group LLC
President
"You have to have a lot of drive, and be very competitive in your makeup to create the energy to do all the things that an entrepreneur needs to do to be successful," says Larry Crain, president of Crain Management Group LLC. "You've got to be willing to work long hours, make sacrifices, and be involved with the details of the business."
Trained as a certified public accountant, Crain developed a successful auto-parts business, which in turn led to car-dealership opportunities. Today the company portfolio includes 12 car dealership franchises, seven FM radio stations, and a small TV station in central Arkansas, which together employ 600 people. The Sherwood, Ark.-based company also owns more than $75 million worth of real estate holdings. "Whenever we've sold off companies or dealerships, we always kept our real estate," Crain explains. 
His advice for young entrepreneurs in today's rocky economy? Beware of being undercapitalized in a capital-intensive business. "We are well-capitalized, so it's just a matter of riding out what's happening with the automotive and media industries," Crain says. "We're sitting tight right now. Once we see what happens with domestic car manufacturers, we'll be back in the market to buy dealerships that need a financial partner." —W.L.S.


Timothy Gallagher 
Electronic Transaction Consultants Corp.
Founder, Managing Director, and CEO
Timothy Gallagher was a software consultant for the North Texas Tollway Authority in 1999 when he was unexpectedly invited to design and build its next toll revenue system. Becoming a system integrator was a big challenge, but Gallagher accepted. "That's been a repetitive theme," says Gallagher, founder, managing director, and CEO of Electronic Transaction Consultants Corp. "Our customers pose challenges to us and, in solving those challenges, we actually create new lines of service." 
To help a client with audits and host reconciliation, Richardson-based ETC expanded into operations. To help another with toll violations processing, ETC launched a call center. Transitioning from engineer to entrepreneur posed an entirely different challenge for Gallagher. "If you put your engineering hat on, you want all the answers before you step out door in morning," he says. "But as an entrepreneur, you need to lead with faith that good things will happen and believe in good ideas."
Today, ETC processes more than $1 billion in toll revenue annually, and employs 350 full-time staff across the country. Within the next few years, Gallagher says, ETC will hire 150 more employees to service its latest customer, the Miami Dade Expressway Authority's new cashless electronic toll system. —W.L.S. 


Lewis "Lew" Kling
Flowserve Corp.
President and CEO
In the four years since Lew Kling became president and CEO of Flowserve—a maker of super-sized pumps and valves used by chemical refineries and water processing plants—he has transformed it from a near non-player riddled with problems to a top international competitor. 
Kling began by sorting out the public company's financials—things had gotten so bad that Flowserve missed the required quarterly reporting—and then undoing an internal culture of fear and ivory-tower management. He traveled to Flowserve's factories around the globe, and sought input from the company's nearly 15,000 employees.
"Many people consider machines and brick and mortar to be company assets, but they're liabilities as far as I'm concerned," Kling says. "The only asset we have as a CEO is our people. People at the bottom of an organization will tell you what the problems are, and they may even tell you the solution—but no one ever asks them."
Kling listened, and implemented incentive plans to reward shorter delivery times and lower field failure rates. The company attained a 23 percent return on investment last year, and in early 2009 achieved a 15.3 percent profit margin. Kling is now grooming potential successors so he can turn over the company's reins in February 2010. —W.L.S.


John Matheson
Global Power Equipment Group Inc.
President and CEO
John Matheson describes himself as a long-term optimist who considers the negative in order to come up with a good dose of realism. He isn't afraid to make tough decisions.
That was certainly the case when, in 2006, he came to the conclusion that Chapter 11 bankruptcy was the only way to save Global Power Equipment Group. The company, which provides power generation equipment and maintenance services, had a unit that was losing money, and company leaders were in heated disagreement about how to deal with the situation. 
Matheson, Global's president and CEO, believed the failing unit should be let go, so that the viable part of the Tulsa, Okla.-based business could survive and grow. He describes his approach as "having the ability to recognize when to tear something down, even if it took years to build up." He faced intense opposition from some, but not all, in the company.
"Going through Chapter 11 separated the long-term performers with the vision to succeed (from) the short-term pessimists who were throwing in the towel," he says. "I asked our people to do what they do best—focus on their jobs and take care of our customers. With that, we found hope, and were successful beyond our wildest dreams." —Glenda Vosburgh


James Tobey 
H&H Steel Fabricators Inc.
President
James Tobey is a focused individual. Choosing the life of an entrepreneur will do that to you. 
He knew from a young age that he wanted to be an entrepreneur. He entered the United States Military Academy at West Point and earned an MBA from the Wharton School of Business with that plan in mind.
After 18 months of market due diligence, he purchased H&H Steel in 2002. But after the keys to the business were handed over to him, Tobey got an unpleasant surprise. Financial misstatements and questionable accounting practices had occurred under the previous owner. With 26 lawsuits to deal with in his first year as owner of H&H, unpaid customer receivables, and a faltering economy, his company teetered on the brink of bankruptcy.
Tobey reduced operations from $9 million to $2.8 million in sales, whittled the staff down to 11 employees, and set about rebuilding his company from the ground up. Dallas-based H&H now employs 85. Recent revenue was about eight times higher than revenue in 2002.
"Facing daunting odds certainly focuses the mind," says Tobey, the company's president. "But having a clear sense of vision and of self helps you to continue moving forward—even if it's just five minutes at a time." —G.V.


KWA Construction LP
Keller Webster
President
During his construction career, Keller Webster thought about starting his own company more than a few times, but the timing wasn't right. That changed in 2004 when he launched KWA Construction at the age of 58.
After 36 years in multifamily construction for companies such as Henry C. Beck Co. and Austin Industries, Webster had built a solid reputation in the industry. Many of his clients today are people he did work for when he was employed by other companies.
Good people are the key to KWA's success—clients and employees. Some employees worked with Webster, KWA's president, before he started the company.  
"We have 48 employees; 25 are what I call key employees," he says. "Those 25 have 600 combined years in building multifamily. Not many start-up companies have that. The learning curve has been short."
Even as the construction industry faces economic challenges, Addison-based KWA Construction is on solid footing. "When I started my company, I knew there would be tough times in the future, I just didn't know when," Webster says. "So, I didn't spend all the money that I made. I prepared the business to do different [types of projects], and I'm nearly as busy as I need to be." —G.V.


Ruben Martin
Martin Midstream Partners LP/Martin Resource Management Corp.
President and CEO
When Ruben Martin joined the family business in the late 1970s, it was selling propane in East Texas, just as it had since his father started the company in 1951. Martin has since built the Kilgore-based company into a large, diversified, oil and gas services enterprise with about $2 billion in annual revenue. The company went public in 2002, which provided the capital to grow organically and to make strategic acquisitions. 
The company's publicly owned operations are in Martin Midstream Partners, a master limited partnership. It provides terminaling and storage, natural gas services, marine transportation, and sulfur services. Sulfur, a byproduct of oil-well extraction, is processed into various products, including fertilizers and sulfuric acid.  
The company's privately owned operations are in Martin Resource Management Corp., which focuses on outsourcing for petroleum products and byproducts through transportation, marketing, and terminaling.  
Martin credits his management team for the company's phenomenal growth. "You have to surround yourself with good people—people who are smarter than you are." —G.V.


Robert C. Wright
Murex N.A. Ltd.
President and Founder
Being a successful entrepreneur is all about focus, according to Robert Wright. Focus on what the entrepreneur does, what his employees do, and on what his company does. "We focus on taking care of our customers and suppliers, on finding new opportunities, and on innovating to improve," Wright says. "We avoid anything that takes our focus from these areas."
It's a lot to keep up with, but good communication within the company can help. The business model for Murex, the Addison-based petroleum products company Wright started in 1991, is designed to remove barriers to communication, "so that everyone talks to everyone," he says. "We don't have a lot of levels or reporting hierarchies." 
The 1990 federal Clean Air Act requiring refineries to add ethanol to gasoline paved the way for Murex. Wright, the company's president, saw the future of ethanol and seized the opportunity, marketing it to customers and transporting it to them. After the ethanol business took off, he added other products.
There have been challenges. In 2008, Murex lost two key customers due to bankruptcy, causing a significant loss of revenue in the fourth quarter. Still, Murex had its best operating year ever, increasing revenue from $1 billion to more than $1.8 billion. —G.V.


Mitchell Ward 
Chairman, Co-founder, and CEO
Randy Bowman 
President and Co-founder
MW Logistics LLC
Mitchell Ward and Randy Bowman have been friends since college, even though they attended different universities.

Bowman went on to law school and became a corporate finance lawyer. Ward played professional football for the Dallas Texans in the arena league. He eventually left the team and started several business enterprises. 

One of those was a small trucking company owned by a few of his family members, but it wasn't working out. He called his friend, Bowman, to get some legal advice. 

Bowman bluntly told Ward that his business plan was doomed to failure. The pair then put their heads together to come up with a new plan. The result was what is now called the MW Logistics Asset-Based-Platform, meaning the company accumulates capacity across multiple modes of transportation with a few of the top asset-based carriers.

Ward and Bowman started their Dallas-based, third-party logistics company in July 2001, after securing $500,000 from an investor in exchange for a 45 percent stake in the company. The company was soon attracting business, but faced challenges almost immediately. First came the 9/11 terrorist attacks. Not long after that, the company was sued for $28 million by a former partner in Ward's previous business. 

"One huge obstacle was that we had to win market share while competing against much larger, more well-financed, and established competitors," says Bowman, the company's president. "We started the company and entered the arena to compete against industry giants with less personal cash than most households spend on their car payments each month."

The friendship between Bowman and Ward, the company's CEO and chairman, is a big part of MW's success. Says Bowman: "We have always had a relationship strong enough to withstand candor."  —G.V.


Juli Spottiswood 
Parago Inc.
President and CEO
Scary times? Not for Juli Spottiswood, president and CEO of 10-year-old Parago Inc. in Lewisville. The startup she joined as chief financial officer in 1999 has seen a turning point for the better during the last 12 months, she says.
"I know—most people can't say that, can they?" Spottiswood says. 
 Parago has "finally" achieved diversity, moving from a rebate provider to a full service, rewards-based incentive company, she says. "That diversity has allowed us to enjoy tremendous growth as well as really increasing market opportunities."
Spottiswood, named CEO in 2006, is credited with encouraging a culture of risk-taking and innovation that led to positive returns in a down economy. Adjusted EBITDA (earnings before interest, taxes, depreciation, and amortization) grew from $945,040 in 2006 to $11.2 million in 2008. First-quarter 2009 adjusted EBITDA is expected to top the prior year by 91 percent.
It's a far cry from the day Spottiswood left a vice president's job to take a risk with a brand-new company. "I felt that it was the right opportunity at the right time, and I was ready," she says.
A successful entrepreneur needs vision, excellent people, comfort with change—and more, says this former CFO. "Somebody can have great ideas, but without discipline and structure," she says, "you can't really grow." —Diana Kunde


Bruce Ballengee
Pariveda Solutions Inc.
Co-founder and CEO
Bruce Ballengee was a reluctant entrepreneur. "Having been from a family of entrepreneurs who hadn't been very successful, I wondered,  'Was there something in the genes? Bad Karma?'" he says.
Good thing he made the choice. Pariveda Solutions Inc., the IT consulting company he co-founded in 2003 and heads as CEO, was named last year to Inc. magazine's list of the 5,000 fastest-growing privately held companies, ranking 171st, with $24 million in annual revenue.
Ballengee's vision was to challenge the demand-driven norm in his industry. The largest market in information technology consulting is the one of "unnamed, unmet needs," he says. To target those needs, his company needed to develop the kind of employee he terms "vice presidents or partners"—people with the broad expertise to serve as trusted advisors to long-term clients.
His goal: 5 percent turnover in an industry where the norms are considerably higher. To get there, Dallas-based Pariveda has a culture aimed at employee development, with an employee stock ownership plan. Annual turnover averages 10 percent, and more than 20 clients of the young company have been with it more than three years.
The goal is to have Pariveda fully employee-owned by 2022, Ballengee says. "At that point, I'd love to be an emeritus." —D.K.


John Pinkerton
Range Resources Corp. 
Chairman and CEO
"I tell everybody," says John Pinkerton, "that you learn a lot when you're losing your shirt." With more than 30 years in the oil and gas business, Pinkerton, chairman and CEO of Fort Worth-based Range Resources Corp., has seen his share of ups and downs.
"A lot of people talk about teams. My thesis is when everybody thinks they're going to get rich, that creates the team."
John Pinkerton What he learned from the downturn of the late 1990s served him well in the booming early 21st century, Pinkerton said. Range Resources has become an industry leader in keeping costs down, he says.
"Our theory is, you want to grow, but you want to grow at a top quartile cost structure," he says. The first quarter of 2009 saw Range Resources log its 25th consecutive quarter of production growth, poised to take advantage of the huge Marcellus Shale gas formation in Appalachia.
Pinkerton started his career out of college working for Snyder Oil Co. In 1990, he became president of Lomak Petroleum (later renamed Range Resources), a small public company that he grew through acquisitions and later through resource development.
His team has been key, Pinkerton says. "We've given equity awards to every employee for 20 years. It makes it much more of a team. 
"A lot of people talk about teams," he says. "My thesis is when everybody thinks they're going to get rich, that creates the team."  —D.K.


Anthony "Tony" Parella
Shared Technologies Inc. 
President and CEO 
The challenge he faced as a child who had 48 reconstructive surgeries on his hand strengthened Tony Parella for the challenges he would later face as an entrepreneur.
"I wouldn't wish challenges like that on anyone, but the reality is, when you endure and then overcome them, it prepares you for almost anything in life," Parella says. 
President and CEO of Coppell-based Shared Technologies Inc. Parella bought the spin-off from Allegiance Telecom in 2004 and took it from near bankruptcy to profitability and $331 million in revenue.
A challenge he's proud of meeting is making Fortune's 100 Best Companies to Work For list. "I've always believed if employees feel they're part of a great work experience, that should translate to great customer service," he says.
When Parella first applied for the award, largely based on an anonymous employee survey, "I was the lowest collective score of any applicant in their history." Two years later, Shared Technologies placed 25th; last year it made 18th.
The private company, which installs and supports telecom equipment, recently instituted a 5 percent pay cut due to the recession, with a 10 percent cut for vice president and above.
"You know what's neat?" Parella says. "I got about 50 e-mails from employees thanking me for taking that approach." —D.K. 


Clinton Howard
RBC Life Sciences Inc.
Chairman and Founder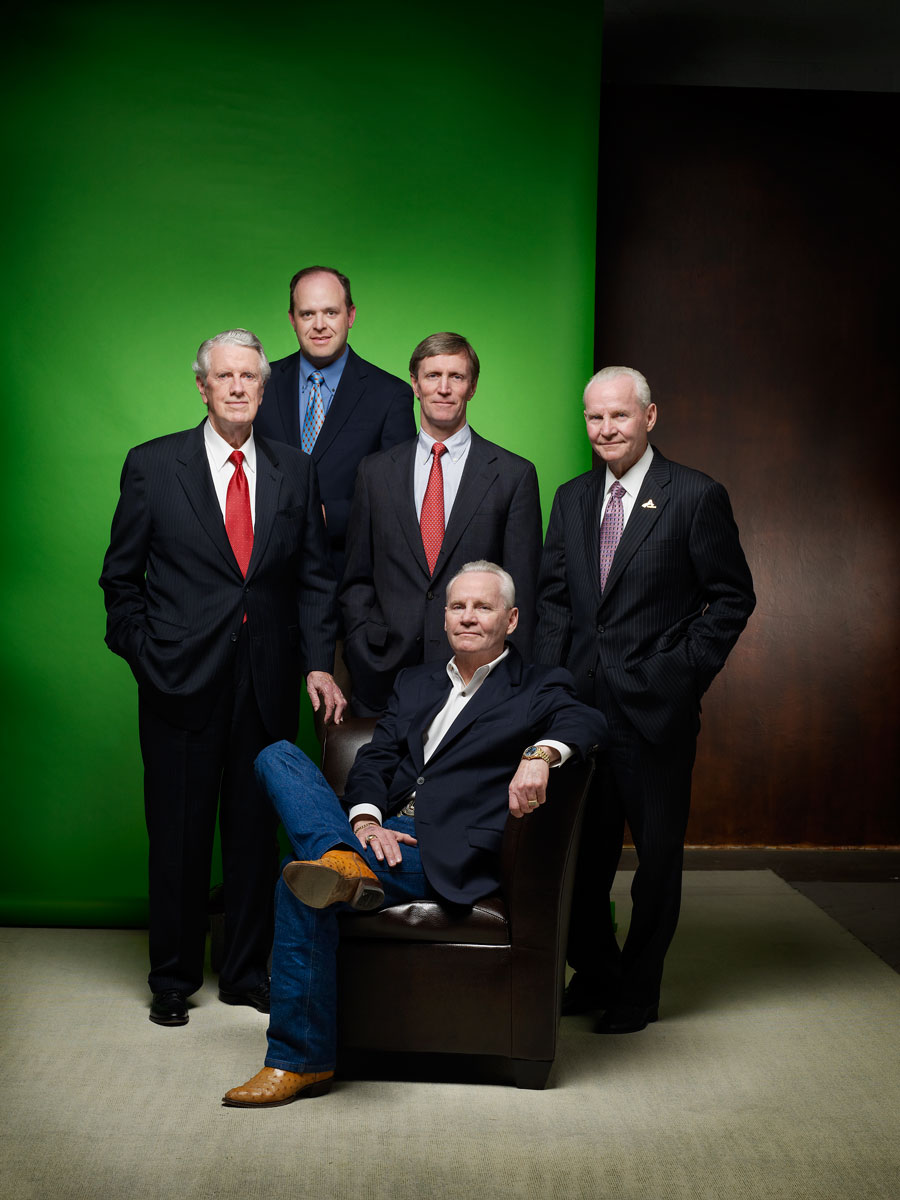 Clinton Howard began his entrepreneurial career as a 13-year-old boy living in a sparsely furnished tool room attached to his dad's Houston garage. The idea was "to have me grow up without having everything handed to me," Howard says.

His task was to earn $35 a month for room and board—which he did through a paper route and a part-time job at an ice cream store—and to make good grades so he'd be accepted at Rice University. "It worked," Howard says. 

He went on to found three successful companies in the medical field: American Biomedical Corp., Carrington Laboratories, and RBC Life Sciences Inc., where he remains chairman and owns 45 percent of the publicly traded company. He was also a community entrepreneur, helping build a hospital for Irving as then-president of the hospital authority.

Irving-based RBC Life Sciences, a provider of nutritional supplements, wound care, and pain-management products, saw sales increase 13 percent to $30.4 million in 2008, the year Howard turned 80 years old and retired as CEO.

"I thought it would make good sense for the future of the company," he says. "I'm still very active. … I'm not sitting on the beach, fishing." —D.K.


Mark C. Simmons
Simmons Foods Inc.
Chairman
Mark C. Simmons was just 27 in 1974 when he took over a $20 million family poultry processing business in Siloam Springs, Ark., after the death of his father.
Today that business spans three states. "We're a little over 5,000 employees and approaching $1 billion in annual sales," Simmons says. "It takes all kinds of great people to accomplish that."
Even at 27, he had about 10 years with the company, a B.A. in business, and "several good managers who had worked with my dad who were able to keep the organization going while I learned," Simmons says. "And when you're that age, you probably don't realize how young you are."
Simmons says one of the biggest obstacles he's had to overcome is dealing with the aggressive growth the company has seen. "Recognizing the implications of growth has been one of the things that's helped us," he says.
Simmons Foods has become a leader in environmental stewardship—exceeding EPA standards for wastewater discharge, recycling processing waste to produce fertilizers and feeds, and winning awards in an industry with a tarnished reputation on green issues. 
 "It's one of those things," Simmons says, "that the industry didn't answer quite well enough early on." —D.K.
Melanie Mroz
SouthPeak Interactive
President and CEO
When Melanie Mroz hit the road in July 1986, teenagers were lining up shoulder to shoulder in shopping malls across the country to pour quarters into arcade games like Joust.
Personal computers and home games had just started emerging when Mroz loaded up her car with $90 in her possession and headed west to California. The Golden State's videogame industry was in the process of bringing the games home, and Mroz wanted to be a part of it.
"I'd bring home a computer and play Carmen San Diego," she says. "From a gamers' standpoint, playing it at home was a treat. I just knew it was something that was going to be popular."
Though she hadn't had any training in the industry, Mroz has made a name for herself over the last 20 years in sales, marketing, and purchasing in the videogame industry. As president and CEO of Grapevine-based SouthPeak, Mroz has sought games with content so interesting they almost market themselves. 
One did so—in spades—with the November 2008 launch of My Baby, which is played on Nintendo's DS portable system. Players are basically responsible for feeding, bathing, nurturing, and caring for a computer-simulated baby.  —Dave Moore
Peter "Duffie" White
TelePresence Tech
CEO and Founder
Duffie White had been creating 3D images of people for tourist attractions and exhibitions when he realized that if he could make the images interact with people in real time, he'd really have something. 
Then White came up with a technology called TelePresence, which uses high-definition video to create the appearance of depth and a life-size image of the transmitted participants. But the technological challenge wasn't the biggest one for White—it was getting the backing he needed to put his invention on the business world's radar screen. (At the time, he was working out of his Plano apartment.) 
While White initially tried to get investment capital, he had to rethink his plan after the dot-com bust. In 2007, Plano-based technology firm Regal Research and Mfg. Co. became a 10 percent equity partner. Since then the names have only gotten bigger: Sony is marketing his systems in Europe and other locales, and Samsung is manufacturing 82-inch screens for the TelePresence Tech systems. 
White says landing partnerships is the key to many business successes. "You can't buy those relationships," says the founder and CEO of TelePresence. "They have to have confidence that you've got something that's unique." —D.M.
Jay Hofmann
Trinity Consultants
President and CEO
Which came first, the obstacle or the success? For Trinity Consultants, success has created an obstacle, according to president and CEO Jay Hofmann—but that's not necessarily a bad thing.
Rather than latching onto one or two customers and providing them with "soup to nuts" services, Dallas-based Trinity opted to focus only on Clean Air Act engineering and consulting services.
"We thought we weren't going to get a lot of work from any one customer," Hofmann says, "but if we became known as 'the air guys', we would be able to sell a little bit of work to a lot of customers."
The plan proved to be successful—maybe too much so. "The problem you have is, once you are established as 'the air guys', how do you do anything else?" Hofmann says. "It's made it hard for us to be convincing, even to some of our best customers, that we can actually do a few other things." 
It's not a bad problem to have. Trinity Consulting has expanded to 26 branch offices in the United States and, in 2006, launched an operation in China. "That story is still being written," Hofmann says, "but, so far, it's working." —G.V.
Michael Nadeau
Viverae Inc.
President and CEO
Michael Nadeau sketched out the plan for Viverae on a napkin during dinner at a restaurant in Dallas. 
At the time, Nadeau was working for a human resource outsourcing company, and trying to convince business owners about the advantages of outsourcing their HR function. "While the concept of outsourcing was strong, the real interest came from business owners who were struggling with containing their company's health care costs," he says. 
Nadeau researched available wellness offerings, and became convinced that comprehensive programs providing measurable results—and showing a financial impac—didn't exist. At about the same time, the receptionist where Nadeau worked asked him for help losing weight. That triggered something in his mind—and the concept for Viverae was formed. 
Today the Dallas-based company offers customized health management solutions aimed at enabling organizations to contain or reduce health care costs. Nadeau, the company's president and CEO, hired software programmers and developed the Viverae Health Management System. It lets clients measure the financial impact of their wellness program and receive a 360-degree view of individual and group-level employee health. 
They also developed something called the Claims Analytics program, which measures employee health care claims histories to ensure employees are taking advantage of preventative health measures. —G.V.
Gail Warrior-Lawrence 
Warrior Group Inc.
President, Founder, and CEO
Gail Warrior-Lawrence's construction services company, Warrior Group, is on track to increase sales to $160 million for 2009—a 20 percent increase over 2008. That's more than respectable growth, especially considering the construction industry remains in the grips of a serious economic malaise. Add to that the 66 percent growth in sales the company experienced from 2007 to 2008, and it's fair to say the company Warrior-Lawrence founded in 1997 is on solid ground.

DeSoto-based Warrior Group credits its success to its early commitment to do things right with projects at a military installation and a Veterans Administration facility. The company faced significant challenges on those projects, including trouble securing bonds and unscrupulous subcontractor issues.

Today Warrior Group specializes in permanent modular construction, including for military barracks. "When I walk through the dormitories that Warrior was involved with building, I get a sense of great joy and pride," says Warrior-Lawrence, the company's president and CEO. "There's no greater feeling than providing something great to the men and women who protect our country's freedom." 

Warrior-Lawrence credits her success in a highly competitive industry to her drive to succeed, her project management skills, and her ability to understand and measure key details. Her company's SBA 8(a) status, as well as its designation as a woman-owned and minority-owned business, also are advantages in fulfilling governmental contracting requirements. —G.V.
Kelby Hagar 
Westec Intelligent Surveillance
President, CEO and Founder
Kelby Hagar was attending a security conference when he came up with the idea for a new company. It was 2001, the year of the 9/11 terrorist attacks. Hagar believed the timing was right for a company that provided state-of-the-art digital video monitoring as a security tool. 
His company, Digital Witness, was acquired in 2007 by Westec InterActive Inc., creating Coppell-based Westec Intelligent Surveillance.
Entrepreneurship suits him, Hagar says, because he gets to create something that wasn't there before. But it wasn't his first career choice. After earning his degree from Harvard Law School—he was the first in his family to attend college—Hagar worked as an attorney in Dallas. "I enjoyed it," he says. "But, in the end, the lawyer is just the hired gun."
Despite well-meaning friends who tried to talk him out of it, Hagar left law to become an online grocer, launching groceryworks.com. He later sold the company to Safeway.
Hagar, Westec's president and CEO, believes the key to being a successful entrepreneur is flexibility. "It isn't what you think it is going to be when you go into it," he says. "The job one day is not what it is going to be the next day." — G.V.
Get the D CEO Newsletter
Stay up to speed on DFW's fast-moving business community with weekly news reports, interviews, and insights.