From D CEO May 2008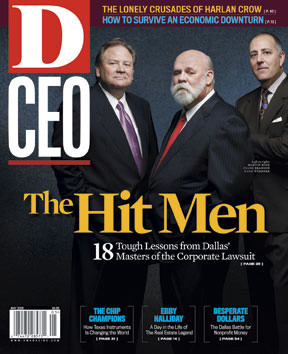 Subscribe
Truth be told, I've never been a big fan of all the hoopla over corporate philanthropy, mainly because it's usually paired with the idea of companies "giving back to the community." That "giving back" phrase is rooted in the notion that companies by their nature are takers—predators that suck the life out of all around them in the name of profit, and so should be made to atone for this sin by repaying the aggrieved.
Of course, that's ridiculous. Besides providing products and services that make people's lives better in countless ways, companies and corporations pay taxes and create the wage-paying, benefit-offering jobs that give millions of people ever-higher standards of living.
That stipulated then—and if we can get beyond all the guilt-making clichés—there is something to be said for the idea of companies contributing of their own free will to worthy causes. Not out of guilt or shame, but simply because it's the neighborly thing to do.
That's where I think two articles in this issue make a valuable contribution to the public understanding of the giving game in general.
As Crayton Webb points out in his Top of Mind column, North Texas companies are being hit on more and more for philanthropic contributions these days. As a result, Webb says, it's become increasingly important for firms to adopt and apply some common-sense guidelines as they sift through all the requests for their largesse. Among them: any cause selected should align with the company's mission, build on existing or previous efforts and make the maximum impact possible.
"A company usually can't give to every cause," Webb writes. But "a company can have a strategy for corporate giving … and stick to it."
On the other side of the coin, Pamela Gwyn Kripke's story, "The Battle for the Nonprofit Dollar", points out that just as companies have grown more discriminating, Dallas-Fort Worth's nearly 17,000 nonprofits have been sharpening their fundraising approaches as well. Where, years ago, companies might have written their favorite charities a check with little fuss, nonprofits now are being forced to focus their pitches to companies with laser-like precision. This new, more demanding atmosphere has left some nonprofits wanting, Kripke reports. But others have adapted to the new paradigm and thrived.
One local case in point: William Lively, president and CEO of the Dallas Center for the Performing Arts. Lively's targeted approach to wealthy donors—an approach that's raised nearly $300 million so far—has been so successful, it's now being followed by other, non-arts-related local charities.
There's no doubt that, with the emergence of heavyweights on the scene like Bill and Melinda Gates and, here in North Texas, T. Boone Pickens and Harold Simmons, we may well be living in a new Age of Giving by individuals with great fortunes. And, many of them are bringing more of a business sensibility to the philanthropy scene.
That can only be beneficial. Whether they come from companies or from the mega-wealthy, charitable gifts should be made not out of some vague sense of guilt, but because they make sense.
Get the D CEO Newsletter
Stay up to speed on DFW's fast-moving business community with weekly news reports, interviews, and insights.