From D CEO May 2008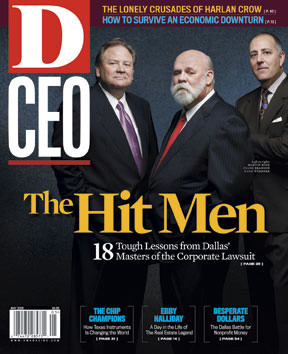 Subscribe
North Texas is a generous place. People here give their money to charities that need it. They do it willingly and with passion. But these days, they do it only if they can bank on the results.
"It used to be you could simply shake the tree. Now, you have to research, study, and identify who will give what to whom, then make your pitch," says Andy Stern, board chairman for Salesmanship Club Charitable Golf, which raises funds for youth and family services. "More money is out there, but you have to be very focused. A lot of people on the fundraising side are struggling to understand this paradigm shift."
THE TAKEAWAY
1. Philanthropic sources are more discriminating about their donations these days.
2. Nonprofits are focusing their pitches more thoughtfully.
3. The Dallas Center for the Performing Arts has had a profound effect on the Dallas fundraising scene.
There are nearly 17,000 nonprofit organizations in the Dallas metropolitan area. They compete for local dollars from corporations, foundations, and individuals. "They all understand how the nonprofit sector supports economic vitality, builds the business climate, and makes a city actually achieve a world-class status," says Cynthia B. Nunn, president of the Center for Nonprofit Management, which provides consulting and education services to such groups. "If you're going to have a nonprofit, this is not a bad place to do it. Donors just want to make sure their investment is going to an organization that can do the right thing with it."
Since the Sept. 11, 2001, terrorist attacks—and through the subsequent trials of Hurricanes Katrina and Rita—the ways in which charitable money is disbursed have changed. While money began pouring into disaster relief post-9/11 in unprecedented amounts, non-disaster-oriented nonprofits were forced to tighten their belts as their fundraising dollars dwindled.
"Times were very tough," recalls Paige Flink, executive director of The Family Place, a 30-year-old organization that helps victims of domestic violence. "We had layoffs and had to reduce services, which was gut-wrenching. Everybody's hearts were tugged by tragedy. I saw a rallying point, especially from foundations, who saw a huge need to invest in the social services that will make us safe, solid, and whole."
Those foundations, whether public, private, or some combination of the two, raise money, then disseminate it where it's needed. Donors may designate recipients or rely on the foundation to choose where to allocate their gifts. Public foundations, which, unlike private family foundations that are run by many individuals, are collections of funds that are disbursed through grants to a wide swath of community needs.
Nationwide, $51.2 billion in assets are held by such "community foundations." The largest in the Lone Star State, the 54-year-old, Dallas-based Communities Foundation of Texas, received $97 million in gifts in 2007, allowing for $66 million in grants. Its 842 funds contain a wide spectrum of dollar amounts, from $10,000 to multiples of millions.
"In the early 1980s, people would just write a check to a charity and not pay much attention to it," says Dwight Clasby, Communities Foundation's vice president for external affairs. "We have not seen a strain recently, but we have had more donors asking us to help identify organizations that they may not have given to before, particularly in children's, educational, and social services."
Corporations, too, have fine-tuned their giving in recent years. The funding of "bricks and mortar," for instance, has waned during the past seven years, according to Stern. "Unless it serves a marketing interest to have their name on a stadium or an event, they are not investing here," he says. "And, if they do, the money does not come from the philanthropy pocket."
Money now is given for specific reasons, Flink says, and those who want it have to appreciate the motivation behind the gift. "We have to think, how can we help them … whether it's feeling good, getting marketing benefits, or tickets in the front row," she says.
Today, charity-minded companies are more apt to select targeted disciplines in which they have a vested interest. Irving-based ExxonMobil Corp., for example, will donate money to education programs that support science, engineering, and technology. According to Stern, whose public-relations firm has represented ExxonMobil for 13 years, that's because "they have a desperate need in the future to have more scientists. Their money is not going to the Center for the Performing Arts."
[inline_image id="1″ align="" crop=""]
A JEWEL BOX OF CULTURE

(Enter stage left. Looking optimistic, with a determined step.) William H. Lively takes a seat behind an oval table in the Trammell Crow Center, backed by shimmering glass, an enthusiastic staff, and computerized depictions of what's to come. A bold model of both strategy and munificence, the Dallas Center for the Performing Arts has become a paragon of nonprofit dollar-claiming, here and across the globe. For Lively, president and CEO of the state-of-the-art, multi-venue performance mecca, which is set to open in downtown Dallas in 2009, it is a weighty responsibility.
Since 2000, $293 million has been raised for the project exclusively from local individuals and families. To begin, 116 people donated $1 million or more each and, more recently, a $10 million gift boosted the initial capital campaign goal to $338 million. Despite the overwhelming response from Dallas' wealthy residents, the CEO is modest about the center's accomplishments so far.
"In this era, there never should be considered the spirit of entitlement. Accountability is the hallmark," says Lively, who came to his current position after designing and directing Southern Methodist University's multimillion-dollar fundraising campaign in the 1990s. "You must communicate what you will do with the dollars that will be compelling for the community, and then you must prove that you are doing what you promised."
He began by building an infrastructure, establishing protocols, and hand-selecting a legion of volunteers, which he views as the most significant aspect of his role. "They joined with the expectation of service, leadership, and giving," he says. "You cannot do anything meaningful by yourself. You will fail. "
Lively gets uniformly high marks from those involved with the center and from those who've watched from outside. "Bill is passionate about what this is intended to become and is remarkably innovative and creative about conveying the excitement of this project," says Caren Prothro, vice chair of the center's board, a dist­inguished collection of the city's most loyal and connected change-makers. "A master," Flink says of Lively. "Superb," adds Stern.
Of course, what the Dallas Center for the Performing Arts and the Arts District as a whole is to become—a veritable jewel box of culture—is not the hardest of sells, compared to less pristine charitable endeavors. The 68-acre, self-contained Arts District will be home to the work of four Pritzker Prize-winning architects, some of which includes Lively's performing arts center. The DCPA will contain four venues for opera, theater, dance, and music linked together by 10 acres of park, bordering the Meyerson Symphony Center and the new location of the Booker T. Washington High School for the Performing and Visual Arts. It is a monumental undertaking that will not only energize Dallas' downtown, but could put it on the international map.
"This is a city where extraordinary changes are happening," says Jeanne Marie Clossey, who serves on the boards of both the center and the Texas Ballet Theater. "The transforming effects of this will spread out in unforeseen ways. If we want to attract Nobel laureates to UT Southwestern, for instance, they will only go where there is a strong cultural center. Everybody wants to participate in this."
So, a natural question arises: Has "everybody's" participation in Lively's effort drained funds away from the city's other nonprofit organizations? Most of the evidence so far says no.
"People may suspect that we have gleaned the harvest, but 80 percent of the people responsible for the $100 million are not, historically, supporters of the arts," Lively says. "They supported this because it's a one-time opportunity."
By most accounts, the people who've given money to Lively have also continued giving to the other charities they typically support. And, since the center's funding base is comprised mainly of individuals, corporations and foundations have continued to invest in the causes they typically invest in as well. While nonprofits always struggle to reach financial goals—and have, over the years, devised strategies for attracting compatible donors and maintaining cash flow—there is a feeling that they are not battling directly with the center. Fundraising is inherently difficult, whether a new cause enters the fray or not.
[inline_image id="2″ align="" crop=""] 'IT IS VOLATILE'
consider the united way of metropolitan dallas, for example. The local United Way is the largest non-governmental funding source for health and human services in North Texas. Since 1924, it has run workplace campaigns in which companies manage ongoing fundraising efforts for specific needy agencies, including groups that offer child care, housing for the homeless, crisis relief, and job placement. Ninety percent of United Way's fundraising comes directly from these drives; 1,200 companies in North Texas participate. In the metro Dallas area, the organization raised $55.6 million in 2006-2007, up from $51.2 the year before.
"Government-funded social-service programs can't do everything," says Gary Godsey, president and CEO of United Way of Metropolitan Dallas. "So we go into the companies, ascertain their business climate, their prospects for the coming year, and develop our goals from the ground up."
The Family Place is one charity that receives funding from the United Way, along with corporations, individual contributors, the government, and proceeds from special events. Of its $7.8 million projected budget for 2008, The Family Place expects to receive approximately 42 percent, or around $3 million, in government money—though that doesn't always happen as planned.
"It is volatile, so we continue to diversify, looking out for new and different sources," Flink says. "We've just established a foundation, so we don't have to live on a roller coaster, but it will be a long time to grow it."
She reports that 2007 brought in just a little less in end-of-the-year holiday donations than the year before, and she foresees that trend continuing in 2008. "It is hard for social-service organizations," she says, "because we have no big endowments."
Even so, Flink applauds the success of Lively's campaign. She believes people understand the importance of an arts venue, but can make the distinction between community needs and luxuries. "It's a good thing the performing arts center was launched when it was, with the economy at a peak, because when you get down to the basics of food, shelter, and clothing for people, the difference between providing a 'nice-to-have' or a 'have-to-have' becomes apparent," she says.
A couple of years before Lively's board began its work, Flink was able to build a safe campus with a new shelter, transitional housing for violence victims, and day-care services. The money was available then but wouldn't have been just three years later, she says, in the immediate wake of 9/11.
Flink, too, has experienced the generosity that Lively has, finding a certain degree of amazement in the desire to share. "We were embarking on a small capital campaign to expand our apartments, and a man came to us and said, 'I want to make a gift to you, and I want to do something significant,'" she says. "He gave us half a million dollars to start the building project. It blew my socks off."
Often, experts say, people are more willing to invest in something they can see and touch. But Lively's model for selling a future commodity, rooted in articulating an explicit vision, has inspired other ventures to do the same.
Lively "is the dean, and he should be very proud," says Michael Rawlings, managing partner of CIC Partners and, as chairman of the board of the public-private Metro Dallas Homeless Alliance, the city's "Homeless Czar." The group is in the process of raising $20 million for a campaign to end the city's chronic homelessness problem.
"We've given to the medical community, to the arts. Now it's time for giving to the tougher issues," he says. "This is not the cleanest charity. It's not like a hospital, which is sterile, or the arts, where people dress up in wonderful clothes. It's about mental health and living under bridges in squalor and freezing at night."
Rawlings has a clear road map for attracting supporters, and he believes the money is out there. Following Lively's approach, he intends to ask 100 carefully selected individuals for $50,000 each. "The trick is to match up people's emotional focuses with the needs. This is a highly personal issue, and many people have experienced mental illness in their lives," he says, noting that Texas is 49th out of 50 in state spending for mental health. "We will show them a plan that will not go on forever, but will end the problem by 2014, not merely manage it. We are being bad businesspeople the way we are doing it now."
While it hasn't been a cinch, Rawlings has raised more than $6 million in three months, not including initial $250,000 donations in seed money from the Simmons Foundation, the Meadows Foundation (which also donated $1 million to the performing arts center), Highland Park United Methodist Church, and Baron and Blue, a law firm. He hopes $10 million will come from foundations, $5 million from individuals, $2.5 million from faith-based organizations, and $2.5 million from corporations.
Toward the eastern edge of the arts district, the former Moorland YMCA building sits among its new and modern neighbors, its 1930s red-brick exterior a departure from the sleek architecture sprouting around it. The structure, once the athletic, cultural, and social centerpiece of the city's African-American community during the era of segregation, is enjoying new life as the home of the Dallas Black Dance Theatre.
The 31-year-old dance company has purchased the building and is renovating it to accommodate 32,000 square feet of rehearsal, administrative, and training space, at a cost of $10.5 million. To date, $8.4 million has been raised. The dance company also has a $1.3 million annual operating budget, which attempts to keep up with its comprehensive, ever-expanding artistic program.
Lively's project surrounds the Dallas Black Dance Theatre, both literally and figuratively. "There are always economic trends, national events, different campaigns in the city, but there is no difference in our ability to raise funds. We have always been challenged. It is always hard," says Zenetta S. Drew, executive director of the DBDT. "The ability for a nonprofit to survive is based on maintaining a consistent knowledge of the reasons why people give, and finding a niche that fits the need. You can't really complain about what others are doing."
Though at least one previous donor to the dance theater recently shifted their gifts to the Center for the Performing Arts, Drew is sanguine about the theater's prospects over time. "We hate to lose any donors, but [we] consider it a nominal effect, long-term. Because of the significance of the center, and [because the Dee and Charles Wyly Theatre there] will be our performance home, we see it as a win-win for our organization."
Like the Dallas Black Dance Theatre, other performing-arts organizations view the creation of this hub as a "win-win" as well. One of them is the Texas Ballet Theater, which will be the resident ballet company at the performing art center's Margot and Bill Winspear Opera House.
"We may have been hurt up-front a little, but we will gain down the road," says Clossey, the ballet board member, referring to some ballet donations that might have gone to Lively instead. "The company will have more credibility; our revenues should increase. This association will help in the end."
Down the street at the Morton H. Meyerson Symphony Center, meantime, the Dallas Symphony Orchestra, with a fundraising goal of $9.48 million for fiscal 2008, has balanced its budget for the last four years. "We believe increased activity in the district is good news for business, and for Dallas as a whole," says Stacie Adams, the DSO's director of public relations.
When the Meyerson opened in 1989, people had high hopes for what it would mean for the aesthetic psyche of the city. Says Lively: "When you walked in that first night at the Meyerson, it was like another world. You weren't in Dallas. You were somewhere else."
Lively senses the same anticipation today for the performing arts center, but many times over. He's expecting 800,000 visitors during the center's first season.
Get our weekly recap
Brings new meaning to the phrase Sunday Funday. No spam, ever.