From D CEO May 2008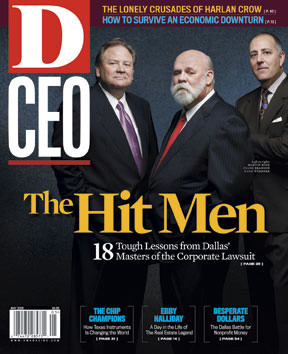 Subscribe
After graduating from Princeton University in 1977, Peter Beck went to work as an office engineer at the Dallas-based construction firm now known as The Beck Group. It was a natural fit: His grandfather, Henry C. Beck Sr., had founded the company in 1912 and his father, Henry C. Beck Jr., had run it from 1948 to 1974. After Peter became president of the general partner of The Beck Group in the early 1990s, he set about making some major changes, including reorganizing the company's hierarchy. Today the full-service builder integrates design and construction and provides some development services through offices in Dallas; Houston; Austin; Atlanta; Denver; Tampa, Fla.; and Mexico City and Cabo San Lucas, Mexico. With more than 700 employees, the firm has worked on major local projects including the House of Blues, the new Hunt Consolidated corporate headquarters, The Crescent, and the Nasher Sculpture Center. In 2002, the firm was recognized by Fortune magazine as one of the country's "100 best companies to work for."
Age: 52
Title/Company: CEO and Managing Director/The Beck Group
Tenure: 15 years
What was your first job? A summer job where I spent much of the summer gardening, primarily pulling weeds.
If you couldn't say "the people I work with," what would you say is the best part of your job? Working with customers, particularly learning from them what their needs are; what keeps them up at night?
What's the worst part? Sometimes I feel a bit overwhelmed by the number of e-mails I get, and I feel like I spend too much time in front of the computer screen.
What's the best advice you ever received? Psychologist Richard Farson told me that you need to be able to differentiate between problems and predicaments—the former being something you can solve, the latter being just the way it is. If you confuse the two, you either end up frustrating yourself and your people, or you miss a great opportunity to make a difference.
What books are currently on your nightstand? Frost/Nixon Interviews by Sir David Frost and The Innovator's Solution by Clayton Christensen.
What three web sites do you visit most often? I get my news primarily from The Dallas Morning News and The New York Times web sites. There's a site I like very much for books called abe.com. And springwise.com is a great site for learning about global trends in a variety of disciplines.
What's your biggest regret? I tend to be a positive person, and regrets are not something I focus on. I don't have a lot to regret. I would like to spend more time with my kids and my family, but, on the other hand, I feel fortunate that I get to spend as much time with them as I do.
Who is your mentor? No question, my father. He was a very special man and not only a great role model for me but for many others. He had a wonderful sense of humility as well as a focused approach to business.
What's the biggest challenge you face? Changing the way we deliver projects. We have evolved into an organization that integrates design and construction, which is a bit unusual in our industry. If we're going to eliminate a lot of the wasteful, dysfunctional aspects of the delivery process, we have to focus on the objectives of the entire project, as opposed to the unique interests of each individual discipline.
On weekends, where would people find you? Of course, spending time with the kids doing various sports activities. When we go to the country, particularly out to East Texas, I love to get up in the morning, walk, and maybe do a little fishing. I also love to garden.
Get the D CEO Newsletter
Stay up to speed on DFW's fast-moving business community with weekly news reports, interviews, and insights.