From D CEO May 2008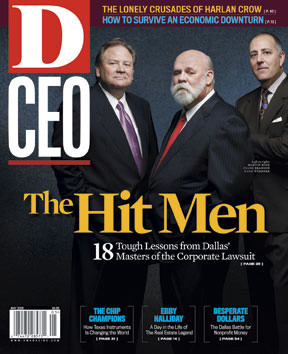 Subscribe
What's the connection between the CEO of a Fortune 500 company and the man asking for change on a street corner? Ask Lynn Blodgett, president and CEO of Dallas' Affiliated Computer Services Inc. An amateur shutterbug since the age of 10, Blodgett released his first book of photographs late last year titled Finding Grace: The Face of America's Homeless.
During downtime on business trips, Blodgett visited homeless shelters in more than a dozen U.S. cities to capture the striking black-and-white portraits that appear in Finding Grace. He photographed more than 2,000 homeless men, women, and children from 2004 to 2007—all in an effort to raise awareness about this often-ignored problem.
Proceeds from the book, which was rec­ently featured on the CBS News: Sunday Morning program, go to the Finding Grace Homeless Initiative, a group Blodgett helped found to educate and inform the public on the subject.
Get our weekly recap
Brings new meaning to the phrase Sunday Funday. No spam, ever.