From D CEO May 2008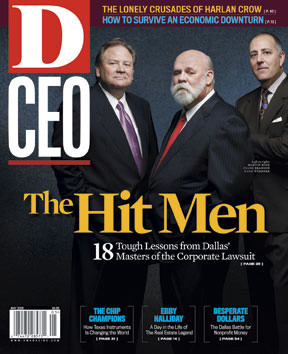 Subscribe
photography courtesy of Richards Group
Stan Richards
Principal, The Richards Group
Dallas
While our kind of service business is affected to some extent by the overall economy—clients may cut their budgets during a downturn, for example—we have never been through a protracted slump. We've continued to grow even in difficult economic times. Our business is so volatile, we win and lose clients in good times and bad times. You just work your fanny off during the hard times and hope the hard work will take care of things. Hard times can be beneficial, too. When things turn bad for a company, they may look at making a change in their marketing organization, which may result in changing their advertising agency—hopefully to our benefit.
photography courtesy of Container Store
Kip Tindell
Chairman and CEO, The Container Store
Dallas
We haven't scaled back any of our expansion plans; we'll still open five stores this year. But we are scaling back some of our future-oriented initiatives in order to focus on sales and business today. We might put off long-range plans to build a new distribution center, say, or to create new products. We'll look at efficiencies, look at small ways to work even harder. We may travel a little less, for instance, or even ask, "Do those copies really need to be made in color?"
I personally believe we're already in a recession. All retail is experiencing the worst inflationary pressures I've seen in years—in costs for plastic, steel, and paper, for example—so there's pressure for a few sporadic price increases after 10 years of having virtually none. We hope things will calm down by the third or fourth quarters. But right now we're expecting growth in the high-single-digits or 10 percent range this year, while for years, 15 to 20 percent growth has been normal for us.
photography courtesy by Elizabeth Lavin
Roger Staubach
Executive Chairman, The Staubach Co.
Addison
Financially, you should try to maintain some type of conservative approach during the tougher times so you can continue to capitalize and grow your business. You still want to hire good people—you still want to pay them the salaries you can—but you don't want too much debt to become a problem. You've got to have an ability to stay competitive and still have the same work ethic you had when times are good. That means that during the tough times you can't cook the books, give up your faith, or change your values. You've got to continue doing the things you committed to during the good times.
You find out a lot about people when times are tough. I've always been a big believer in the adage, "Adversity reveals genius, and prosperity conceals it." You probably appreciate teamwork more in tough times, because you're relying on others to help you get through it. I kind of like tough times. I'm competitive, and when everything is going well, I get more worried about the company. In tough times, opportunities for creative approaches are created.
photography courtesy of Norm Bagwell
Norm Bagwell
Former President, JPMorgan Chase
Dallas
In tougher times I would advise companies to stay liquid, maintain a strong balance sheet, and keep leverage in check. For the most part, firms with modest leverage are able to focus on the business (not the debt) and work through a downturn. In addition, those with capital and liquidity during a downturn are most able to be opportunistic and take advantage of the situation.
In the end, a firm must be consistent through a cycle and not take its eye off the reason it exists—the client. Communication with all your constituents—banks, attorneys, regulators, customers, suppliers, shareholders—is critical as well. The more they understand, the more they can help through the cycle. In turn, stronger partnerships are forged. Finally, maintain integrity at all stages. Reputations can be made or lost during tough times.
Get our weekly recap
Brings new meaning to the phrase Sunday Funday. No spam, ever.