From D CEO May 2008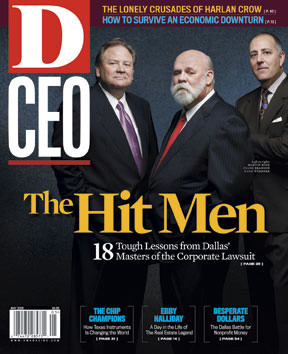 Subscribe
For more than seven decades, Dallas-based Texas Instruments has repeatedly changed the course of technology history.
THE TAKEAWAY
1. TI's advancements will be used in applications from everyday smartphones to solar energy conversion.
2. TI's medical-business unit is not another Law & Order spinoff.
3. Would you believe that a chip can curb your appetite? Believe it.
In 1954, for example, TI designed the first transistor radio. Four years later, the company's Jack Kilby invented the integrated circuit. In 1967, TI invented the hand-held calculator. TI's Gary Boone built the first single-chip microcontroller in 1971. And in 1987, Dr. Larry Hornbeck of TI invented digital-light processing.
While this short highlight reel is impressive, TI, with its 30,000 employees worldwide, is continuing to make huge strides in many disciplines. And, just as in the past, the company's most amazing new technologies are buried deep within other products. Here's a look at four major areas where TI is keeping up with the times—and much more:
GREEN CHIPS
Green is the color of the decade, and it's finally hip to bring up TI's C2000, a family of "digital signal controllers" that help in all sorts of mechanical and industrial tasks, including the sainted conversion of sunlight to electricity. Andrew Soukup, TI's C2000 marketing manager, says these newly improved processors "manage and regulate the process of changing energy from one form to another."
In a solar-panel kit, for example, you'll find C2000s in the inverter, a little box that converts the variable DC power, as absorbed by the solar panels, into a clean, consistent current suitable for a home's electrical network. Soukup says the C2000, a group of chips that had been around since the late 1990s, recently went through a radical change in architecture, allowing for dramatic performance improvements at a nominal increase in cost.
The result is a family of processors that's flexible, reliable, and doesn't cost an arm and a leg. The upshot: Solar panels in the future will lose less energy when converting sunlight, so you could see a much quicker payback on your "green" investment.
In the industrial world, TI's great leap forward in chip design has allowed its devices to better regulate the position, velocity, and torque of every mechanical action entrusted to those semiconductors—and that's no small feat. By forcing industrial motors and power supplies of all sorts to conserve all but the specific amount of energy needed for a specific job, manufacturers the world over can lower their power bills and spend a little less on cooling their shops, data centers, and factory floors. Says Soukup: "That's where a large percentage of the energy consumed today goes."
MEDICINE, MAN
In early 2007, TI created a special business unit dedicated to using the company's varied, disparate technologies to help manufacturers create everything from blood-pressure monitors to the gigantic imaging devices used in hospitals. But the mandate of TI's medical-business unit goes well beyond the ER waiting room. "We've got to use technology to expand medical care beyond the boundaries of the hospital," says Matt Harrison, general manager of the company's medical-business unit.
By combining TI's communications technologies and its expertise in consumer medical devices, TI is enabling a line of diagnostic devices that are wirelessly monitored by doctors and hospital staff. This allows elderly patients to stay at home longer before transitioning to hospice care, Harrison says. It also gives doctors treating those patients much more detailed data during each visit.
As TI works to make its chips in medical devices smaller, less expensive, and able to run without requiring as much battery power, it allows for other compelling medical applications. One example: Bothell, Wash.-based SonoSite has built a 6.7-pound ultrasound machine using TI's DaVinci technology, which allows specific chips to handle high-performance video encoding and decoding. By putting a portable ultrasound device in the back of every ambulance, Harrison says, you can transmit digital images detailing the severity of someone's injuries to hospital staff even before the patient is transported.
Another dramatic breakthrough: A company called IntraPace, started by InCube Labs of Menlo Park, Calif., is using low-power TI chips to create a gastric pacemaker. It's an implantable device that regulates your eating by using tiny electric shocks to stimulate the digestion of food and dull hunger pangs. The implant can tell you how many calories you've ingested and, once you reach your limit, it can make you feel full. Another application of the technology can even force feelings of nausea on an alcoholic the minute he or she swigs a beer.
WIRELESS WONDERS
As I noted in the March issue of D CEO, smartphones have reached a critical stage in their evolution and are set to enter a phase of being more flexible, more affordable, and more powerful than ever. Hastening this evolution are efforts like Android, a set of software and other specifications developed by the Open Handset Alliance—a consortium supported by TI, Google, Motorola, and many other companies.
Android is a platform that's said to drive innovation and enable all the companies in the wireless food chain to build products faster and at a lower cost, allowing those products to run on several different kinds of networks. Once critical masses of handsets have this platform, this common "DNA"—the speed at which applications can be built for wireless devices—should increase dramatically, and costs should plummet.
Critical to the development of a truly open handset platform is the right set of semiconductors powering the software and applications and, for that, the world is looking longingly to TI.
In February, the company showed off a prototype Android handset based on its OMAP850 processor; the device shown also included TI's Wireless LAN and Bluetooth wireless technologies. Another Android demonstrated was built to run on a wired Internet connection, and included options to run on cellular or Wi-Fi networks, based on TI hardware.
The Android phones are meant to be powerful Internet devices capable of combining different, separate Internet applications to create new ones. One example of such a wireless "mashup"—as described by TI at the Mobile World Congress in Barcelona—involves a real-estate agent combining his property database with some Internet mapping software, producing an application that enables his clients to easily locate the houses he's representing.
DATA'S SAVIOR
Let's say you're a big company or government agency with a 100-camera security system that digitally records high-definition video streams and archives all that footage for a 12-month period. Where do you put all that data?
It's tough; after all, you're recording 100 megabytes of data per second (1MB x 100 cameras), 24 hours a day, for 12 months. A starter kit to store that kind of volume would require nearly 1,700 250-gigabyte hard drives, and that kind of set-up—even using industrial servers—would take up an entire room or rooms, not to mention the required power, electricity, and air-conditioning.
Enter a TI customer called Hie Electronics Inc., based in McKinney. You could tackle the above storage nightmare with eight or nine of Hie's optical-storage systems. These systems, powered by TI's data-capture and video-compression technologies, allow for the storage of up to 50 terabytes (51,200 gigabytes) in a device the size a small dorm refrigerator that uses the same amount of power required to run a single PC.
That's optical storage. If you want to talk big data, let's go holographic. Holographic storage, as the name suggests, records data in three dimensions using pulses of light.
There's not a huge commercial business in holographic storage yet—the technology is cutting edge, but very expensive. Even so, TI is providing its digital-light-processing technology to help holographic data systems guide beams of light through sophisticated lenses that write the data to a set of super high-density discs. The system being touted by one TI customer—Yokohama, Japan-based Optware—is said to be capable of writing data at a rate of one terabit per second. That's fast enough to transfer a two-hour DVD movie in about a tenth of a second.
By making machines more efficient, the obesity epidemic harder to swallow, wireless devices easier to build, and volumes of data securely storable, there's no doubt that Texas Instruments is blazing a trail to technology's future.
Fort Worth resident Phil Harvey is the editor-in-chief of Light Reading, a telecom news web site operated by TechWeb, a United Business Media company.
Get our weekly recap
Brings new meaning to the phrase Sunday Funday. No spam, ever.