From D CEO June 2008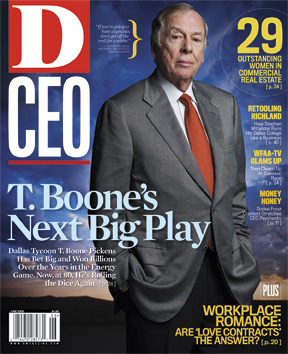 Subscribe
Sometimes there really is just one side to a story. So let's zoom in on the visionaries at Belo-owned WFAA-TV (Channel 8), where a big splurge has led to a bigger surge.
The ABC affiliate doubled down on its Dallas-Fort Worth rivals early last year by opening its new Victory Park studios while also becoming the first station in the market to present its newscasts in "high-definition," meaning a picture with much greater resolution than has traditionally been possible.
WFAA's extreme makeover paid immediate dividends in the February 2007 ratings "sweeps," where the station's 10 p.m. newscasts knocked KXAS-TV (Channel 5) out of first place in the total-homes measurement for the first time in five years, according to Nielsen Media Research.
The station has since dominated this key news battleground, steadily increasing its victory margins after dropping as low as third in the February 2004 sweeps. Nielsen says that WFAA outdrew runner-up KXAS by a whopping 80,374 homes in February 2008 while also winning comfortably among 25-to-54-year-olds, the main advertiser target audience for news programming. In a sense, you get what you pay for.
"Why don't we just say between $5 million and $10 million," WFAA president and general manager Mike Devlin says when asked to estimate what it cost to put both Victory and HD into play. "It's important to be No. 1 in the market if you do it right," he says of WFAA's February 2007 conversion to HD after the Victory Park studios were christened the month before. "This is a visually cutting-edge, high-tech look that runs counter to some perceptions of 'old media.' It might have made some people see the station as up-to-date and contemporary, maybe a little more youthful and less stodgy than what they had thought.
THE TAKEAWAY
1. After the remodel, WFAA topped "sweeps" for the first time in five years.
2. High-definition TV is made possible by digital compression technology.
3. The only full newscast considered "true" HD comes from WRAL-TV in Raleigh, N.C.
"Perceptions are what we deal with a lot in this business," Devlin adds. "But if you have a bad product and decide to go to HD, you probably aren't going to get much traction. It still goes back to what kind of people you have doing the news and what kind of news they're doing. All these things have to come together."
We're talking in the high-gleam, glass-cased new Victory Park studios, where two other WFAA veterans, production manager Jerry Cadigan and vice president of product development Dave Muscari, also are on hand.
It's early afternoon, and some passersby peer in under the fleeting impression that a real TV show might be in progress. WFAA's early-evening and late-night newscasts are easily visible to nearby dinner crowds and fans attending Mavericks and Stars games at the neighboring American Airlines Center. Gawkers are welcome, although the station has learned from experience not to let them press directly against the glass anymore.
After a Mavs game, "two or three young drunks started pounding on the window and trying to get into the studio," Devlin says. "So we've had to move them all back (behind railings). It's unfortunate, but I think people still get to see enough anyway."
Band noise from outdoor concerts was also an early problem, but that's since been toned down during newscasts. Station management makes it a point to use the Victory Park studios whenever crowds are gathering for various events. Anchors regularly stick around after newscasts to sign autographs and pose for pictures.
"The fact is that people are going to continue to come down here, and it's only going to grow in that regard," says Muscari, citing New Year's Eve crowds in excess of 20,000 during Victory Park's festivities.
"It's had benefits we didn't anticipate," Devlin says. "I haven't talked to all the anchors, but I think it's elevated their performance level and brought more energy to it. There's something to be said about having real humans other than just the floor crew watching you. … As old as this medium is, there's still a little fascination with watching a newscast in progress."
Veteran WFAA co-anchor John McCaa says that living in a glass house is a tonic for the talent. "There's no question the live audience makes anchors pay more attention," McCaa says. "The 'bump shots' (live pictures of people gathered outside Victory Park) help to drive the program. And at night the excitement of the area does tend to pick things up."
The wider-screen HD newscasts also accentuate details that aren't readily apparent on old, conventional-sized screens, he says. "We have to be careful that our shots at graphic crime or accident scenes do not zoom in so much that viewers get upset seeing pools of blood or injured people."
Muscari and Cadigan are old hands at the HD game. In October 1997, both were key players in Dallas-Fort Worth's first public display of the new technology's crystal-clear, horizontally framed images. Their venue was WFAA's "Future of Television" exhibit at the State Fair of Texas, headlined "Cotton candy, corn dogs, and HDTV" in an article by the national trade magazine Broadcasting & Cable.
Cadigan and Muscari produced an eight-minute high-definition clip that drew lines of visitors waiting up to 45 minutes for a look on the rainy morning that I wrote about the 1997 event. Hosted by WFAA anchors Gloria Campos and Dale Hansen, the tape included eye-popping footage from the 1996 Dallas Cowboys-Pittsburgh Steelers Super Bowl; the feature films Apollo 13 and Waterworld; and music videos from Peter Gabriel and the Gipsy Kings.
For his part, Muscari termed it a "seminal moment in broadcasting," which rings pretty true more than a decade later.
"It definitely was an 'aha' experience," Cadigan recalls. "The reaction (by State Fair visitors) was so overwhelming that we kind of knew this was where television was going to be going."
But it couldn't get there—at least not on home screens—until the advent of "digital compression" technology. A technology that requires less bandwidth and therefore has significantly more storage capacity, it officially will replace television's longstanding analog transmission mode in February of 2009. (The change will require consumers to have either a converter box or a digital cable or satellite hookup for their conventional analog TV set.)
Only WRAL-TV in Raleigh, N.C., currently broadcasts its newscasts in full "true" HD from both the studio and in the field. In Dallas-Fort Worth, WFAA, KTVT-TV (Channel 11), and KTXA-TV (Channel 21) are able to convert footage from outside the studio into a picture that fills horizontal HD screens of any size. KXAS's older cameras can't execute that trick, which is why the station's pictures from outside the studio still are square boxes bordered on the right and left by its call letters.
KDFW-TV (Channel 4) is still the only major local TV news provider in the market without any HD newscasts. "When we do it, we'll do it right," station general manager Kathy Saunders told me last October.
Sources close to Fox-owned KDFW say the station has received approval from its network to order new HD field cameras. This could make the station Dallas-Fort Worth's first all-HD news operation. Unless WFAA again gets there first, of course.
"That's a pretty expensive proposition," says WFAA's Devlin, who adds that his station paid $500,000 for the one HD camera that it uses for helicopter shots. "But eventually we will be going to HD in the field."
For now it's been more than enough for WFAA to parlay its Victory Park/high-definition initiatives into Nielsen ratings gold.
In November 2006, its last "sweeps" month before those twin splashes, the station averaged 202,300 total homes for its 10 p.m. newscasts compared to 207,060 for first-place KXAS.
In the February 2008 sweeps, WFAA soared to 241,124 homes at 10 p.m. while KXAS plummeted to 160,750.
The ABC station also continues to win big in the 5 p.m. and 6 p.m. news competitions. And it barely trailed first-place KDFW in the increasingly important 6 a.m. news face-off after running a distant third in November 2006.
"I don't know what would have happened without this," Devlin says of the Victory Park/HD initiatives. "Maybe our lead would not be as large. Maybe it would have taken longer to get into first place. But it certainly hasn't hurt us one bit. This is a great advantage."
Ed Bark, former longstanding TV critic for The Dallas Morning News, is now prop­­­rietor of the web site unclebarky.com, which was launched in September 2006. He has a master's degree in journalism from the University of Wisconsin-Madison and is a past president of the national Television Critics Association.
Get our weekly recap
Brings new meaning to the phrase Sunday Funday. No spam, ever.