How President Stephen Mittelstet Runs Richland College Like a Business
Using sheer force of will, Dr. Stephen K. Mittelstet turned to business methods like strategic planning and performance reviews to revamp Dallas' Richland College. It wasn't easy, and it took years, but the effort is paying off.
It's tempting to call Dr. Stephen K. Mittelstet the Pied Piper of quality control in education. After all, he led Dallas' Richland College to a Malcolm Baldrige National Quality Award, which most people associate with engineering and manufacturing, not education. So what would inspire the president of a community college to seek—let alone win—such an honor?
THE TAKEAWAY
1. It takes fortitude and vision to transform an organization.
2. Getting employees to buy into the transformation is key.
3. If you run into obstacles along the way, go around them.
"Forget about the award," answers the 64-year-old administrator, who looks and sounds like a college president straight from central casting. "But if you're pleased with the results you obtain, and the process itself moves you in the right direction, why not go for it?"
Maybe the structure of the application itself—more than 100 open-ended questions—also appealed to Mittelstet, who likens the process to a wise Socratic teacher asking a lot of questions. "It's not filling you up with their truth," he explains, "but drawing out what's inside of the organization."
Says Paul Mayer, CEO of the Garland Chamber of Commerce: "Baldrige is all about wanting to be better. You take the seven criteria and answer a lot of questions about them, and you see that you continually fall short. When I went through it, I literally almost quit the business. It takes fortitude to stay on track and work your way through the process. It takes a strong vision of where you want to be."
Although he has known Mittelstet for almost two decades, Mayer was still impressed with the college's 2005 Baldrige Award. "It speaks loudly of a person in academia that he would push his organization through Baldrige," Mayer says. "I know what kind of vision it takes. You can't have the kind of regional cooperation that we need unless you have the kind of personality and lack of ego that he has."

A WAY OF LIFE
Not surprisingly, the Baldrige stamp is everywhere one looks at Richland—a two-year college, part of the Dallas County Community College District, with more than 22,000 full- and part-time students and about 550 full-time employees. Talk to the faculty, for example, and they're likely to refer to students as "clientele," which is very unusual at any school, no matter the size. Such customer-service focus is even being built into the college's bricks and mortar.
When the university was designing Thunderduck Hall—the place students would first enter for admission, registration, and to pay tuition—customer service was at the forefront of Mittelstet's thinking. He and his team traveled to Seattle to visit Starbucks and learn how that company implemented "experience engineering" in its coffeehouses. One result is the conspicuous absence of the despised rope lines that many of us suffered through during college registration. Instead, Richland passes out buzzers like those one might receive at a busy restaurant. And, if a transaction at the payment counter becomes heated, say, "conversation pits" have been set up behind the counter so that people can be invited to sit there and have a discussion, rather than argue across a countertop.
Baldrige has become a way of life for the Richland staff as well. Janet James, Mittelstet's assistant and associate dean of special programs, points to the college's monthly performance-review document and annual strategic-planning retreat as examples.
"We have a huge advantage over other institutions of our size in that we are always data-informed," she says. "We now have data over a seven-year track that informs our decisions, so that we aren't just operating from anecdotal information."
That monthly performance document is comprised of four categories—Identify and Meet Community Educational Needs, Enable All Students to Succeed, Enable All Employees to Succeed, and Ensure Institutional Effectiveness—with three or more Key Performance Indicators for each. "It's important to be data-informed, but not data-driven," Mittelstet says. "You don't want to rush out and try to fix the whole organization when one indicator is off."
Getting employees to buy into the Richland vision is so important to Mittelstet that all new faculty, administrators, and professional support staff are required to sign off on a three-year professional-development plan before they're hired. The plan includes service, leadership, indoctrination in the college's mission (Teaching, Learning, and Building Sustainable Local and World Community), and participation in its Quality Enhancement Plan.
The corporate training and student educational needs of Garland and Richardson, Richland's primary service area, are also high on Mittelstet's agenda. He teamed with Mayer of the Garland Chamber to develop the Dallas County Manufacturers' Organization, which in 2006-07 received more than $700,000 in grant-funded, customized training of 700 employees through the college.
Mayer believes such programs are critical for economic development in Garland. "We're the seventh-largest manufacturing center in the state," he says. "General chamber of commerce programs just don't appeal to manufacturers. They're not networkers. Economic development used to be all about location. But in the last five to eight years, it's become focused on the work force."
And when discussions with nearby corporations such as Texas Instruments and Raytheon turned to their own work-force dilemma­—a looming shortage of qualified engineers—Mittelstet's administrative team came up with another innovative solution: the Richland Collegiate High School of Mathematics, Science, and Engineering.
Richland College already offered dual-credit courses (in which a high school student can earn both high school and college credit for the same class) for free to students attending any of its "feeder" high schools. The RCHS concept simply took that one step further. Created two years ago as a charter school, RCHS allows students to complete their final two years of high school and first two years of college simultaneously. With support and internship opportunities from local companies, the hope is that many of these students will pursue engineering careers and local employment once they complete their educations.
At the other end of the spectrum is Project Rock-On, a program that Richland began to serve at-risk students, many of whom had already dropped out and/or spent time in juvenile detention programs. Funded by federal grants, the program combines GED classes with career training in everything from computer services to auto mechanics.
JoAnn Brumit, the chairwoman and CEO of Karlee Inc., a Garland-based manufacturer and 2000 Baldrige Award winner, isn't surprised by any of this. "It all goes back to Baldrige," she says. "Who are your customers? How can you serve them? How can you make your community better? [Mittelstet] is very committed to making a difference in the community, besides building the best school that he can. Garland has a lot of at-risk kids, and being able to provide them with job training is very important to the community."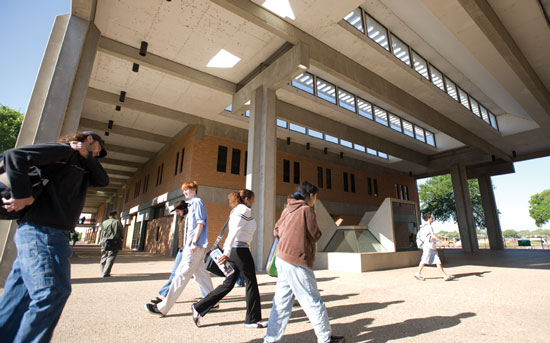 FOCUS ON QUALITY
With customary humility, Mittelstet gives the credit for Richland's introduction to Baldrige to someone else. He points to a former part-time faculty member and Texas Instruments manager, Dr. James Tew. Tew taught a course in manufacturing processes using Total Quality Management principles, and he "always worked into his conversations the 'universality' of these tools," Mittelstet recalls. "We were actually teaching the principles, but not using them ourselves."
Congress created the Baldrige National Quality Award in 1987, a time when seemingly everything that required electricity or gasoline was made well in Japan and poorly here. For a whole generation of post-World War II baby boomers who'd grown up with the notion that "Made in Japan" equaled "junk," this came as quite a shock. "Quality" was suddenly on everyone's radar, and the Baldrige symbolized America's struggle to climb back to the top of the heap.
"The Baldrige approach is a great way to build a strong company," Brumit says. "It focuses on customers, strategic planning and reaching out to the community. We built a business on that platform with no outside consultants. Baldrige is something that really becomes a way of running your business."
One reason that Brumit can boast of not relying on consultants is attributable to the Baldrige process itself. The application requires detailed answers to questions based on the seven Baldrige criteria, which are: Leadership (how senior executives guide the organization and how it practices good citizenship); Strategic Planning; Customer and Market Focus; Measurement, Analysis, and Knowledge Management (how data is used to support processes and performance); Work Force Focus (how the work force develops its potential and aligns with objectives); Process Management; and Results.
In return for a relatively small fee of $6,000 for large firms and $3,000 for smaller ones, an applicant receives a minimum 300-hour review by a panel of business and quality experts drawn from the award's board of examiners, which then issues a feedback report detailing the organization's strengths and "opportunities for improvement." Should an applicant do well enough to make it past this initial screening, it will earn a site visit from a team of examiners, which translates to an additional 1,000 hours of review and culminates in an even more extensive report.
Not long after Congress created the award, Texas and other states followed with their own versions, and Tew was a founding member of the board that administered the Texas Award for Performance Excellence. Tew's role didn't go unnoticed by Mittelstet, a Ph.D. graduate of The University of Texas at Austin who by this time had become Richland's president (a post he's now held for more than 25 years). Mittelstet and several of the Richland faculty decided to join the Texas program as examiners, assessing applications and providing feedback reports.
About this same time, Texas was wrestling with education reform, a movement that reached its zenith when George W. Bush was elected president and pushed through the No Child Left Behind Act of 2001. Educational accountability was a hot topic, and Mittelstet was concerned.
"My take was that if we weren't careful," he recalls, "people outside the organization might dream up accountability measures that didn't apply. When legislators and others tell us what to produce, we could crank out graduates in something, but would they contribute to the university's vision?"
So, rather than wait for someone else to impose "quality control" measures upon him, Mittelstet chose to adopt the "universal principles" that Tew had taught his students at Richland for so many years.
There was a problem with Mittelstet's plan, however. For the first 10 years of its existence, the Baldrige Award had recognized only manufacturing, service, and small-business categories, and the Texas award, which was modeled after the Baldrige, likewise had nothing to offer educational institutions. Mittelstet was undaunted, and he and his administrators began to undertake what he characterizes as "crosswalks"—finding bridges from the language of business to the language of education. In the classroom setting, for example, Mittelstet now points to "leading indicators" (students actively engaged in learning), "just-in-time correction" (noticing from body language and other signals that students require re-teaching), and "trailing indicators" (test performance).
In the meantime, the national award added categories for education and health care in 1999. But Texas' criteria remained unchanged, and that presented a further problem, since most organizations test the waters by applying to a state award before attempting the more competitive national arena. Despite not having a category dedicated to his field, Mittelstet applied three times for the Texas award without winning.
"We finally decided to send it to the feds instead," Mittelstet says.
The Baldrige examiners scheduled a visit, and the state abruptly modified its criteria and scheduled one, as well. Culminating a whirlwind of activity that taxed and motivated the entire staff, Richland College three years ago found itself the proud owner of both the Texas Award for Performance Excellence and the Malcolm Baldrige National Quality Award.
CLOSE-KNIT
Summing up the man who spurred this vision isn't easy, but Janet James, Mittelstet's assistant, is probably as qualified as anyone to try. "It takes consistent, steady leadership over time to shape an institution of this size," she says. "Very few executives stay long enough to really impact a culture, but, over [Mittelstet's] tenure, he's shaped a culture that is very close-knit and humane, and that extends to the students and the community. What's important is keeping your eye on the goal, and that means being student-centered and meeting the needs of the community."
Over the years, Mittelstet's accomplishments have made him popular and have resulted in a steady stream of visitors to the campus. Many of them no doubt arrive wondering: Is this for real, or is it just talk? They soon discover that, happily for those who live in communities served by Richland College, Dr. Stephen K. Mittelstet is the real deal.