From D CEO July 2008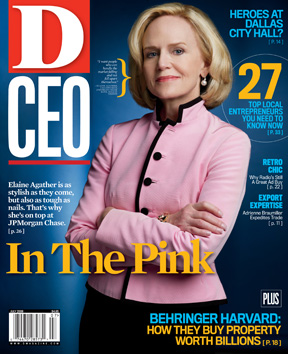 Subscribe
+++
Dallas has long been known for the number and quality of its lawyers. With its large, growing population; its extensive court system; and its national reputation as a business center, the city is a magnet for attorneys of every specialty. But, which of Dallas' many lawyers are the very best at what they do? That's what D Magazine, an affiliated publication, determines for its readers each year with its Best Lawyers in Dallas list.
That list, which we are presenting here to the readers of D CEO, was compiled following a rigorous survey. First, D asked lawyers with a valid Texas Bar number to identify their primary practice area. Then it asked them to nominate three lawyers—two outside their firm, and one within their firm in their area of practice—for this list.
The key criterion they were asked to keep in mind: Which Dallas lawyers whose work you've seen firsthand would you rank among the current best? Their answers could include lawyers they've witnessed in court, co-counsel, or opposing counsel. Voting was conducted exclusively at dmagazine.com.
After the votes were added up, D editors met with a panel of esteemed attorneys to evaluate the Best Lawyers in Dallas 2008 list. Self nominations were thrown out, and the panel's anonymity was guaranteed to allow for a free-wheeling, uncensored discussion of the nominees' merits.
After the Best Lawyers list was completed, D turned it over to the D/D CEO sales staffs, which were not allowed to add names to or subtract names from the list. The sales staffs offered advertisements to the lawyers on the list, and those are found in a special advertising section elsewhere in this magazine.
The editors don't know who bought those ads and, if lawyers declined to buy an ad, they were still included on the list. Finally, nobody could buy an ad in the special section unless he or she had made the list.
+++
Appellate

Nina Cortell
Haynes and Boone
Charles T. Frazier Jr.
Alexander Dubose Jones & Townsend
Deborah Hankinson
Law Offices of Deborah Hankinson
David F. Johnson
Winstead
P. Michael Jung
Strasburger & Price
Jeffrey S. Levinger
Carrington, Coleman, Sloman & Blumenthal
Julia F. Pendery
Pendery Law Firm
Chad Ruback
The Ruback Law Firm

Bank Lending

O. Paul Corley Jr.
Thompson & Knight
Rick Goyne
Baker Botts
Thomas Higier
Higier Allen & Lautin
James R. Littlejohn
Winstead
Elmer Murphey III
Strasburger & Price
Dan L. Nicewander
Gardere Wynne Sewell
Emeline Yang
Winstead
+++
Bankruptcy & Workout

Robert D. Albergotti
Haynes and Boone
Jason Brookner
Andrews Kurth
Bill Finkelstein
K&L Gates
Charles R. Gibbs
Akin Gump Strauss Hauer & Feld
Jack Kinzie
Baker Botts
E. Lee Morris
Munsch Hardt Kopf & Harr
Patrick Neligan
Neligan Foley
Michael Massad
Hunton & Williams
Robin Phelan
Haynes and Boone
Mark Ralston
Ralston Law Firm
Judith Ross
Baker Botts
Dan Stewart
Vinson & Elkins

Business Litigation

Charles "Rodney" Acker
Fulbright & Jaworski
Charles L. Babcock
Jackson Walker
M. Scott Barnard
Akin Gump Strauss Hauer & Feld
George W. Bramblett Jr.
Haynes and Boone
William A. Brewer III
Bickel & Brewer
Craig W. Budner
K&L Gates
David Coale
Carrington, Coleman, Sloman & Blumenthal
Jim Coleman
Carrington, Coleman, Sloman & Blumenthal
Jim E. Cowles
Cowles & Thompson
John R. Crews
Alston & Bird
Mark Davenport
Figari & Davenport
Bill Dawson
Vinson & Elkins
Ernest Figari Jr.
Figari & Davenport
G. Michael Gruber
Gruber, Hurst, Johansen & Hail
Michael Hurst
Gruber, Hurst, Johansen & Hail
Randy Johnston
Johnston Tobey
George Kryder
Vinson & Elkins
Monica Latin
Carrington, Coleman, Sloman & Blumenthal
Jay Madrid
Winstead
David R. McAtee III
Haynes and Boone
Mike McKool
McKool Smith
Tom Meisheimer
Fish & Richardson
Aimee Williams Moore
Baker Botts
Bob Mow
K&L Gates
Rod Phelan
Baker Botts
Richard Sayles
Sayles Werbner
Jon G. Shepherd
Alston & Bird
David W. Shuford
Shuford Law Firm
William D. Sims
Vinson & Elkins
Victor Vital
Baker Botts
Mark Werbner
Sayles Werbner
Robert J. Witte
Winstead
Fletcher Yarbrough
Carrington, Coleman, Sloman & Blumenthal
+++
Commercial Real Estate

Patrick M. Arnold
Powell Coleman & Arnold
William T. "Chip"
Cavanaugh Jr.
Munsch Hardt Kopf & Harr
Kevin Cherry
Cherry, Petersen & Landry
W. Robert Dyer Jr.
Gardere Wynne Sewell
Steve Jenkins
Haynes and Boone
Kevin L. Kelley
Gardere Wynne Sewell
Ray Khirallah
Thompson & Knight
Carl Klinke
Munsch Hardt Kopf & Harr
Randall M. Ratner
Akin Gump Strauss Hauer & Feld
Harry M. Roberts
Thompson & Knight
Mark Sloan
Thompson & Knight
Ann Saegert
Haynes and Boone
Patricia Stanton
Baker Botts
Kevin A. Sullivan
Winstead
James Wallenstein
Hunton & Williams

Corporate Finance/Mergers & Acquisitions

Andrew Baker
Baker Botts
Michael Boone
Haynes and Boone
J. Jeffrey Cash
Cash Klemchuk Powers & Taylor
Jeffrey A. Chapman
Vinson & Elkins
R. Scott Cohen
Weil, Gotshal & Manges
Terry Conner
Haynes and Boone
Gilbert Friedlander
Weil, Gotshal & Manges
Glen Hettinger
Fulbright & Jaworski
Thomas Hughes
Fulbright & Jaworski
Mary R. Korby
Weil, Gotshal & Manges
Neel Lemon
Baker Botts
Brian M. Lidji
Lidji & Dorey
John Martin
Baker Botts
Joseph Clarke Mathews
Hunton & Williams
Don J. McDermett Jr.
Baker Botts
Karen S. Nelson
Haynes and Boone
Alan J. Perkins
Gardere Wynne Sewell
Greg R. Samuel
Haynes and Boone
Larry Schoenbrun
Gardere Wynne Sewell
Janice V. Sharry
Haynes and Boone
Richard A. Tulli
Gardere Wynne Sewell
Michael Wortley
Vinson & Elkins
Jeffrey A. Zlotky
Thompson & Knight
+++
Criminal Defense

Jim Burnham
Law Offices of Jim Burnham
Daniel Clancy
Clancy, Ethington, Nancarrow,
and McLain
Kevin Clancy
Clancy, Ethington, Nancarrow,
and McLain
Kenda Culpepper
Culpepper & Pruitt
Ronald Goranson
Ronald L. Goranson
Ward Maedgen
Law Offices of Ward Maedgen
Reed Prospere
Prospere and Russell
James A. Rolfe
Fitzpatrick Hagood Smith & Uhl
Toby Shook
Fitzpatrick Hagood Smith & Uhl
Barry Sorrels
Sorrels, Udashen & Anton
Christie N. Williams
Mills & Williams


Environmental Law

Diana C. Dutton
Akin Gump Strauss Hauer & Feld
Allison K. Exall
Curran Tomko Tarski
Joseph F. Guida
Guida, Slavich & Flores
Fran Phillips
Gardere Wynne Sewell
John Slavich
Guida, Slavich & Flores
+++
ERISA

E. Philip Bush
Locke Lord Bissell & Liddell
Barry W. Cowan
Fulbright & Jaworski
Greta E. Cowart
Haynes and Boone
T. David Cowart
Sonnenschein Nath & Rosenthal
Felicia A. Finston
Vaker Botts
Nancy Wyman Furney
Winstead
James Griffin
Jackson Walker
Thomas M. Hoffman
Gardere Wynne Sewell
J. Mike Holt
Thompson & Knight
Bruce D. Pingree
Baker Botts
Charles F. Plenge
Haynes and Boone
Jason Ray
Vinson & Elkins
Robert J. Stokes
Baker Botts
Henry Talavera
Hunton & Williams


Family Law

Jeffrey O. Anderson
The Anderson Law Firm
Angie Bain
Goranson, Bain, Larsen,
Greenwald, Maultsby & Murphy
Carla M. Calabrese
Calabrese Associates
Kevin R. Fuller
Koons, Fuller, Vanden Eykel & Robertson
Tom P. Goranson
Goranson, Bain, Larsen,
Greenwald, Maultsby & Murphy
Tom A. Greenwald
Goranson, Bain, Larsen,
Greenwald, Maultsby & Murphy
Jennifer Stanton Hargrave
Verner & Brumley
Jody L. Johnson
Allison & Johnson
Paula Larsen
Goranson, Bain, Larsen,
Greenwald, Maultsby & Murphy
Kelly McClure
McClure Duffee & Eitzen
Mike McCurley
McCurley, Orsinger, McCurley, Nelson & Downing
John V. McShane
McShane & Davis
Kathryn Murphy
Goranson, Bain, Larsen,
Greenwald, Maultsby & Murphy
Tom Raggio
Raggio & Raggio
Ike Vanden Eykel
Koons, Fuller, Vanden Eykel & Robertson
+++
Franchise & Development

Deborah Coldwell
Haynes and Boone
Ann Hurwitz
DLA Piper
Earsa R. Jackson
Strasburger & Price
Joyce Mazero
Haynes and Boone
Cheryl Mullin
Cheryl Mullin & Associates

Intellectual Property

Jeffrey M. Becker
Haynes and Boone
Elisabeth Evert
Hitchcock Evert
John Flaim
Baker & McKenzie
J. Kevin Gray
Fish & Richardson
Darin Klemchuk
Cash Klemchuk Powers & Taylor
Robert M. Manley
McKool Smith
David McCombs
Haynes and Boone
John McDowell
K&L Gates
V. Bryan Medlock Jr.
Sidley Austin
Kevin Meek
Baker Botts
Stanley Moore
Winstead
William A. Munck
Munck Butrus Carter
Michael D. Pegues
Munsch Hardt Kopf & Harr
Bart Showalter
Baker Botts
Bruce Sostek
Thompson & Knight
Andre Szuwalski
Gardere Wynne Sewell
+++
Labor & Employment

Theodore C. Anderson III
Kilgore & Kilgore
Kim J. Askew
K&L Gates
J. Derek Braziel
Lee & Braziel
Jennifer Burr Altabef
Carrington, Coleman, Sloman & Blumenthal
Ron Chapman Jr.
Ogletree, Deakins, Nash, Smoak & Stewart
Keith A. Clouse
Clouse Dunn Khoshbin
W. Gary Fowler
Jackson Walker
Stephen E. Fox
Fish & Richardson
Hal Gillespie
Gillespie, Rozen, Watsky & Jones
Dan Hartsfield
Baker Botts
Monte K. Hurst
Hermes Sargent Bates
Mary Goodrich Nix
Gordon & Rees
Michael P. Maslanka
Ford & Harrison
Yona Rozen
Gillespie, Rozen, Watsky & Jones
Mark A. Shank
K&L Gates
Jennifer Trulock
Baker Botts

Land Use & Environment

Arthur J. Anderson
Winstead
William S. Dahlstrom
Jackson Walker
Susan Mead
Jackson Walker
Dwight "Ike" Shupe
K&L Gates
Kirk R. Williams
Winstead
Robert F. Brown
Brown & Hofmeister
+++
Mediation

Mary Burdin
Burdin Mediations
Christopher Nolland
Law Offices of Christopher Nolland
Will Pryor
Will Pryor Mediation & Arbitration
Ross Stoddard
Ross W. Stoddard III

Personal Injury

Charla Aldous
Aldous Law Firm
Frank L. Branson
Law Offices of Frank L. Branson
Rob Crain
Crain Lewis
Jerry T. Fazio
Owen & Fazio
Scott B. Frenkel
Frenkel & Frenkel
Laura Benitez Geisler
Jones Geisler
Ralph C. "Red Dog" Jones
Jones Geisler
Stephen F. Malouf
The Law Office of Stephen F. Malouf
John H. Martin
Thompson & Knight
Andy Payne
Payne Mitchell Law Group
Jeff Rasansky
The Rasansky Law Firm
David L. Sargent
Hermes Sargent Bates
Paula Sweeney
Howie & Sweeney
Windle Turley
Turley Law Firm
Dr. Douglas M. Wood
The Law Firm of Dr. Douglas Wood

Tax

R. Brent Clifton
Locke Lord Bissell & Liddell
David Cowling
Jones Day
Jeff W. Dorrill
Haynes and Boone
William H. Hornberger
Jackson Walker
Vester Hughes
K&L Gates
Donald P. Lan
Kroney Morse Lan
Mary McNulty
Thompson & Knight
Emily A. Parker
Thompson & Knight
Matthew R. Schindel
Haynes and Boone
Kevin Thomason
Thompson & Knight
Josh Ungerman
Meadows, Collier, Reed, Cousins & Blau
R. David Wheat
Thompson & Knight
+++
Trusts & Estates

Stephen Akers
Bessemer Trust Company
John F. Bergner
Winstead
Santo Bisignano Jr.
Bisignano & Harrison
Tom Cantrill
Hunton & Williams
John M. Collins
Haynes and Boone
Michael L. Graham
The Graham Law Firm
Jim Hartnett Jr.
The Hartnett Law Firm
Kathryn Henkel
K&L Gates
Robert H. Kroney
Kroney Morse Lan
Lawrence M. Wolfish
Wolfish & Newman

White Collar Defense/Antitrust

Jerry L. Beane
Andrews Kurth
Paul Coggins
Fish & Richardson
Bob Davis
K&L Gates
Jay Ethington
Clancy, Ethington, Nancarrow,
and McClain
Gregory Huffman
Thompson & Knight
Bill Mateja
Fish & Richardson
Barry F. McNeil
Haynes and Boone
Charles M. Meadows Jr.
Meadows, Collier, Reed,
Cousins & Blau
Tom Mills
Mills & Williams
Matthew Orwig
Sonnenschein Nath & Rosenthal
Michael Uhl
Fitzpatrick Hagood Smith & Uhl
Get our weekly recap
Brings new meaning to the phrase Sunday Funday. No spam, ever.