From D CEO July 2008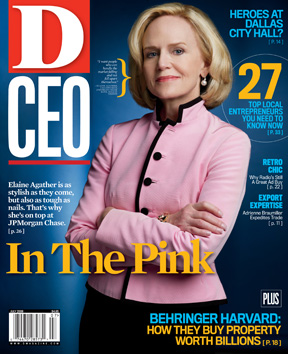 Subscribe
MY PASSION
When Jim Thompson is asked to describe a hunter-jumper competition, the classic English sport where riders jump a series of fences up to 5 feet in height, he immediately responds with two words: "fear" and "exhilaration."
In the early 1980s, a fascination with horses led Thompson to the world of amateur riding competitions, and he took lessons with former Air Force Col. Donald Nance at The Trophy Club Equestrian Center in Dallas.
Now President and COO of The InSource Group, a firm specializing in professional IT placement, Thompson steals a few hours a week for training. As with any mounted sport, Thompson understands jumping's elements of risk and danger (luckily, no major injuries), as well as humor (he's had his "pants beat off" by a 12-year-old girl).
"Most of us, after the age of 21, don't have the opportunity to confront elements of fear in a regular and systematic kind of way," Thompson says. With jumping, "you have to overcome obstacles and accomplish risky techniques in [a] highly compressed, 45-second format."
Competing at a "level 1" with fence heights of 3 feet, Thompson fights gravity atop his Selle Français mare, Daphne—an ex-Grand Prix jumper.
The dynamic duo now trains with Britt McCormick at Elmstead Farms in Parker, Texas, where Thompson savors calm away from the business world. Not that jumping itself is calm. "It's intense," Thompson says. "That's why I needed two words to describe it."
Get our weekly recap
Brings new meaning to the phrase Sunday Funday. No spam, ever.