It's a rainy, late-spring afternoon, prompting former local TV reporter Susan Risdon to reflect on how little she misses braving the elements in pursuit of a story.
"It just seemed like journalism was going down the tubes a little bit," she says. "The 24-hour news cycle. The constant live shots. The crime stories. The storm-chasing. It kind of wears on you. On bad weather days I did not want to go to work. Maybe it's a mid-life type of thing. But so far I'm really glad that I've done this."
What she did, in June 2007, was resign from KXAS-TV (Channel 5) after seven years at the station and 15-and-a-half years in television news. Her new career, as founder and president of Austin-based Red Media Group, allows Risdon, 39, to ditch the daily reporting grind while also using her contacts and journalism training to get the new company's clients on television.
There's a lot of this going around lately. You might even call it an epidemic. Shrinking salaries, newsroom downsizings, and overall burnout are working against lifelong careers in TV news. In just the past year, a veritable newsroom full of other North Texas TV reporters have joined Risdon in charting new careers.
One of them, former KDFW-TV (Channel 4) reporter Jeff Crilley, threw in the towel earlier this summer after 16 years at the station. Two other Channel 4 reporters, Jason Overstreet and Paul Adrian, also left the station in June to reinvent themselves outside the confines of a TV newsroom.
Crilley, 44, launched Real News PR, whose consortium of former local TV reporters includes Risdon (they plan to feed each other clients), Robert Riggs, Clif Caldwell, and Rebecca Rodriguez.
"From age 20 to 40 you're trying to create a career," Crilley says. "From 40 to 60 you're trying to be relevant. If your job's not completely fulfilling, you want to get out. I've done my share of knocking on doors and standing on overpasses. After a while, you wake up and wonder, 'Is there more to life?' "
Crilley's new venture, which he'll initially run out of a home office, is an extension of his 2003 paperback book, Free Publicity, and numerous speaking engagements at seminars devoted to "The Secrets of Getting Covered on the News."
His stated intent, which already has rankled some rival PR firms, is to restore credibility to the profession. Crilley initially dismissed most PR practitioners as "snake-oil salesman."
"I should not have used that term," he says. "But we're journalists. We're not going to pitch you b.s. Because the moment we pitch a press release with no news in it is the moment we become a mockery."
Former KTVT-TV (Channel 11) reporter Sarah Dodd also left television news to go into business for herself. She spent seven years with the station, mostly covering City Hall, before resigning last summer.
"You just don't see a light at the end of the tunnel, or that it's going to get any better," Dodd, 34, says of her disillusionment with TV news. "It's funny. I do not miss it. And I'm very surprised by that. I feel like it's a snapshot in my life, and I cherish it. But I don't miss it. It was a phase in my life."
Her Dodd Communications, of which she's the sole employee, specializes in "crisis communication, public affairs work, and media strategy," she says. "When you hire me, you do get the name on the door. You get my experience and reputation. I'm not going to give the job to an underling."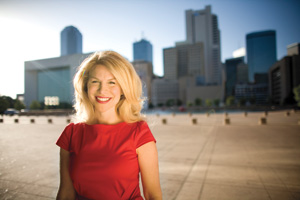 Dodd, who's married to Dallas police chief David Kunkle, says she's used her experience as a City Hall reporter to navigate its nooks and crannies for clients, who have included developers of both luxury hotels and multifamily housing projects.
Riggs, Dodd's former colleague, had a long career at WFAA-TV (Channel 8) before going to Channel 11, where he was let go earlier this year as part of a corporate-mandated staff reduction. The 58-year-old investigative reporter says he planned to leave in May of next year anyway to start his own production company, with an eye toward making documentaries for the likes of cable's Discovery Network and History Channel. He's still charting that path in addition to working with Real News PR.
Riggs, Crilley, and Risdon all say they had bad dealings as reporters with a PR firm they don't particularly respect—the Margulies Communications Group. Its founder is David Margulies, who worked as a reporter at Channel 8 before launching his company in 1986. All three characterize Margulies as more of an obstructionist than a "facilitator."
As a TV gumshoe, Riggs' experiences with Margulies' firm "weren't what I would have expected from somebody who'd been a veteran journalist," Riggs says. "It was more like, 'I'm going to hit you between the eyes. I'm going to hit you over the head.' It was a hard, in-your-face adversarial relationship … and that's not doing the client any good."
But wasn't Margulies just doing "damage control?"
"Well, he was doing damage," Riggs replies. "Damage to his client."
Margulies, in an e-mail response, says that Crilley's new venture likely will face a rocky road:
"Someone who has spent years telling people they can get 'free publicity' is going to have a hard time convincing people they should pay him for his services. … Jeff is truly out of touch with the profession he is embarking on."
"Obstructionist tactics" aren't his style, but getting a fair hearing for his clients is priority No. 1, Margulies says. "When the circus industry was attacked before Congress by Bob Barker and other animal rights groups, they called our firm to help defend the industry on the Today show and Good Morning America."
On Shaky Ground
No one's joined the circus yet among those who have left their TV jobs in the last year, though there have been sharp detours.
Overstreet, 34, was a street reporter for six years at Channel 4 before taking a management position with the United States Bowling Congress, which is moving its national headquarters from Milwaukee to Arlington this summer. With "the overall economic landscape of television news" on shaky ground, the former teenage bowling champ says joining the 10-pin world "is something I cannot let pass me by."
Dan Ronan spent 20 years in television news, the last four with Channel 8, before leaving the station last November for reasons that neither party will discuss. At 48, he's starting a new career as manager of corporate communications for the American Automobile Association of Texas.
Two other ex-Channel 8 reporters, Chris Heinbaugh and Bob Greene, also have recalibrated. Heinbaugh, 48, became Dallas mayor Tom Leppert's first chief of staff last August after covering City Hall down the stretch of a seven-year career at Channel 8.
Greene spent just two years at Channel 8 before leaving in June to pursue a law degree. He might be able to get some tips from Valeri Williams, who graduated in May from Southern Methodist University law school after a high-profile career at Channel 8.
In the early 1980s, Williams, now 47, had been accepted as a law student at Baylor University. But she decided to practice TV journalism instead before coming full circle after leaving Channel 8 in 2003.
"Bottom line is I'd reached a kind of crisis," Williams says. "Did I want to continue to where television news was headed?"
The growing number of current-day exits from local TV news reminds Williams of her own misgivings six years earlier.
"I think you enter a point in your career when it's no longer what you believe in," she says. "I got out because I wanted to be somebody who no matter what I do, it matters. And I wrestled with that decision for months. I'm so truly blessed that I was part of Channel 8's halcyon days. We traveled all over the world. But it's become so expensive today that most stations just aren't doing the same kinds of stories they used to."
Adrian is notable for leaving Channel 4 with an eye toward returning to TV journalism on his own terms.
The 40-year-old investigative reporter recently left the station after seven years to study for a year at Harvard University's prestigious John F. Kennedy School of Government. He then plans to return to his native Texas and cover state government as a news entrepreneur who hopes that various TV and radio news operations will be interested in buying his services.
Most others instead are breaking away from local TV journalism. Riggs says the future likely will be marked by smaller staffs, lower-paid reporters, and a further erosion of in-depth storytelling.
"I think I lived in the 'Golden Age,' particularly at Channel 8," he says. "That's in the rear-view mirror now."

Get the D CEO Newsletter
Stay up to speed on DFW's fast-moving business community with weekly news reports, interviews, and insights.