From Summer 2009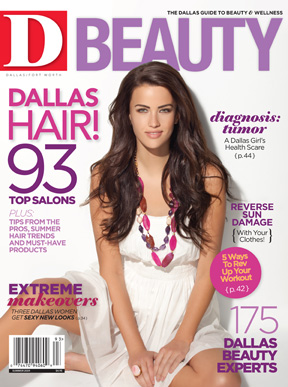 You may not know the name Michael Marcus—even though the affable, Texas-born entrepreneur has been producing his own line of makeup and skincare in Dallas for the last decade. Many of his clients find out about him by way of New York, thanks to the prestigious Fifth Avenue boutique Takashimaya, which has been carrying his eponymous line, Michael Marcus Cosmetics, for seven years.
But let's back up, to the days long before Fifth Avenue.
Marcus was born in Canyon, Texas, and attended Texas Tech University, where he studied art history and interior design. In his own words, "he didn't click in Lubbock," so he headed to Dallas, where he began his foray into makeup behind the Prescriptives counter at Neiman Marcus. He soon became the store's top salesperson and was later promoted to national makeup artist for Estée Lauder. It was behind the makeup counter that Marcus discovered the importance of customer interaction.
"I learned what women really want," he says. "I tried to stay in tune with what customers were looking for—which is one of the reasons why I do personal appearances almost every week. I'm constantly traveling, constantly talking to customers. I do travel with an artistry team, but I make a point of meeting every person and talking to them about their biggest beauty challenges. We try to solve those things."
Solving tricky beauty problems was a key component to his burgeoning business. After he left his post at Estée Lauder, Marcus became a personal shopper and makeup artist and eventually opened a studio in Dallas to better serve his loyal clientele. "I had a lot of private clients that I worked with—really rich women in Dallas—who wanted to look their best," he says. "I would help them get ready. I would help them shop. I would help them with makeup. A lot of them came to me daily. That's really how I got started. They wanted to support me."
In 1999, he launched the brand that bears his name, featuring beautiful shades of shadows, blushes, and lipsticks that suited his philosophy that women should never be afraid to experiment with color.
He admits that those first products were a far cry from the high-quality, luxurious formulations found in the line today. "Believe me, they were the most horribly textured products ever! I had no relationship with manufacturers, because coming from the retail side, you don't really get the opportunity to establish that. I started working on developing my own." Once he established rapports with the right people, the products improved. In 2002, Takashimaya picked up the line, which prompted Marcus to close his studio and focus exclusively on developing the brand. In 2003, Marcus received the Rising Star Award from Fashion Group International.
"I would say really until four years ago, not every product was as I wanted it," Marcus says. "We have really grown over time, developing what I think are some really amazing, unique pieces. It didn't happen overnight, by any means. Our formulations from the very beginning to now have changed dramatically as we've established relationships with either a chemist or a manufacturing house that can make things for us."
Years of research and development have produced cosmetics and skincare rich in botanicals and antioxidants—a direction Marcus says he was always headed. For example, one of the company's best sellers, Prime, is a foundation primer loaded with hemp oil, aloe vera, chamomile, and jojoba oil to protect against free radical damage, provide a protective moisture barrier, and create a smooth texture under makeup. When applied, your skin feels dewy and silky—and absolutely fabulous. Line filler Reduce contains bamboo extract and bio-fermented red marine algae from the Hawaiian islands in addition to hyaluronic acid micro-spheres. Paraben-free Cleanse contains fragrant Tahitian flower. The list goes on. In fact, these cutting-edge skincare products are what really separate Michael Marcus Cosmetics from other "makeup artist" brands.
Another reason Marcus has stayed competitive in the beauty game is attention to detail. Among the many innovations in the line are the silver lacquered compacts and look palettes that don't scratch when you throw them in your purse; the mechanism in the lipstick—you can hear the click when you shut it—that ensures an airtight seal and took a year to finalize; the "new magical sharpener" with the German blade, as opposed to a cheap Chinese version, that creates the perfect point on your lip liner; and fragrances that boast 30 percent oil, rather than the 18 to 20 percent usually found in eau du parfums. Because he's a small player, Marcus knows his company has to be a step ahead of everyone else.
So what's next for this rising star? The immediate goal is to increase distribution in the United States. Right now the line is carried in 67 stores nationwide, including Dillard's, the company's biggest distributor. Although he hears that his beauty brethren are just trying to break even in the first quarter of 2009, Marcus enjoyed a 230 percent increase over the same quarter last year. And he's thinking globally. "We have a great opportunity to start exporting to South America," he says. "We're already in Central America. We've also been approached by a couple of European companies looking to import new and unique and niche brands into Europe."
Another goal for 2009 is to become one of the top five brands in the department store arena. "Last year, in some Dillard's, we edged into the top 10, which is unbelievable, because we're too small to have an advertising budget," he says. Dillard's is an import point of sale for him because the department store is going in a new direction, bringing in boutique, specialty brands. "They're moving to a better, higher-end selection of merchandise. It's opened the doors for a lot of companies like mine to really step in and show what we can do."
Despite his commitment to innovation and his dreams of going global, Marcus has never strayed from his roots: color. "Our resounding theme is that we are a very colorful brand," he says. "Color can be exciting. It can be fun. Honestly, our neutral sales are not stellar. What I find amazing in the beauty industry is that so many of the buyers from the department stores think that 'color' is an all-beige palette. You really don't need 12 shades of brown or 20 shades of a rose lipstick."
Instead, Marcus has 45 shades of lipstick—in fun names like Foxy, Flirt, and Diva—from sheer pinks and pretty corals to soft mauves and rich plums. Eye shadows come in an even bolder array of 46 colors, from nearly nude Peek A Boo to teal Surf's Up, purple Party Girl, and emerald Tempting. This kind of rainbow palette may have some ladies running in fear, but Marcus promises that once you try it, you'll be hooked. To prove his point, he gave me a makeover—yes, I am guilty of using only shades of brown and black on my brown eyes and a rosy neutral lipstick on my lips—by creating a smoky daytime eye with Almost, Smokin, and Amethyst cake eyeliner and popping my kisser with coral-y Goddess. "Women need to understand you can wear color and be comfortable. It's not the color from the '80s or Mimi from The Drew Carey Show. Color can be beautiful."
The Michael Marcus Mantra
The cosmetics CEO shares his top five beauty tips.
1. The secret to flawless-looking makeup is a good skincare regimen. Make sure to exfoliate at least two to three times per week and use a moisturizer and eye cream under makeup. A good line filler under makeup also can help reduce the appearance of those stubborn wrinkles.
2. Always wear a primer under your makeup. It will make it last much longer. One of my best-selling products is Prime. Once women try it, they can't live without it. I advise them to use a foundation brush to apply it to prevent any bacteria or natural oils from fingers getting mixed in and making it less effective.
3. The best way to update your look is to pick one or two new colors and include them in your regular makeup routine. For summer, I like bright colors. Try a turquoise eyeliner and a bright pink or coral lipstick. It's not necessary to change your whole look, but two colorful products will freshen up your appearance.
4. Don't be afraid of color! I tell this to women all the time. Many of them have gone their whole lives wearing browns and nudes, but when I apply a pink blush or lipstick on them, they can't believe how much younger and fresher they look.
5. Use a cake eyeliner that is specially formulated not to smudge. I developed my cake eyeliner to be smudge-free and stand up against the Texas heat and humidity.

D CEO Newsletter
Stay up to speed on DFW's fast-moving business community with weekly news reports, interviews, and insights.