From Summer 2009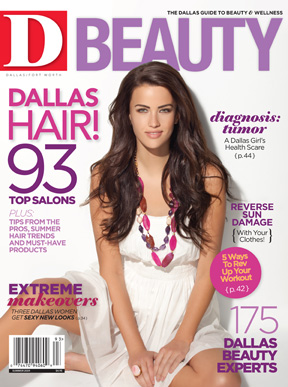 Skin Savers
Galderma Laboratories, whose U.S. operations are based in Fort Worth, recently announced three new products. Epiduo Gel, a once-daily topical acne treatment, has shown significant results in as little as one week, and Vectical Ointment has proven to be a safe and effective treatment for mild to moderate psoriasis. But Cetaphil UVA/UVB Defense SPF 50 can benefit every skin type. The lightweight formula provides the highest SPF available for a facial moisturizer. www.galderma.com.
[inline_image id="1″ align="r" crop=""]Sun Screen
Dubbed "skincare you wear," SunSoul's yelomöd shirts and hats don't just protect your skin from the sun's harmful rays; they actually reverse sun damage. It's no magic fabric, just an advanced fluorescent technology that turns the sun's damaging UV radiation into rejuvenating yellow light. The SPF 50 clothing can help diminish wrinkles, sun spots, freckles, and fine lines. Prices start at $60. Available at the office of Janna Massar, M.D. (6300 W. Parker Rd., Ste. 220, Plano. 972-981-8215) and Luxury on Lovers (4703 W. Lovers Ln. 214-352-8800). www.sunsoul.com.
[inline_image id="2″ align="" crop=""]Yoga Tips
Karmany Yoga's moves are fancy, but its philosophy is simple: yoga is for everyone, including those on a budget. The pay-by-donation studio allows you to come when you want and pay what you can. A $15 contribution is recommended but not required, and skilled teachers offer classes in just about every form of yoga imaginable. 5014 McKinney Ave. 214-564-7772. www.karmanyyoga.com.
[inline_image id="3″ align="r" crop=""]Spa Day
Inside the new Omni Fort Worth Hotel lies Mokara Spa, featuring signature services such as the Cactus Pear Moisture Wrap and the Texas Stone Facial that reflect the "western chic" theme prevalent throughout the hotel. But the old standbys are here as well. Opt for the Mokara Massage—75 minutes if your day has been extra-stressful—and you won't be disappointed. 1300 Houston St., Fort Worth. 817-350-4123. www.themokaraspa.com.
Get our weekly recap
Brings new meaning to the phrase Sunday Funday. No spam, ever.