From Summer 2009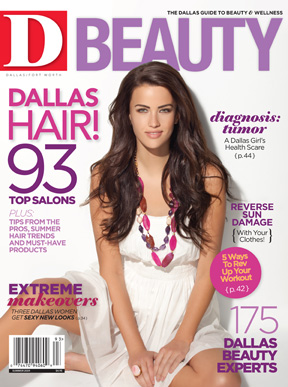 In Dallas, we are serious about two things: hair and money. Translation: Dallas girls are determined to look good at any cost. Gone are the days of big, hyper-teased 'dos. Now we're sporting soft layers, blunt-cut bobs, and pixie cuts—sometimes even in colors other than blond. (Gasp!) Whether you're in the market for a new stylist or you just want to make sure yours is on our list, click through these pages for the top salons in town.
Plus!
-3 Dallas Girls Get Sexy New Looks
-Tips and Trends From Dallas Stylists
[inline_image id="2″ align="r" crop=""]ALCHEMY SALON 317 N. Bishop Ave. (214-942-5200) www.alchemysalon.net. Alchemy's sole focus is hair, so we assume they know a thing or two about luscious locks. If you're nervous about trying a new hue, opt for the semi-permanent color.
ANDERSON, COX & CO. 500 Crescent Ct. (214-871-6725) Customers love the Zen feeling at this hip and glamorous hair-and-nails-only salon at Stanley Korshak.
ANTHONY PAUL SALON & SPA 2110 Eldorado Pkwy., Ste. 103, McKinney. (972-562-5181) www.anthonypaulsalon.com. Hair color is the specialty at this Aveda salon, which is upscale but friendly. Anthony Paul also offers facial and body treatments.
ARIA SALON AND BODY SPA 3300 Oak Lawn Ave., Ste. 106. (214-219-4600) www.ariasalondallas.com. This salon promises rest, relaxation, and revitalization. Aside from an array of hair and nail services, Aria also provides cosmetic procedures such as laser hair removal and photo facials.
ARTISTIK EDGE HAIR STUDIO 8420 Abrams Rd., Ste. 208. (214-349-3888) www.artistikedge.com. This salon, which offers color, cuts, and facial waxing, just finished a big remodel. Stylists work as a team, and clients feel at home.
THE ART OF HAIR 2301 N. Collins St., Ste. 210, Arlington. (817-276-1166) www.theartofhairdfw.com. Owner Hanh Tran and his team know the ins and outs of the hair business, including SO.CAP.USA hair extensions, which come in 81 different shades and three different textures (straight, wavy, curly).
AVALON SALON & SPA West Village, 3699 McKinney Ave., Ste. 412. (214-969-1901) Multiple locations. www.avalon-salon.com. Each location has its own flavor, with Aveda products as the common ingredient. The Snider Plaza location is the cozy original; the West Village spa has an Asian flair. Now open: the newest location at The Shops at Legacy in Plano.
BACA SALON 2412 Allen St. (214-219-1212) This Uptown hair-exclusive salon has three stylists. Service here is more one-on-one than in larger salons, but the place is still trendy and fun.
BELLA RETREAT SPA & SALON 5031 Camp Bowie Blvd., Fort Worth. (817-377-2457) www.bellaspaandsalon.com. Bella Retreat might be smaller than other fashionable stops within a mile, but sometimes that's just the ticket. Book a spa night with the girls, which includes deep conditioning treatments, manicures, and massages.
BLAINE'S COLOR 8335 Westchester Dr. (214-378-5150) www.blainescolor.com. Blaine, who trained at the Sassoon Academy, has more than 25 years of experience. He specializes in color and glazing, though he offers precision cuts, too. Check out his product line.
BLOW SALON 2019 Abrams Rd. (214-841-0099) blowsalondallas.com. A smaller salon by Dallas standards, this midcentury modern space is hip and open. Owner Warren Augustus has a way with wavy hair in need of taming. A recent expansion means more services: manicures, pedicures, massage, facials, peels, waxing, and www.microdermabrasion.
THE BLUE ROOM STUDIO SALON 3023 Routh St. (214-953-1400) www.artmusichair.com. This artsy salon sells art right off the walls and always has music playing in the background. Color correction specialist (and local musician) Michelle Johnson can fix anything. The Blue Room caters to bridal parties and special events.
CHRISTOPHER PAUL SALON 3028 N. Hall St., Ste. 175. (214-855-5900) www.christopherpaulsalon.com. This Uptown salon specializes in blondes. Why? They're tricky—or at least their hair color is. The salon is open until 9 pm and features products from Osis, Pearatin, and Schwarzkopf.
CLIVE & CO. 5301 Alpha Rd., Ste. 46. (972-934-0500) www.cliveandco.com. Clive & Co. stylists use luxurious products (Shu Uemura) and the latest in coloring and cutting techniques—no curling or flat irons—to create looks that emphasize natural potential.
CLAUDIO & VALENTINO'S GIOIA HAIRDRESSING 18810 Preston Rd. (972-801-2521) www.compagniadellabellezza.com. Claudio and Valentino are the Italian owners of this Kérastase-exclusive salon featuring stylists from around the world who do expert cuts and color.
[inline_image id="3″ align="" crop=""]CRAZE SALON HAIR STUDIO 4217 Herschel Ave. (214-521-4185) This four-person salon offering cuts and color is down-to-earth yet edgy. It's not your typical high-dollar Dallas salon, but that's part of the appeal.
DAIREDS SALON & SPA PANGEA 2400 W. I-20, Arlington. (817-465-9797) www.daireds.com. This one-of-a-kind facility has a high-energy hair salon, two spas (one pampering, one medicinal), cafe, and conference center. The salon's award-winning stylists create modern looks to suit any personality.
DAVID MORALES SALON AT SALON BOUTIQUE 8335 Westchester Dr., Ste. 201. (214-521-8817) Salon Boutique at Preston Center has 45 private salons, and David Morales is one of the best. He's known for color.
DARRIN DAVIS Perry Henderson Salon, 3878 Oak Lawn Ave., Ste. 100-A. (214-522-2870) Davis is an extension aficionado. Clients love his no glue, no heat, no chemical technique—and, when well cared for, the high-quality hair can last a full year.
DEAR CLARK HAIR STUDIO 3317 McKinney Ave., Ste. 101. (214-397-0700) www.dearclarkhairstudio.com. Owners Holly Dear and Kaycee Clark lead a team of four colorists and 26 stylists at this mod hair and lifestyle studio. Big bonus: the salon makes appointments until midnight on Thursday.
DIANE & COMPANY SALON & SPA 4520 Frankford Rd., Ste. 300. (972-735-8909) www.dianeandcompany.com. The five stylists at the salon specialize in European color. The full-service spa offers microdermabrasion, facials, body wraps, and scrubs.
ELIXIR SALON AND DAY MAKER 85 Village Ln., Ste. 150, Colleyville. (817-427-9700) www.elixirdaymaker.com. This Aveda-loving salon offers everything from hair and nail services to massages, microdermabrasion, and facials. To maintain a tranquil environment, all cell phones are turned on silent.
EVOLUTION SALON 4030 Lemmon Ave., Ste. 1003. (214-528-4481) www.evolutionsalon.net. Owner Teresa Farr believes in "bringing her clients into their own experience of personal beauty." Achieve just that with this chic salon's hair services, body massages, anti-aging facial treatments, and selection of L'Oréal Professional products.
FRÉDÉRIC FEKKAI 47 Highland Park Village, Ste. 207. (214-219-3600) www.fekkai.com. The name implies ritzy, but there is nothing intimidating about this comfortably chic salon. Colorists offer the innovative coloring technique Balayage. Peach Champagne and selections from the Celebrity Cafe menu are nice touches.
FRINJ SALON & SPA 3645 Dallas Pkwy., Ste. 501, Plano. (469-361-0017) www.frinjsalonspa.com. This full-service salon and spa is a hidden gem. The boutique boasts all the top beauty products, and the pedicure pit's deep color tones and dim lighting make for the perfect escape.
FUSE SALON 19009 Preston Rd., Ste. 206. (469-231-1807) www.hair-dallas.com. Owner Zoya Ghamari and one other stylist make up the team at Fuse Salon, offering traditional hair services, threading, and waxing. The salon offers cold-fusion extensions, which are gentler on the hair than other methods.
GARRISON MOORE SALON 6120 Camp Bowie Blvd., Fort Worth. (817-731-7000) www.garrisonmooresalon.com. Owners Jana and Jack Garrison want you to look as good outside their salon as you do inside; that's why they style and teach. The salon also offers manis and pedis.
GRAND SPA 5100 Belt Line Rd., Ste. 620. (972-392-9393) www.grandspa.com. All 13,000 square feet are designed to groom and pamper you from head to toe with products like Kérastase and Billy Jealousy. The menu includes facials, massage, waxing, hair and makeup, nails, and hydrotherapy.
GREEN PERIDOT The Shops at Star­­wood, 6959 Lebanon Rd., Frisco. (469-362-7980) www.greenperidot.com. This Aveda salon was co-founded by Shear Genius star Daniel Lewis. Services include cuts, color, waxing, and makeup applications.
HAKAN INTERNATIONAL HAIR & BODY CONTOUR 5601 W. Lovers Ln. (214-352-7555) www.hakanintl.com. Hakan offers haircuts, color, and thermal hair straightening. Other services include facials, microdermabrasion, Vita-derm nonsurgical facelifts, endermologie, photo facials, and body wraps.
HALOSALON AND COLOR LAB 6333 Camp Bowie Blvd., Ste. 252, Fort Worth. (817-737-4256) www.halocolorlab.com. This salon provides high-quality cuts, and color, plus apprentice rates for cuts and color with a licensed hair professional in training.
HEIDI'S SALON AND SPA 120 N. Main St., Grapevine. (817-416-5666) Heidi Kilman's recently expanded salon and spa offers hair and nail services as well as waxing, massages, microdermabrasion, and customized facials. We love the uniquely designed private workstations.
[inline_image id="4″ align="r" crop=""]HUMPHREY'S SALON 4000 N. MacArthur Blvd., Ste. 112, Las Colinas. (972-717-1111) This full-service salon specializing in human hair extensions boasts 10 stylists, including several industry educators. Other services include cuts and styles, coloring, and nail treatments, with products by Kérastase and Bumble and bumble.
JB SALON 2800 Routh St., Ste. 107. (214-559-2895) JB Holman makes you feel like you're the only client in the room. Because, well, you are. JB has been in the business for 32 years and concentrates much of his talent on natural-looking color. A single manicurist completes the intimate experience.
JEAN-PHILIPPE SALON 5600 W. Lovers Ln., Ste. 125. (214-350-7897) www.jeanphilippesalon.com. This salon is known for complete image makeovers. Ask about Cellophanes, a semi-permanent color and conditioning treatment for lustrous and lovely locks.
JKS INTERNATIONAL SALONS 6040 Camp Bowie Blvd., Ste. 3105-A, Fort Worth. (817-731-7575) www.jksusa.com. Owner John Kaytaz is inspired by the beauty of Italian hair colors. JKS has its own hair care line, which Cyprus-born Kaytaz says is better than Kérastase. JKS services also include nails, makeup, massage—even photography.
JOHNNY RODRIGUEZ THE SALON 5450 W. Lovers Ln. (214-987-1919) www.johnnyrodriguezsalon.com. The stylists at Johnny Rodriguez Salon stick to what they know: hair and makeup. A couple of times a year, the salon throws a Botox party with a board-certified plastic surgeon—and a charity enjoys the proceeds.
JONAS AVEDA COLOR SALON 4343 W. Northwest Hwy., Ste. 385. (214-358-4370) www.jonassalon.com. Glorianna Jonas' salon offers a classic yet cutting-edge fusion of nail, facial, and hair treatments formulated to enhance each client's natural beauty. The salon boasts five master stylists.
JOVIE SALON 1201 W. McDermott Dr., Ste. 102, Allen. (972-396-5400); 1400 N. Corinth St., Ste. 105, Corinth. (940-498-5011) www.joviesalon.com. Jovie's stylists continue their hair education with weekly classes. The salon offers all hair services plus eyebrow and lip waxing.
JUMP JIVE & WAIL HAIR SALON 6935 W. Main St., Frisco. (214-705-0591) Owner Diane Bevan is picky about whom she hires. The salon does only hair and waxing, specializing in custom color. You may get a follow-up phone call to see how you liked your service.
Get our weekly recap
Brings new meaning to the phrase Sunday Funday. No spam, ever.