From Summer 2009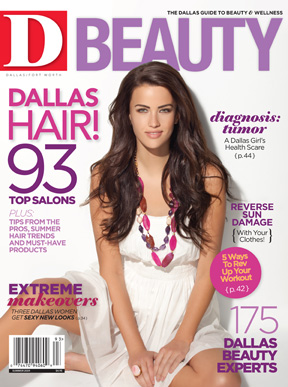 I Gotta Wear Shades!
Fashion Optical owner Morgan Metcalf thought the designers of today's sunglasses weren't paying enough attention to detail, so he decided to create his own line of "glamorous and sophisticated" shades. Known for his ability to choose the perfect frame for any face, Metcalf used his expertise to design the m. Gianni collection. The line includes nearly 20 styles in three colors. $299-$375. 3430 Oak Lawn Ave. 214-526-6006. www.fashionopticaldallas.com.
[inline_image id="2″ align="" crop=""]Heavy Metal
Stop them in their tracks with Stephen Hartzler's eye-catching jewelry and accessories made from the metal scraps of street signs donated by the city of Dallas. These one-of-a-kind pieces complement any style, from punk to preppy. For almost 10 years Hartzler worked out of his garage and drew inspiration from midnight bicycle rides. The Dallas artist now has his own studio and has teamed up with the SPCA to create dog tags for adopted animals. Available at the Dallas Museum of Art Museum Store, 1717 N. Harwood St. 214-922-1200. www.bornbelow.com.
[inline_image id="1″ align="" crop=""]Gem Dandy
When a 16-year-old Cannon Lewis strolled into Stanley Korshak wearing a school uniform and toting a box of her handmade baubles, jewelry buyer Melissa Geiser critiqued her clasps and stones. Those words turned out to be invaluable advice. Ten years later the Dallas native runs a full-fledged jewelry business featuring pieces that focus on organic textures and asymmetric forms, many of which are engraved with words or poetry written by Lewis. $40-$6,000. www.cannonlewis.com.

[inline_image id="3″ align="" crop=""]Ciao, Versace!
Lavish design lovers, rejoice. The Versace boutique has opened its NorthPark doors. The modern yet elegant space houses ready-to-wear apparel for men and women as well as the Versace Home collection. Black granite floors and leather panel walls transport shoppers to a posh Italian boutique, and wide-screen televisions display the line's latest runway trends. 8687 N. Central Expwy., Ste. 1404. 972-385-9155. www.versace.com.
Get our weekly recap
Brings new meaning to the phrase Sunday Funday. No spam, ever.