From Summer 2009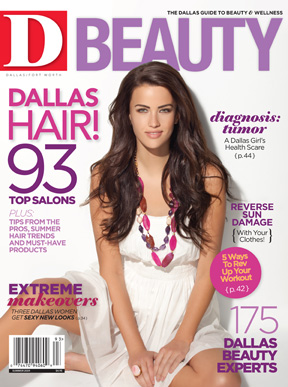 Nearly four years ago, in fall 2005, we published the first issue of D Beauty, a biannual magazine dedicated to local coverage of health, fitness, beauty, and fashion. Last year, we upped the frequency to four times a year because you, dear reader, deserved more.
Well, here we are, midway through 2009, and we have more changes to tell you about. Summer 2009 is the last issue of D Beauty you will see on the newsstand—at least for now. Instead, D Beauty will become a special insert within the pages of D Magazine. So look for the fall and winter issues of D Beauty in the September and December issues of D, respectively.
Here's why this is a good thing. First of all, as a special report within D Magazine, D Beauty's readership will triple. (Nice!) Second, we're still committed to comprehensive health, fitness, beauty, and fashion coverage four times a year. So in September you can expect our annual report on cosmetic surgery, including a list of the top plastic surgeons in town. The December issue will bring the increasingly popular 10 Most Beautiful Women in Dallas. (Speaking of 10 Most Beautiful, we're accepting nominations at dmagazine.com/10MB.) And, of course, we'll still bring you daily beauty updates and fun giveaways on our ShopTalk blog (shoptalk.dmagazine.com).
I also have more good news to share. Laura Kostelny—whose stories have graced the pages of D Magazine, whose editing skills can be seen in the pages of D Home, and whose reality TV commentary livens up ShopTalk—will be the executive editor during the next phase of D Beauty. (I'm not going far; I'll be the editorial director for dmagazine.com.) I know you girls will welcome her with open arms—and not just because she's funnier than I am. (But that she is.)
So remember: this isn't goodbye. We're just moving. We'll see you in the September issue of D, okay?
All the best,
Jennifer Chininis
Executive Editor
[email protected]
Get our weekly recap
Brings new meaning to the phrase Sunday Funday. No spam, ever.