From Summer 2009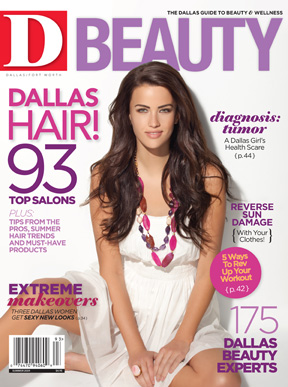 [inline_image id="1″ align="" crop=""]
Rock Star Fitness Camp. This is circuit training on steroids—exhausting, intense, and unrelenting. But the constant motion leaves no time to dwell on the pain. The live DJ doesn't hurt, either. Founder Adé Kahlid Hazley incorporates resistance, cardio, and stability training for quick weight loss and toning. Classes meet downtown, usually on the eighth-floor pool deck at the Mosaic Building—how cool is that?—but check location and schedule on the web site. Real results will have you singing "Please don't stop the music, music." www.rockstarfitcamps.com.
[inline_image id="2″ align="" crop=""]Everlast Shadow Box. Think Rocky, minus the grungy gym and crusty trainer, plus some cute chicks and the scene at 24 Hour Fitness in Preston Center. No, it's not actual boxing training—although you go through several authentic drills, says instructor Benji—but it's as close as a non-boxer would want to get. With all the bobbing and weaving, your core feels the burn, but it's the suicides, push-ups, and jump rope that really get your heart rate going. This class isn't for featherweights. 24 Hour Fitness, Preston Center, 6038 Luther Ln. 214-891-0800. www.24hourfitness.com.
[inline_image id="3″ align="" crop=""]TreeYoga. Armed with a sling and a healthy imagination, TreeYoga sling creators Hal and Debra Pruessner have taken yoga from the studio to the branches of virtually any sturdy tree. Feel the wind as you transition from pose to pose, using the sling to help you stretch as deeply as you dare. Breathing the fresh air and swaying with the branches, you'll feel om-azing. Don't forget: "practice makes opossums!" www.treeyoga.org.
[inline_image id="4″ align="" crop=""]Studio B Ballet. Strict and priggish this class is not. Pint-size instructor Miss Anette leads wisecracking, creaky-kneed women who giggle when they goof, but true ballet technique lengthens and strengthens muscles while lending grace to a stiff stature. Let's face it. This is the ballet class you wish you had taken growing up. Expect to be sore in places you didn't know existed. Studio B, 2108 Kidwell St. 214-826-3800. www.studiob-dallas.com.
[inline_image id="5″ align="" crop=""]Hydro Training. This "athletic approach to water fitness training" sounds intense, but don't be scared. As energetic golden girl instructor Emily says, "If I can do it, you can do it." The hour-long class burns about 300 calories with water weights, plyometrics, and cardio (accompanied by Ricky Martin's "Livin' La Vida Loca" and other rockin' jams). Sure, it's a bunch of older ladies shuffling around in the water, but they're cool older ladies. Besides, it's fun to play in the pool. Lifetime Fitness, North Dallas, 3419 Trinity Mills Rd. 972-307-2200. www.lifetimefitness.com.
Get our weekly recap
Brings new meaning to the phrase Sunday Funday. No spam, ever.