From Spring 2009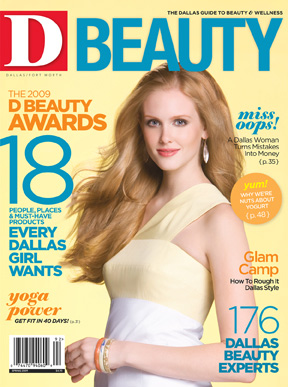 What's in a name? For Jennifer Higgins, the founder of the Miss Oops line of beauty problem solvers, everything. "What really surprised me was how much the name resonated with women," Higgins says. They just got it, and, as Higgins would find, it worked all over the world.
But let's start at the beginning—the first oops, as it were. It was 2003, and Higgins was a stay-at-home mom with two young boys, Jack and Sam. She was out shopping for yet another little black dress, and, as luck would have it, the only one in her size was riddled with white deodorant stains. We've all been there, and we all have remedies for this predicament. (I used to try rubbing it with the underside of my shirt, but that can ruin the fabric.) Higgins' method was a wet washcloth, which would leave a wet mark and eventually a dry stain—a less-than-desirable result. But that day, the store clerk grabbed the foam from a nearby coat hanger and gently rubbed out the stain. Good news: Higgins got the dress. Better news: she got an idea for the first product in the Miss Oops line, the Rescue Sponge.
Sure, it may look like any little square of red foam. But not all foam is created equal. After working with several manufacturers and trying countless samples, Higgins finally found the perfect product—one that wouldn't ruin your garment but would remove deodorant stains quickly and effectively. A few gentle rubs, and stains disappear.
But what to call this little shirt saver? Higgins' childhood nickname finally came to mind. "Every once in a while, she'd drop things or spill," says her mother, Terry Goodwin. "I'd say, 'You're just a little Miss Oops.' I had no idea that one day it would be publicized."
Higgins knew it made perfect sense: "It's problem solving for an oops." It also made sense that Higgins—a tall, slender redhead—would be the inspiration for the woman on the packaging. But unlike her caricature, shying at her "oops," Higgins fesses up to all of her fashion conundrums.
In 2004, with finished product in hand, Higgins hit the street, stopping first at luxury retailer Stanley Korshak. She started her pitch—the first ever—and was caught off guard when they wanted to place an order on the spot. "Don't you want to keep it for a while, try it out, see if you really like it?" she asked.
Her sales pitch has since improved, and one store grew into several boutiques in the area. Each one loved the concept of a fix for your oopses. They even wanted more. As any savvy businesswoman would respond, Higgins said, "We're developing them as we speak."
[inline_image id="1″ align="r" crop=""]Now on the prowl for her next big oops, Higgins found inspiration in her mother. "I was having such awful problems with my feet," Goodwin says. "I even had a crack I called the great gorge." After trying pumice stones, soaking, and slathering on Vaseline, she still found no relief. So Higgins and her team of chemists got to work on an exfoliating, hydrating, odor-absorbing cream. Her mother diligently sampled different formulas until she found the right one: "On the fifth day [of using it], I could tell a difference, and I said, 'This is it.'"
They called it Pedicure in a Bottle, and it was met with the same enthusiasm as the sponge. Last November the product made it onto QVC—no easy feat, considering QVC's strict requirements.
From there, the brand expanded with the help of customers and coworkers spilling their oopses and hoping for solutions. Higgins even held focus groups where a collection of friends, neighbors, and their friends ages 16 to 60 would discuss the merits and faults of various product proposals over pizza and wine. (Good work, if you can get it.) The Miss Oops brand grew from two products to 14, including several save-all kits; from 2007 to 2008, sales more than doubled.
This past summer, Miss Oops established a strategic licensing agreement with Advanced Materials Group Inc., a Garland-based developer and manufacturer of consumer, medical, and industrial products with 50-plus years of experience. AMI will manufacture the Miss Oops-branded products at its California facility. One goal of this partnership is to continue to build out the brand. In addition to the fashion and beauty products for women and moms-to-be, there's talk of lines for men and children. After all, Higgins says, "There are oopses in everything."
Just five short years after the first Rescue Sponge was sold, Miss Oops products can be found in stores as far away as Australia and South Africa. While Higgins has unabashedly outed all of our oopses (aren't guys supposed to marvel at our "natural" beauty?), she's also offered practical solutions for every sticky situation. A key to her success, it seems, is all in a name that translates internationally. Says Higgins: "I'm really glad my mother called me that, actually."
The Name Game
What do Nundies, Boob Tube, and Goblet Goop have in common?
Perhaps the better question is what do they even mean? For Higgins, each name in her arsenal of quick fixes is an opportunity to crack an inside joke and give us a glimpse into her quirky sense of humor. For example, it's one thing to chuckle at your imperfections. It's another to name a neck cream Goblet Goop because your décolleté resembles that of a chicken. On the other hand, it's like a secret code among women. No man needs to know where those Chicken Cutlets go. They'll just appreciate your superb bust line once the silicone fillets are slipped into place. And just so we're clear, JAKs (the product for women who wear low-rise pants) is a combo of jeans and crack. That was a toughie.
Get our weekly recap
Brings new meaning to the phrase Sunday Funday. No spam, ever.